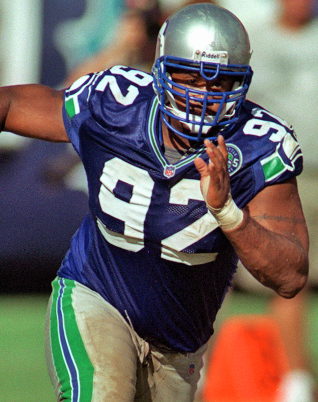 Needing a new football coach after incumbent Scott Merbach left to join the men's lacrosse coaching staff at CCBC Essex, Sparrows Point turned to one of their assistant coaches who also happened to be a former NFL first-round draft choice.
Lamar King, the Pointers' defensive coordinator who played in the NFL with the Seattle Seahawks, was named the new head coach last week.
"First and foremost, he is a great person," Sparrows Point athletic director Paul Latanishen said. "He knows how to teach kids, and he engages them, positively.
"H is concerned about their development as players, and has played the game at the highest level, but is more concerned about the student-first mentality of those in the program and their growth as citizens in the community and as young men."
King was selected from a pool of candidates from around the state and from Virginia. He also teaches at Sparrows Point Middle School.
"I knew I wanted to lead a program and I felt like this was the right place to start the journey," King said. It's going to take a lot of hard work and commitment to turn this around.
"I believe if I surround myself with positive people that can make positive connections and challenge our student-athletes, then we can make changes in their lives that go beyond football."
Sparrows Point has struggled the past two years. After a 6-3 record and the Baltimore County Division III championship in 2017, the Pointers had a winless season in 2018 and won two games (one by forfeit) last year.
The one win last season as against Chesapeake, King's alma mater.
The 2017 season was Sparrows Point's only winning season in the past six years.
The Pointers have not gone to the playoffs since 2013, when they rebounded from a 1-3 start with six straight wins to finish the regular season 7-3.
Sparrows Point won at Forestville 20-16 in the first round of the playoffs before losing at Surrattsville 36-28 in the Class 1A North Regional championship game.
"There's going to be a lot of ups and downs in the rebuilding process," King said. "The good thing is that I've seen many athletes in the building. The challenge will be to get them to come out for the team and buy into what we are trying to do.
"We are here not just to play football, but to teach student-athletes how to come together and grow as student-athletes."
After graduating from Chesapeake High, where he excelled in both football and baseball, in 1994, King attended Saginaw Valley State and was the 22nd pick in the first round of the 1999 NFL draft by Seattle.
A 6-foot-3, 300-pound defensive end, King had six sacks his second year and was a productive player when healthy, but was plagued by injuries throughout his career (which eventually forced his retirement after the 2003 season).
During his five seasons with the Seahawks, King has 12 sacks in 57 games, 97 solo tackles and 22 tackles for loss.
He was a member of the Seahawks during the infamous 2003 playoff game in Green Bay, when Seattle won the toss in overtime and quarterback Matt Hasselbeck said "We'll take the ball, and we're going to score," only to throw a game-ending pick-six on the Seahawks' second possession of overtime.
King's daughter, Mya, graduated from Sparrows Point in 2019 and won three state titles in hurdles (55, 100 and 300 meters).
His son, Lamar, attends Calvert Hall and plays baseball for the Cardinals.
"He will attract a fantastic staff and pool of student-athletes," Latanishen said. "From his experience, and that of his children, he is well-acquainted with the college recruitment process and is capable of facilitating the placement and transition of our student-athletes at the next level."