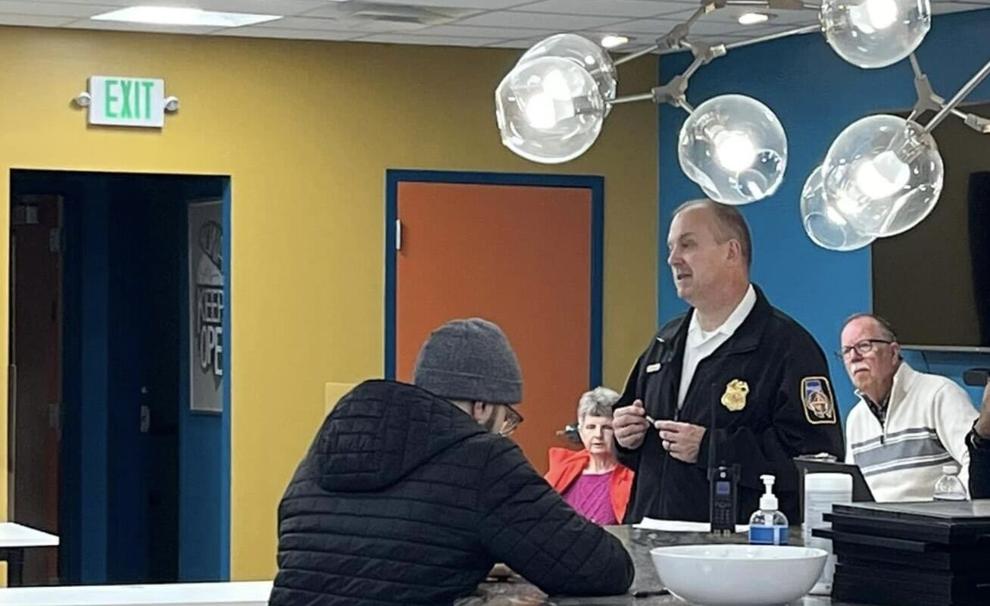 The Precinct-12 Community Police Alliance assembled for its monthly meeting on Monday to go over crime statistics with the precinct police captain.
The P-12 Community Police Alliance serves as a chance for community groups and individuals to connect with Police Captain Glenn Wiedeck and community outreach officers about crime happening in residents' perspective neighborhoods, as well as how community members can take preventative measures.
Capt. Wiedeck began Monday's by announcing that the suspect in the stabbing of a Dundalk High School student was arrested on March 8. Earlier this year, the 15-year-old student was stabbed multiple times on his way to school on Friday, Jan. 27 around 8:30 a.m. on the railroad tracks across Yorkway.
"We ended up catching that suspect last week," Wiedeck said on Monday. "The [officers] did a great job because we had nothing to go on."
At last month's meeting, the precinct captain described the incident as "very close to being a homicide" as the suspect's blade had "got broke off in [the victim's] neck."
Since the arrested suspect is a juvenile, Wiedeck and other officers could not dispense any additional details regarding the arrest and the alleged stabber.
"We can't give a lot of information, but hopefully that kept someone else from being a victim," Weideck said.
The precinct police captain also reassured attendees that the victim is in good spirits and "will survive" January's incident.
As the meeting progressed, Wiedeck went on to talk about crime statistics so far this year, however, he made note that certain numbers and data can vary change depending on the outcome of his officers' investigations.
According to Baltimore County's crime data, Dundalk has over 100 assault cases in January alone, almost 60 vandalism cases and exactly 72 larceny theft cases, as well. Kicking off the year, Dundalk accounts for over 10 percent of the county's crime cases where it is confirm the entire community has had approximately 336 criminal cases so far.
Community members who attended Mondays voiced their concerns on various crime trends such as stealing from other people's cars, like P-12 Community Police Alliance director Lee McBride mentioned.
"Thefts from cars — we've been noticing a lot in Boston Courts," said McBride. "We've reported some of them but it seems like they're coming around midnight to 4 a.m."
Precinct 12 officers look for preventative measures to remedy people stealing from cars, since Dundalk has had over 14 motor theft cases.
In response, Wiedeck stressed the need for community residents to lock their car doors throughout the day, especially at night. The number of cases where thieves had actually broken a window to get in remains small, Wiedeck said, rather they are looking for easy targets such as unlocked cars.
"They're looking for the easy target," Wiedeck said. "They're not going to bust your car to go through it when they can get hit five other cars on that street that are left unlocked."
It was also announced at Monday's meeting that Precinct 12 is down 28 officers, per Capt. Wiedeck. The amount of officers has improved, however, over the course of one month, as in February's meeting the police captain had said his precinct was 37 officers short from their target staffing quantity of 162 officers.
Before adjourning, it was discussed how several community groups within Dundalk met with officials from both Baltimore County and city to address longstanding issues that exist along the Dundalk Avenue and Holabird Avenue area.
"This is the first time in the last few years that the captain has had open communication with the Baltimore City precinct, so they are working together," said director Nick Staigerwald.