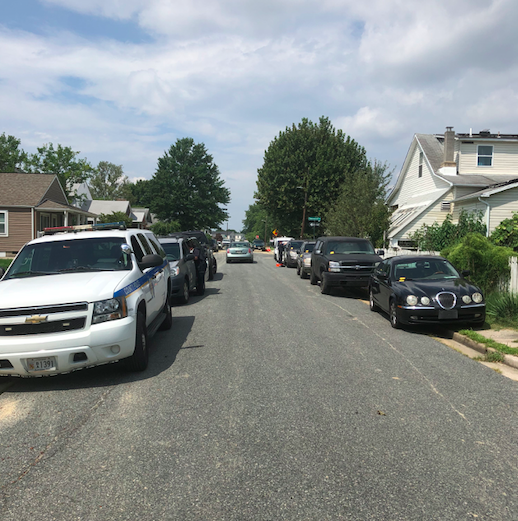 Baltimore County police officers recovered 10 stolen vehicles on Oakwood Road early in the morning on Aug. 28.
Police officers arrested six suspects, two adults and two juveniles, who were found walking along North Point Road with several sets of keys and stolen cash. According to police, the suspects were targeting car dealerships and repair shops along North Point Road, stealing sets of car keys and using them to steal eight vehicles. BCPD said that 2-3 other suspects fled the scene at Oakwood Road.
At 2:53 a.m., officers responded to a 9-1-1 call for a suspicious vehicle seen on Oakwood Road, with 8-9 suspects in possible stolen vehicles driving around. According to one person with knowledge of the situation, who wishes to remain anonymous, said that three suspects were seen at Happy Tires, LLC the night before, attempting to break in around 9 p.m. The three men allegedly fled when they were seen by an employee.
That employee left at midnight, according to this knowledgeable person. The suspects allegedly broke the window to the front office and took sets of keys. The person with knowledge of the situation said it is believed that suspects were watching the building, since they returned and broke in just after midnight, after the last person had left.
Multiple people fled the scene at Oakwood Road when the first officer arrived, according to police. Several ran on foot, while two sped away in a vehicle. Those two eventually bailed the vehicle when the officer caught up to the vehicle. K9 units responded, but detectives couldn't find those suspects, according to police.
BCPD Public Information Officer Jennifer Hardgrove said one of the stolen vehicles was connected to a robbery in Baltimore City. BPD officers responded and took possession of the vehicle for their own investigation, she said.
Two of the 10 vehicles were stolen in Baltimore City, Hardgrove said. BCPD has not released the names of the two adults arrested at the scene. The names of the four juveniles detained have not been released due to them being juveniles.
One of the adult suspects has been identified as William Judson Street, 21, of Oakwood Road. He was arrested and charged with motor vehicle theft, unauthorized removal of a motor vehicle and theft. He has since been released on his own recognizance. The second adult arrested was released without charge, according to police. 
Dundalk Precinct 12 is still investigating the circumstances surrounding this incident.