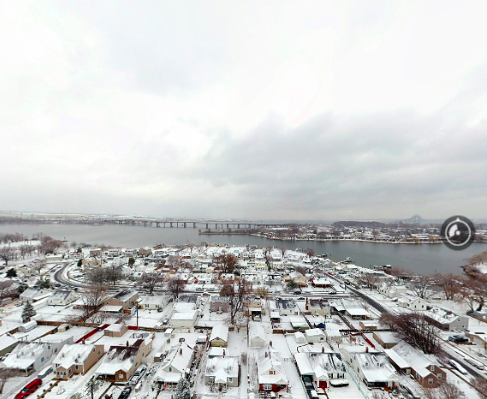 Imagine scrolling through your newsfeed on Facebook™ and stopping after seeing a photo of a neighborhood you think you recognize.
After inspecting the photo even closer, you realize that it is your Dundalk neighborhood. But who took a panoramic, bird's eye view of your neighborhood? How did they get so high in the air? And did they really use a 160-foot pole?
You've probably come across a Facebook page called 160 Foot Pole while scrolling your newsfeed. If you haven't, go to Facebook and type "160 Foot Pole" in the search bar. You just might spot your home in one of these magnificent photos.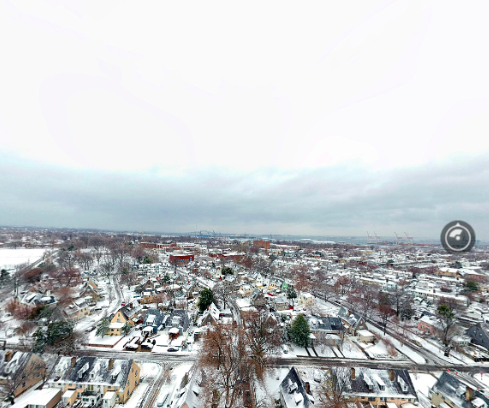 The Eagle caught up with the creator of that Facebook page, meeting him for a cup of coffee at Joanna's Cafe last Friday morning. There, the story of the page and the idea was told.
"I like to do virtual reality photography, or VR photography," said James Lingg, the creator of the 160 Foot Pole page. "Honestly, photographing scenery is easy. The sun is the perfect amount of light."
"If you can't take a good picture of a flower, then there's something wrong with you. It's humans that are elusive, taking good pictures of people that are upright."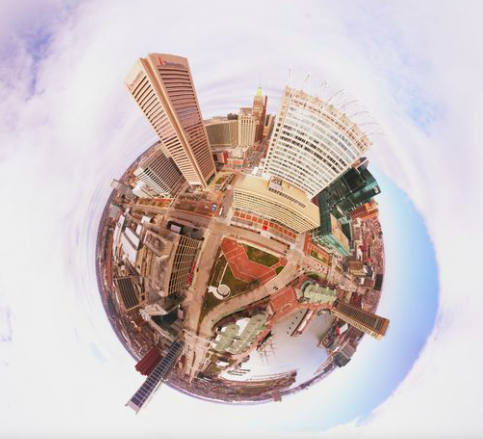 Lingg currently runs the page with his brother Jim Lingg, who lives in Essex. Sometimes, his brother and his girlfriend will join him on his photography ventures.
Lingg said he enjoys photographing people. It's a struggle, he said, but he likes the challenge. He described himself as a photographer who enjoys "the road less traveled," meaning he enjoys taking on things in photography that are not pursued by others.
"I figured, there's a finite group of professionals out there. If 95 percent are doing one thing, then let me go to the five percent and see what's happening there," he said. "That's where the crazy stuff happens."
Said he started the 160 Foot Pole page last September. He did not share all information about how his instruments – the camera and how he gets it so high in the sky. What he did tell us is that the first time he took an aerial photo, he felt like he was sitting on top of a pole, and he felt as if he could spin around on the pole and see everything.
"There's a limitation on the height I can reach, that limitation being 160 feet," Lingg said. "It kept happening over and over again. So I honestly put very little thought into the name, but I just didn't want to give it a name that every other aerial photographer or VR photographer might go with."
The name "160 Foot Pole" captures the imagination, he said. Capturing the imagination is his goal. Looking at any of the Dundalk neighborhoods on the page, you are made to feel as if you are actually sitting that high up while looking out over Dundalk.
A lot of work goes into making his photos look the way they do when they go online. First, a series of photos are taken in a rotational pattern. Starting from the top and moving towards the bottom, he takes a column of images and then moves slightly in one direction. He takes another column of images.
"Because of that, you are basically able to capture all the space around you in a [360-degree pattern]," Lingg said. "There is no sliver of space that you can't miss."
"It's really easy to stitch these images together and then manipulate them – sharpen them, adjust the saturation, and do things to make them slightly less realistic and more computer-generated."
As he did not share information about his equipment, he also did not share how he gets to 160 feet. He was asked on multiple occasions during the 30-minute conversation. He would not budge. He only does this as a way to lift morale while Dundalk navigates this pandemic, he said.
"No one has seen how we do it, luckily," Lingg said. "We go at the right time of day and it happens fast. That's part of the joy and the mystery of how it's done."
The page is growing since he launched it last September. On Feb. 7, the page reached 2,500 likes. Lingg said he has joined several community association Facebook groups to spread the word about his photography and his page.
As far as picking which places to go each time, he said he looks for condensed neighborhoods. He relies a lot on Google Earth for this, he said. He finds them all throughout Dundalk and the surrounding areas.
Lingg's photos quickly started getting reactions and shares when he first began posting them to Facebook. Soon after, people began requesting that he photograph their neighborhoods, as well. Sometimes, he will make a post and ask where he should go that day.