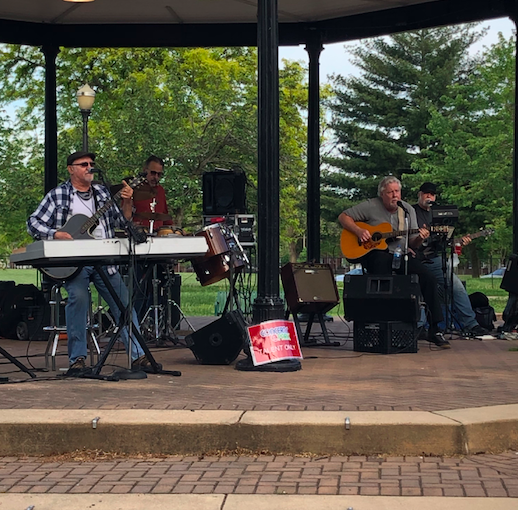 It had been nearly 21 months since a concert last took place in Dundalk Heritage Park, a streak that ended on May 6.
Concerts in the Park, sponsored by Dundalk-Eastfield Recreation Council, is a volunteer-led and servant-heart driven summertime tradition that celebrates its 30th year this year. Blind Owl, a Maryland-based acoustic rock band that performs classic and other forms of acoustic rock, opened this year's festivities.
Around 50 people showed up to Heritage Park that Thursday evening. Some concert-goers, like Dundalk resident Elaine Scott, were sitting in the park as early as an hour before the concert was to begin. Most attendees were seated by 6 p.m. More people trickled in after the show started.
"This is fabulous," Scott said. "I've been waiting … what … 14 months? Since the last one.
"I'm so glad to see it back down here. Dundalk should all be down here."
The show opened under a mostly sunny sky and the temperature was hovering around the lower 60s. A rain storm passed over Dundalk a day prior, bringing another small cold front to the region. The temperature dropped below 50 degrees as Thursday night moved into Friday morning.
Some Dundalkians took their families to watch the first concert in almost two years. Others went with friends, or sat by themselves and took in the sights and sounds inside the park. Joe Buccheri, the lead organizer of this year's concerts, told the Eagle that the Dundalk-Eastwood Community Association was "very impressed" with the turnout for the first show.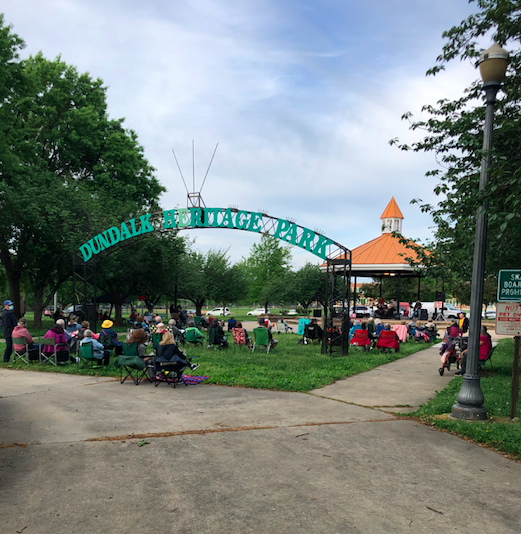 "We were able to distribute over half of the 300 flyers and "Music Notes" newsletter produced," Buccheri said. "Most of the audience that we spoke to mentioned how good it felt to be out and listening to live music."
Dundalk resident William Liebig was one of the people who sat on a bench and took in all the sights and sounds as the evening progressed. He was so excited when he learned that Concerts in the Park was making its return, he said last Thursday evening. A resident of 54th Street, he said he made visits to Heritage Park last year and the place was "dead."
"It was like living in a ghost town," Liebig said. "There was just nobody around. It was dead."
Some socialized while listening to Blind Owl. Some danced, or sat and nodded their heads to the beat while the band performed each song. Dundalk resident Debra Spencer went to Heritage Park that evening with her grandchild. She watched as the child ran around the park, showing no signs of a care in the world.
"It's a great feeling to come out here," Spencer said. "This is my grandson's first concert, so it's nice to be out here with him.
"It's great to be out here with the family. We've been coming to Concerts in the Park for a long, long time."
Spencer said that last year felt "somber," as if the sky was falling on everyone. Even now, with COVID-19 vaccines available and an outlook of things returning to how they were before the pandemic, as early as this summer, the "end" of the pandemic is still yet to be seen. Spencer said she looks forward to a family vacation this summer.
People who attended the first concert in more than a year also had opportunities to have their faces painted, and to purchase sno-cones. Buccheri said more food trucks were expected to show before the concert began. Due to a miscommunication, no food trucks arrived.
Buccheri said he is "positive" the issue will be resolved before the next concert, scheduled for May 13 at 6 p.m. The band Whisker Fish was scheduled to perform this Thursday evening. Instead, Annie B. and the Band of Gold will perform in their place. The band features the iconic and legendary female vocalist, Annie Beccio.
"It was such a joy to see the community come out and enjoy an evening of great music and family," Buccheri said. "Seeing the children dancing around, playing with the balloons, and laughing the entire time.
"The music and the people having a good time was a very "healing" experience, as one young lady let us know."
The next concert is May 13 at 6 p.m. Admission for this event is free.