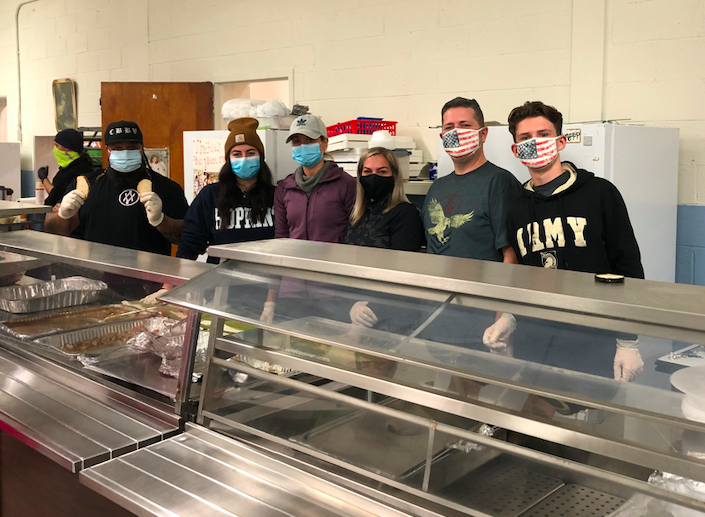 Soup for the Soul held its annual Thanksgiving meal for the community on Nov. 16, a tradition that is now in its 40th year.
Director Stacy Nagel told the Eagle that Soup for the Soul has served the meal for a second year. St. Rita's Supper Table served Thanksgiving meals for 38 years before that. Serving the meal this year was unlike any other, however. This is the first time it has been served during a global pandemic. Nagel said she has been involved with serving the meal for the past seven years.
The meal was held inside Dundalk United Methodist Church, located at 6903 Mornington Road, where Soup for the Soul has operated for the past several years. The state and Baltimore County recently placed restrictions on public gatherings due to a recent rapid spike in positive COVID-19 cases. Despite this, Nagel said, the meal was not much affected.
"Our numbers are still low for our weekly meals, low enough that we can accommodate people six feet apart and two to a table," Nagel said. "We haven't run into any situations tonight. Christmas, that will be another story. We're trying to figure out how we're going to do Christmas, if it's going to be inside or outside."
This year's meal consisted of turkey with gravy, sweet potatoes, mashed potatoes, macaroni and cheese, green bean casserole, jellied cranberry sauce and bread. People who dined in were also given non-perishable food items and their choice of bread. In addition, Soup for the Soul's clothes pantry was open.
Due to the pandemic, less clients walked through the door for a meal and less volunteers than normal showed up to serve it, Nagel said. The meal was prepared the same way, however. Nagel said 150 meals were prepared, with Soup for the Soul expecting at least 75 to be served.
Nagel said she's now looking forward to the Christmas meal, which will be served on Dec. 14 beginning at 5 p.m.. Everyone who attends will receive a meal, she said, but the details of how Soup for the Soul will facilitate that meal is still up in the air. That will depend on the restrictions on public gatherings when the time comes, she said.
"I'm planning on fixing 500 meals to go," Nagel said. "They'll walk in. We'll be able to bring in 10 people at a time, and they'll go through our Santa workshop. They'll get all new gifts. We don't put anything used out for Christmas."
In addition to that meal, everyone who attends will also take home a meal they can prepare on Christmas Day. Clothes given out will be brand new with tags. Toiletry items will be in packaging.
"We don't give away anything used on Christmas, not even gently used. It's all brand new," Nagel said.
Soup for the Soul is still taking donations, Nagel said, and will so up until the hour volunteers begin serving. The organization is seeking ponchos and umbrellas, socks, diabetic socks, and $10 gift cards for any place on the Dundalk bus line.