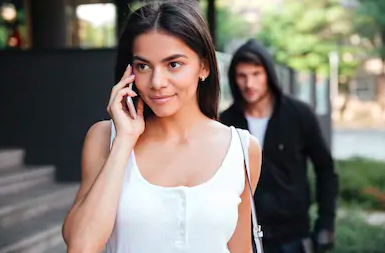 Jenna Kasper walked into the 7-Eleven on Wise Avenue on Jan. 20 to buy a few items. She frequents the convenience store on occasion, except this time she walked to the store alone.
It was Martin Luther King, Jr. Day, and schools were closed in observance of the holiday. She walked to 7-Eleven around 3 p.m. As she was leaving, a strange man in a dark-colored vehicle called out to her to get her attention.
The guy yelled "Hey!" to get her attention, Kasper said, but she ignored him. He yelled out again, and then asked her if she wanted a ride. She said she refused. The man then told her, she said, that she looked "cute" and again asked if she wanted a ride. She refused again, and walked into the 7-Eleven to seek help.
"I walked into the 7-Eleven because I got scared," Kasper said. "I told them at the counter, and they said I could stay until I felt comfortable leaving."
Kasper said she called her mother's friend, who was working. That friend called another person, who went to 7-Eleven with another person. Those two people stayed with Kasper until her mother, Katie Gross, could pick her up.
Kasper described the stranger as a white or Hispanic male, around 18 or 19 years old, with black hair and a black moustache. She described the car the man was driving as a black or darkMercedes with a tan leather interior.
Gross said she called the police when she and Kasper returned to their home. Gross told The Dundalk Eagle that 7-Eleven's security footage provided a look at the vehicle, but it didn't help much with identifying the model or the license plate.
"They don't have any cameras that are outside of 7-Eleven," Gross said. "The only camera that caught him was by the front door. They could see the car that she was describing, but they couldn't see the tag or who was in it or anything. They could barely see the car."
Gross said she was told by the police officer who took the report that if they found the person in question, they couldn't make an arrest since there was no physical action, and he never left his vehicle. For all anyone knows, the man could have just tried to be nice, Gross said she was told by the officer.
"The officer also told me that we haven't had anymore incidents that have been reported around the area. This is the first," Gross said.
Gross said she wanted to get the word out. She posted about the incident to Facebook to warn other parents. That's when she began to notice comments from other people who have had similar experiences.
Sherry Lynn Thompson, who lives in Glen Burnie, told The Dundalk Eagle that she had a similar experience. It happened more than a year ago, she said. She said she was finishing a run on East West Boulevard in Glen Burnie when she saw a vehicle behind her.
"When I glanced over my right shoulder, I noticed that there was a white truck behind me," Thompson said. "He was pretty close, but he was moving at a very slow speed as I was running. This really scared me, because nobody has ever gotten that close to me in a vehicle while I was running."
Thompson said she began to run faster, and the driver also began to speed up. He eventually got next to Thompson and said something. She kept running. The driver said something to her again and asked her where she was going.
Thompson said she kept running and the driver kept trying to talk to her. She said he eventually became irritable and began demanding she get inside the white pickup truck.
"At that point, I knew it got serious," Thompson said. "I didn't know if he had a weapon or whether he was going to get out or grab me. I did, at that point, jump the curb. Instead of running to my car, I ran across someone's lawn and tried to divert him so that he could not follow me."
Thompson said that the sun was setting when the incident began. After she ran across someone's lawn to divert the driver, she equipped herself with mase, a whistle and her phone.
"I didn't want to go back to my car, but I knew I had to," Thompson said. "I knew that if I had my car keys, I could sound the alarm on my car if I felt anyone there. I did stay in that neighborhood for about 10 minutes to make sure he wasn't around."
Thompson said she couldn't run on East West Boulevard for "a very long time" after the incident. She described the driver as a rough-looking, middle-aged male driving an older model white pickup truck. She said it took around eight months to find the strength to run on that road again.
"I have a Garmin, which has an automatic setting inside the watch where it tracks my run," Thompson said. "With the push of a button three times, I can alert the authorities, my husband, my daughter. It's basically an SOS signal. It immediately sends out where I am."
Thompson said that in addition to running with a smartwatch that can put out a signal when she senses danger, she still carries mace and a whistle while she runs.
"It took me a long time to run again, even in my neighborhood," Thompson said. "It scared me pretty bad. I know, as a runner, it's out there but I didn' think it was going to happen to me."
Thompson said she is in a few running groups on Facebook. She has seen similar stories posted in those groups.
Thompson said the advice she would give to others is to be aware of your surroundings. Know your route, and plan an escape route.
"I knew my car was parked in a dark parking lot where it was isolated," Thompson said. "I didn't want to take him back to that place. Divert yourself off until you think it's safer to go back to where you need to be."
The nature of such an incident isn't exclusive to only these two. Dundalk resident Jessica Bialek said she has had two separate experiences that involve the same person. The first incident happened when she was walking to the Dundalk Health Center for an appointment.
"I used to be able to walk there by myself with no problem," Bialek said.
Bialek said that some time during last summer, she was about to cross the street near the post office on Center Place when a white car stopped in front of her. The driver began talking to her.
"I was going to ignore him, because I was always taught when I was a kid to ignore and don't talk to strangers," Bialek said. "I didn't engage in conversation. I just kept on walking."
Bialek said the driver made a U-turn and parked next to her. He tried talking to her again and asked if she needed a ride.
"That's stalking at that point," Bialek said.
Bialek said she had her pepper spray handy, but didn't use it out of fear that it would provoke him to retaliate. The second incident involved her walking from the Dundalk Health Center to her home, but she decided to take a different route.
"It was the same guy in the same car," Bialek said. "The same guy in the same white car that I saw before."
Bialek described the driver as as African-American male and the vehicle as a white Nissan. He tried to engage in conversation with her again, and asking if she needed a ride, she said. She opted to ignore the driver and continued walking.
"I've never walked around there by myself again," Bialek said. "I'll always be with somebody so I feel safe. When I walk with other people, I have no issues."
Bialek said that when she does walk someplace by herself, she keeps pepper spray on hand. She shows it to people and they leave her alone, she said.
"My dad has always been saying this, that there are kidnappers out there left and right," Bialek said. "It didn't get worse until now. I'm starting to see it for myself. My dad wasn't playing around when he said that. I took it as a joke back then, but it's not a joke anymore."
"When I was in high school, I used to walk around my neighborhood. Now, I don't feel safe doing that. That used to be my way out of the house. I can't even do that anymore."
Gross said that Kasper is also feeling effects from her own experience in the 7-Eleven parking lot that day. Gross described a recent incident when Kasper felt she was being followed. She ran to a neighbor's house and called her mother, telling Gross she felt frightened.
"She is so scared to do anything," Gross said. "Even going on the front porch scares her. It is really sad."
Gross said her hope is that more people around Dundalk become aware that this is happening. People becoming more aware might make these incidents stop, she said.
Citizens can take preventive measures to reduce their chances of being stalked or abducted, however. Sergeant Deborah Flory said that children who walk home from school should walk in crowds. This not only avoids the event of walking alone, but also allows for witnesses if something does happen.
"If you see something suspicious, you should go to an adult," Flory said.
Adults also should avoid walking alone, especially at night, Flory said. People should know their route, and never walk up to a strange vehicle when called upon, she said.
"If someone does try to grab you, make all the noise in the world," Flory said.
People can carry accessories to make noise if they feel threatened. Personal alarms are available for purchase online and in stores. A whistle is another option, as is mace. Maryland law allows for citizens to carry mace to use for self-defense.