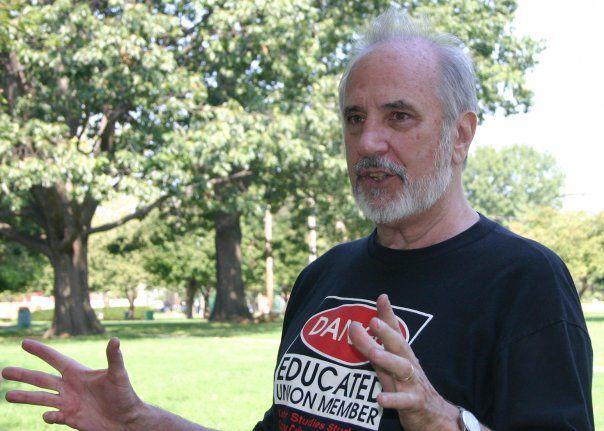 The impact of the COVID-19 pandemic and subsequent shutdowns of businesses has led to spiking unemployment rates in Baltimore County and across the nation.
But there have also been issues for those who still are employed, with workers demanding safer working conditions to help lesson exposure to the coronavirus.
It was with this in mind that Bill Barry wrote and published a 71-page booklet: "Organizing in the time of the Pandemic."
The booklet stresses how it is even more critical for workers to unionize to protect their rights and their health.
It is familiar ground for Barry, who was the Director of Labor Studies for CCBC Dundalk from 1997 to 2012 and has remained active in the Dundalk community.
"My idea for this Labor Day is a commitment to organizing and to build the labor movement," Barry said. "And there's no place better than at Sparrows Point today, where we see the real difference between having a union contract [like the steelworkers did] and working for Amazon without one.
"Of course, their response is: we are open and Bethlehem Steel is closed."
The booklet, which is distributed with the help of Labor's Bookstore, starts with Barry describing 2020 as a "year like no other," but also "an opportunity for the union movement to grow."
Barry's intention for the booklet is to "collect experiences and strategies that we can use, but it is challenging to write a pamphlet when events change so rapidly."
(Hence the advantage of publishing electronically; it can be constantly updated and revised. The latest edition is from August 27.)
Barry describes the pandemic as a health issue, but also a workplace issue – pay cuts, layoffs, loss of health insurance, health and safety, job security.
"In one way, this sudden collapse of the economy can be helpful for union organizing, because it dramatically shows a large group of workers how vulnerable we are," Barry writes.
The national unemployment rate was 10.2 percent in August, a slight improvement but still above the Great Recession high of 10 percent in Oct. 2009.
From mid-March to the end of May, the U.S. Labor Department reported 38.6 million jobs had vanished.
And many of those jobs might never come back: bankruptcies in retail and hospitality businesses, along with the potential permanent reconfiguration of every workplace.
"With more machines replacing live workers and teleworking becoming the 'new norm' creating ... a historic challenge for union organizing," Barry wrote.
But workers are taking action, as Barry recounts how all over the nation, they are demanding better health and safety conditions, demanding higher hazard pay, demanding an extension of health insurance and proclaiming Black Lives Matter.
An online union newsletter, "Payday Report," has listed 800 wildcat strikes since the beginning of March.
And just as company ownership have gone global, labor should use social media to become "truly international."
"A global pandemic has provoked a global movement and demands that go far beyond 'normal' union proposals - a suspension of rent payments, a forgiveness for student loans - in short, a whole structural change," Barry wrote.
The booklet also includes a long list of labor actions being taken by workers in businesses across the country and how states have been using the pandemic as an excuse to cancel union contracts.
"Never has the need for a union been more urgent because unionized workers can bargain over conditions, while non-union workers are stuck with accepting almost anything the boss wants to do,: Barry writes.
Describing incidents where workers have been told to return to work or face repercussions, and told to sign liability waivers in the event they get sick.
"This is an opportunity to start a union organizing campaign," Barry writes.
He describes actions taken by Amazon, such as eliminating the extra $2/hour "hazard pay," and cancelling the policy of allowing unlimited time off for sick workers (forcing them to return to work, putting their co-workers at risk, or losing their jobs).
"This wouldn't have happened if they had a union," he writes.
A recent report published by the University of Chicago estimates 42 percent of coronavirus-induced layoffs will be permanent. About four million businesses are expected to close this year, according to Oxxford Information Technology, which maintains a database of over 32 million businesses, non-profits, government entities and farms.
Amazon, meanwhile, has announced it will hire 175,000 more workers, as people quarantined for months will stick with on-line shopping and delivery.
Which makes it even more important, Barry writes, to unionize Amazon workers.
But the union challenge grows, as "normal" workplaces disappear and are replaced by teleworking, and businesses start to re-evaluate how many workers they need to function.
Barry recently gave an interview to a radio station on workers being mistreated by employers during the pandemic and not having any recourse due to not having a union.
"He used the word 'apocalypse,'" Barry said. "My booklet is also a push for collective self-reliance and accountability, because things have gotten so bad for so many."