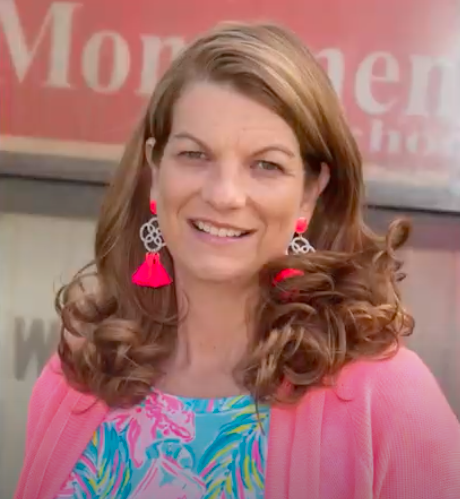 DUNDALK — Brandi Corriggio plays an integral part in helping students at Battle Monument School receive the education they need to transition into the workplace, making her the perfect person to receive Baltimore County Commission on Disabilities Teacher of the Year Award.
Every year the commission holds their award ceremony—and this year, like many events, was held virtually. Despite not being able to gather together to celebrate Corriggio and several other award winners, the commission was able to put together a Youtube video where each award winner was praised and given the opportunity to talk.
Corriggio, who has been working at Battle Monument School since 2005, said she was surprised to hear she received the award.
"I was completely shocked when I read the email about receiving the award. I didn't know anything about it and I was caught off guard. My mouth probably dropped when I read it," Corriggio said in the virtual ceremony video.
Corrigio said that everyone at Battle Monument, from the the teachers to the additional adult assistants, deserve to be recognized for the work they do.
"Everyone at this school deserves this award. We are a team, we are a family. We couldn't have our students have the successes that they have if we didn't have everyone that is a part of our school. They come to work every day and they don't complain and they roll their sleeves up and they get right in there and help students who are having a hard day," Corriggio said.
Corriggio began her career at Battle Monument, a public day school for students ages 3-21 who have significant intellectual disabilities, in 2005 when Battle Monument began developing a program for students who require extensive behavioral support.
She first worked with middle school students and later became the Team Leader for elementary and middle school students where she helped teachers develop lesson plans. Corriggio then became the individual program chair and student testing coordinator where she helps teachers identify skills to be assessed with each student and advises what materials are needed to ensure students have their specific needs met while they are being tested.
Working with the transition coordinator, Corriggio helps identify work sites for students to transition to after their time at Battle Monument. She also works with teachers to determine what job sites would be best for students based on not only on their special needs but on their unique and valuable skills. Franklin Square Hospital, Red Brick Station, and the Exchangeree at White Marsh are a few of the businesses she has been able to partner with to create jobs students can transition to.
Corrigio said she knew she wanted to be a teacher ever since she was in high school.
"It was my senior year in high school and I found myself one day in the life skills classroom and everything just kind of clicked," Corrigio said.
"I not only fell in love with the teacher in that classroom but the students — there was just something about it that I started to enjoy and I realized that I could make a difference in these students' lives."
Corrigio said she hopes people will want to come in and see Battle Monuments students and what they are achieving and contributing to the community.
"I think a lot of people would be shocked at what our students can do and they can teach them some life lessons, Corrigio said.
"I think that would be good, in the day and age with everything that is going on in the world."