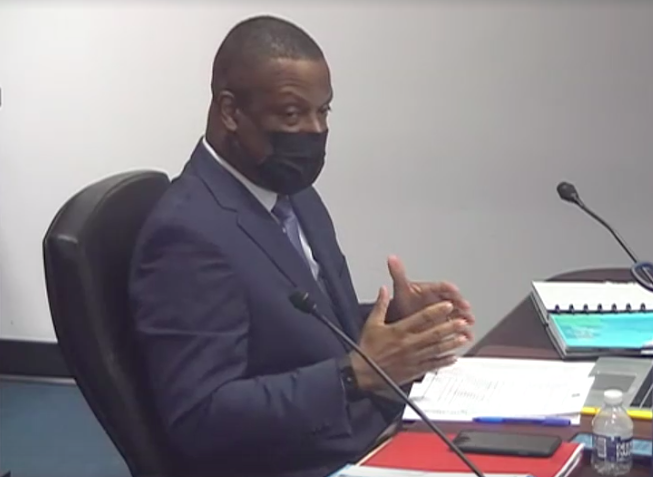 Baltimore County Public Schools presented its plan to transition to four-day in-class school weeks at the most recent Baltimore County School Board meeting on April 20, but questions still remain.
Some questions were asked by School Board members to Superintendent Darryl Williams and his staff at the meeting. Each member had the opportunity to ask one question. Other questions were sent via email, with answers expected to be made available for public viewing at a future date not mentioned. The four-day plan is currently slated to begin on May 10.
The meeting was conducted in its normal fashion, as a hybrid meeting with some members opting to join the meeting virtually. What was different, however, was an enhanced police presence provided at the request of School Board Chair Makeda Scott, due to social media activities that constitute "bullying, intimidation, racism and a safety risk," according to local media reports.
The Baltimore County School Board has come under much scrutiny over recent months due to the school district's handling of its reopening plans, as well as its overall conduct. A recent video montage shows various clips of inappropriate behavior during meetings, from pornographic sounds being heard during a meeting to School Board members using profanity. The source of the video is the Baltimore County Parent and Student Coalition. Clips were taken from virtual meetings over the course of a year, according to local media reports.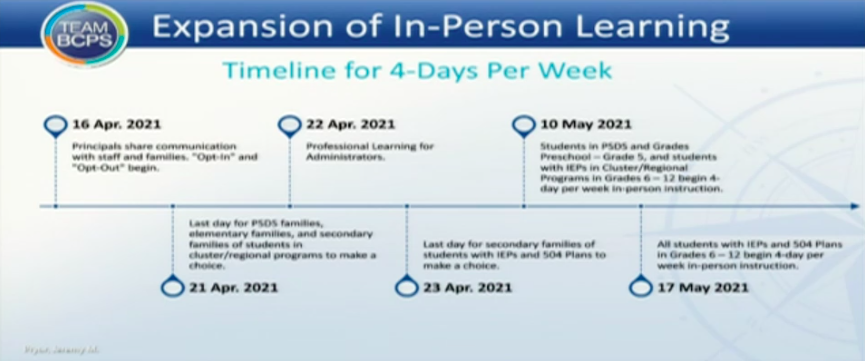 Before BCPS staff members began revealing the plan to expand to four days of in-person classes, stakeholders were given the opportunity to voice opinions to the School Board. The first was Cindy Sexton, president of the Teachers Association of Baltimore County (TABCO), who voiced support for expanding to four days.
"As you know, our teachers and educators have been through many challenges this school year," Sexton said, "from providing rigorous virtual instruction to the challenges that ransomware brought, to learning how to teach concurrently and the immense amount of time that actually takes.
"Every single time, educators have pivoted, turned and figured it out. But they are frustrated, they are tired, they are stressed and overwhelmed. On behalf of the educators, I implore you – let us go forward with the plan for four days of instruction slated to start on May 10."
A parent who said they have three BCPS called in to the meeting to voice concerns about a loss of learning over the past year. A regular academic year, this parent said, would have 30 hours per week of instruction time. According to the Maryland State Department of Education (MSDE), BCPS students receive 24.3 hours of instruction time during the second quarter. Each of the three children spent 16 hours online during the week over that time, according to the parent. Two of those hours were for advisory time, amounting to 14 hours.
"I don't know where they got 24.3 hours because that is wildly inaccurate, unless there are inequitable hours being taught across the county," the parent said. "Regardless, 14 hours is less than half the amount they would normally receive. Of course it has resulted in a loss of learning."
The parent requested that all middle and high school students be permitted to attend school four days per week beginning on May 17. Students are less engaged in a virtual setting, and failing grades and lack of attendance are the evidence of it, the parent said. Attendance for elementary schools was at 91 percent, while middle and high schools were at only 73 percent attendance, the parent added.
The parent cited an article from National Public Radio (NPR) that showed that virtual learning is more effective for around 10 percent of students nationwide, due to things like bullying and school anxiety. That is something the Board will have to figure out, the parent said.
"A majority of students thrive in a classroom setting, where they can interact with teachers and peers, free from distractions so they can focus on learning," they said.
Williams began his remarks at the meeting by saying that the BCPS reopening plan is in four phases, with the first phase beginning on March 1, including students who attend separate day schools and students preschool-fifth grade. On March 15, it opened to students outside general education in grades 3-12. On March 22, it expanded to students grades 6-9, and to all students grades 3-12 on April 6. Students are currently attending in-person classes two days per week.
Williams and his staff were at the meeting to outline how it will begin to implement four-day school weeks. The staff explained that school principals reached out to families on April 16 to offer guidance on how they can opt in to four-day weeks, or select a fully virtual setting.
The four-day plan is customized by school principals so unique needs in communities can be met, according to BCPS staff. On April 22, school administrators are expected to undergo professional learning, where they will have the chance to consult with school system leaders and receive support as they begin the plan to move from two days to four days.
Health and safety standards
According to BCPS staff, on March 19 the CDC updated its school safety recommendations on social distancing to include three feet of social distancing in elementary schools. The CDC recommends that students in secondary schools be at least three feet apart in areas of low, moderate or substantial transmission. In areas of high community transmission, students should be distanced at least six feet apart. Secondary schools will follow six feet of social distancing, according to BCPS staff.
Mask-wearing will continue in schools when four-day weeks begin, and sanitation practices will be strictly followed, according to BCPS staff. Mask-wearing will also be provided on BCPS transportation vehicles, and social distancing will be enforced when possible. Three feet of physical distancing between students will be required during recess in elementary schools, and six feet of required distancing in secondary schools. Playground equipment will be sanitized daily. Students will be distanced at least six feet during lunch at both elementary and secondary schools.
Four-day school weeks are expected to begin on May 10 for select groups of students, to include secondary day school students and students preschool-fifth grade. On May 17, all IEP/504 students at secondary schools will begin four-day weeks.