DUNDALK — Students from Patapsco High School and Center for the Arts participated in the second annual Educators Rising Conference, held for BCPS students interested in education careers, on Jan. 9.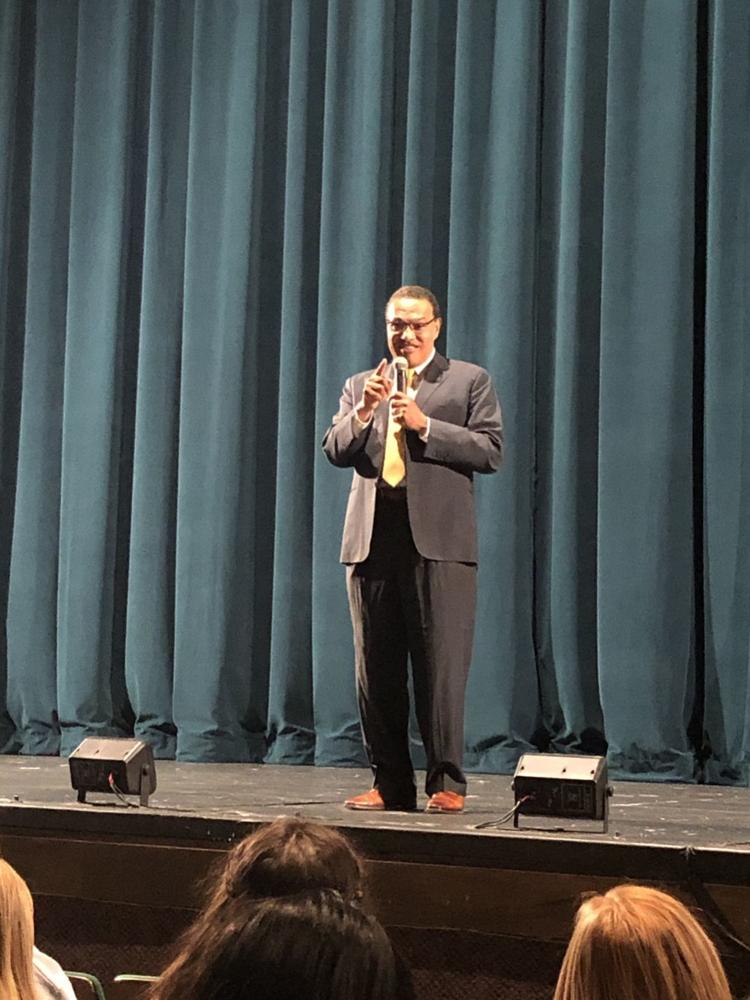 Close to 300 students from 20 Baltimore County middle and high schools participated in two professional development sessions at Baltimore County Community College (CCBC), Dundalk campus.
Students were able to meet and interact with representatives of local colleges and employers, and engage in a service-learning project.
The purpose of the event is to build a pipeline into careers in education in Baltimore County Public Schools (BCPS).
BCPS also offers The Teacher Academy of Maryland and Child Development Completer programs, which serve that role of motivating students to be educators.
This is an initiative to grow BCPS teachers who are products of BCPS.
"The focus today was on equity issues and social justice issues, so students can feel like education is a good pathway for them to pursue because they can change lives and they can change the world this way," Alicia Fales, a BCPS Office of Career and Technical Education supervisor in the Office of Careers, said. "We need to be encouraging students to come into this career and feel like they can make a difference in this world."
According to Fales, research shows that the majority of teachers in the country are white women. BCPS officials want to recruit teachers, as well as influence more men and women of different races to join them.
"One of the goals is to really have students be able to see themselves in the classroom. Research has shown that students do better when they have at least one teacher who looks like them. When teachers can relate and connect with students, they do better," Fales said.
Being that there is a teacher shortage across the country, BPCS Superintendent Darryl Williams said one of the best ways to provide excellent teachers for the future is looking at BCPS students and encouraging them to come back and start a career.
"We want you to enter into, I think, one of the best professions out there," Williams said. "Teaching is the one profession that creates all other professions. So, we do need more teachers and what's more impressive is having our students to get their credentials and return back to BCPS."
CCBC president Dr. Sandra Kurtinitis, who was an english professor for 23 years, said that teaching was the best training she could ever have done to prepare her for her current job as a college president.
"That's because the classroom and the people who we need to be in it are never far," Kurtinitis said. "My job is to make sure that the teachers in the classroom have what they need to be able to do what we rely on them to do, which is to teach students in a 21st century way, in a 21st century classroom, in a 21st century environment."
Teachers don't usually go into the field expecting to make a lot of money, according to Kurtinitis.
"Teachers don't do what they do for the money they will make," she said. "They actually do the work that they do because it brings them pride, it brings them fulfillment and it brings them satisfaction. What they're doing is fostering in their students a high sense of achievement, of understanding, what it means to be a good citizen. What a gift it is to just be able to read, to speak, and to think. That's what we teachers do and that's what takes us back to work every single day."
"What I hope you've gotten a glimpse of today is how connected CCBC is to the educating of teachers," she added.
Keynote speaker, UMBC President Dr. Freeman A. Hrabowski, III said he wasn't going to bore the future educators with a simple lecture and dialogue. So, he tried an activity to model to the students the teaching approach that he found most effective in the last few years.
Hrabowski asked the students questions, made them stand up, involved them in exercises and explained to them how to carry themselves once they enter a classroom.
To drive the point that educators play a significant role in people's lives, Hrabowski asked students to talk about their favorite teacher and what they did to influence them. The students were anxious to be called to stand and shine light on their most impactful educator.
"Teachers really do help children develop a sense of self," Hrabowski said.
By the end of the event, students left the event with glee and piled into their buses to head back to school.
Educators are hopeful that the students will seriously consider training at CCBC for careers in education at BCPS.