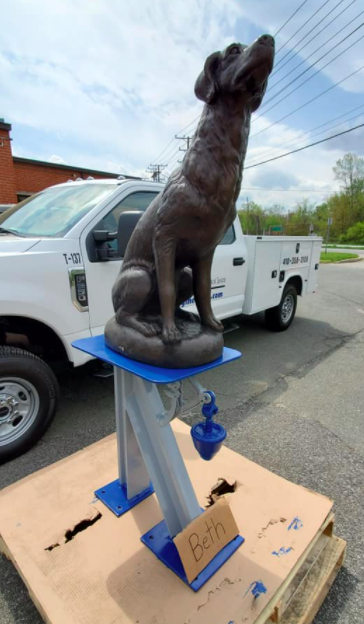 Athletes at Sparrows Point High School will soon begin a new tradition, one made possible through the Sparrows Point/North Point Historical Society's Beacon of Hope project.
Beacon of Hope started out as a vision for Keith Taylor, the current president of SPNPHS. A former educator at Patapsco High School and Center for the Arts, Taylor's retirement was brought on earlier than expected by a traffic accident. He adopted a dog, and he and his new best friend began taking walks around the community. Those walks inspired what SPNPHS, Sparrows Point High School and Baltimore County are working to turn into a reality.
The Beacon of Hope Project will be completed in two phases. Phase 1 consists of putting a new statue next to the track at . Phase 2, which will be the first solar-powered project for Baltimore County Public Schools, according to Taylor, is the installation of a lamp post that once stood at Bethlehem Steel. In addition, a living classroom and technical education learning center that will be used by Sparrows Point Educational Center in Environmental Studies (SPECIES), a magnet program at SPHS.
The statue, which will resemble a female pointer named "Beth," will sit next to the entrance to the track. According to Taylor, Beth will lead SPHS into a new tradition. Athletes who walk onto the field or track, primarily football players and track runners, will touch Beth's nose for good luck. It will resemble traditions at Division I colleges, Taylor added, such as students rubbing Testudo's nose for good luck at the University of Maryland.
"[Taylor] is definitely the driving force behind the project, but it's something that we're excited about," said Emily Caster, principal at Sparrows Point High School and Middle School. "We're really excited about the potential of blending the community history and our school campus.
"It's something we've been working on for a very long time with a lot of community partners involved."
'Beth' and 'Steel': A paw-fect pair, and a nod to steelmaking
Located inside the lobby of Sparrows Point High School is a Pointer statue bearing the name "Steel." The name is a nod to the legacy and history left behind by Bethlehem Steel to the community. The mascot at Sparrows Point High is the Pointer.
Coming soon – a second Pointer statue will arrive at Sparrows Point. It will not go in the lobby, however. Instead, it will go next to the track. It will ring in what Taylor said he hopes will become a new tradition at Sparrows Point, one that resembles that of popular collegiate athletic teams.
"When we decided to put another mascot out here, the foundation is historical rails and an electrical insulator from Bethlehem Steel," Taylor said. "The rails date back to 1935, and they say on them "Maryland-Ohio." It's pretty cool.
"Once they started to create the rails and expand, the company took off. So, we figured to have a second mascot, and we named her "Beth." It will be the combination of "Beth" and "Steel," and the historical roots or aspect of where Sparrows Point High School originated."
A living classroom for SPECIES
In addition to the new statue, a 40-foot by 50-foot living classroom will also be installed next to the football field. A row of tables currently occupy the space where the classroom will sit in the future.
According to Caster, the SPECIES program at Sparrows Point High is a magnet-based program. Students in the program come to Sparrows Point from the northeast and southeast areas of Baltimore County, she added. The program involves a rigorous course load, double that of other high schoolers, Caster said, and are required to take specialized science courses.
"Truly, the nature of the program allows us to take advantage of this beautiful campus," Caster said.
"We have areas that are forested. Getting out onto the Back River, you may have seen our fleet of canoes and kayaks coming in. Our hope is to have this project be an extension and have some designated outdoor space for kids, as well."
Taylor said that the project primarily focuses on the history of Bethlehem Steel. At the same time, he said, the Sparrows Point/North Point Historical Society strives to preserve history from other aspects of the area's heritage, suchas the War of 1812 and the Battle of North Point.
"The area is just saturated with history," Taylor said.
"To promote that, as far as tourism goes and things of that nature, the park that's going down to Sparrow Point, we're really excited that Baltimore County has called us on several occasions and asked for our input there."
Taylor referred to the new Sparrows Point Park, scheduled to begin construction this Fall. Taylor attended Sparrows Point High School and later taught at Patapsco High School and Center for the Arts, the same exact route as County Executive John Olszewski, Jr., before his pursuit of political office.
"I want to thank Keith for his dedication and commitment to this project that seeks to preserve the rich legacy Bethlehem Steel for generations to come," Olszewski said about the Beacon of Hope project, given to the Eagle in a statement this week.
"Growing up in the community, I remain committed to honoring our history and heritage even as we continue working to build a stronger future for Sparrows Point — and Baltimore County — together."
A Sparrows Point heritage center?
Taylor said that one thing missing in the Sparrows Point community is a heritage center. He pointed to surrounding communities – Turner Station, Dundalk, Middle River – as communities that have their own heritage centers or heritage areas.
"Sparrows Point built all those communities, and we don't have one," Taylor said. "The heritage center we have is in the school here. We need to expand that, obviously, with Bethlehem Steel not being here any longer.
"We need foundation for our heritage and to keep people abreast of what really occurred here, and what we have going in the future."
Making way for the future
Taylor said that Phase 1 is expected to begin on June 1. Phase 1 consists of placing "Beth" at her new home. Phase 2 will begin sometime after Phase 1, he added.
Taylor said he is waiting on certain approvals from both Baltimore County and the State of Maryland. Before the living classroom can be installed, other things must be done. The tables have to be removed. The current sidewalk that sits next to the chosen spot for the classroom will be removed and replaced in order to meet American Disabilities Act (ADA) guidelines.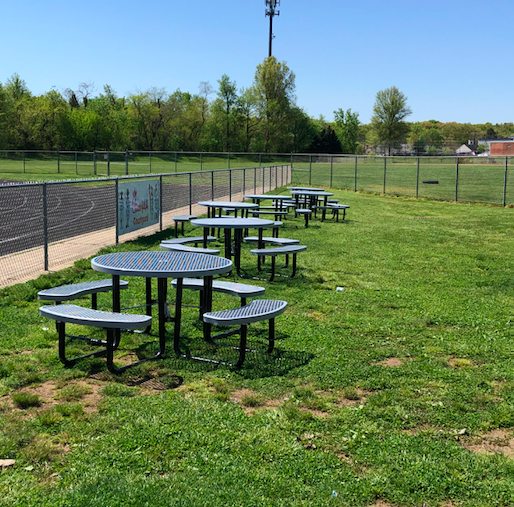 The stone and concrete required for the project was donated by DXI Construction, a construction company located at Tradepoint Atlantic (TPA), a real estate developer that occupies the area formerly occupied by Bethlehem Steel. The gift was in the amount of $25,000, Taylor said. The Power Factor, an Essex-based company that installed the first solar package at TPA, donated a power package to the project for solar power, Taylor added.
A portion of that solar power will be used to power a lamp post that will also be installed on the Sparrows Point campus. The lamp post is the same that stood at Bethlehem Steel many years ago.
Raising awareness about climate change
Caster said that Sparrows Point High was recently recertified as a green school, meaning that it provides a learning experience for students that focuses on sustainability. The Beacon of Hope aligns with the school's sustainability mission, she added, as well as its commitment to keeping its green school certification.
Achieving that certification includes an extensive process, Caster said. Part of that process requires preparing an application that documents all school activities over previous years.
Phase 1 of the Beacon of Hope is expected to begin sometime after June 1. A start date for Phase 2 is to be determined.