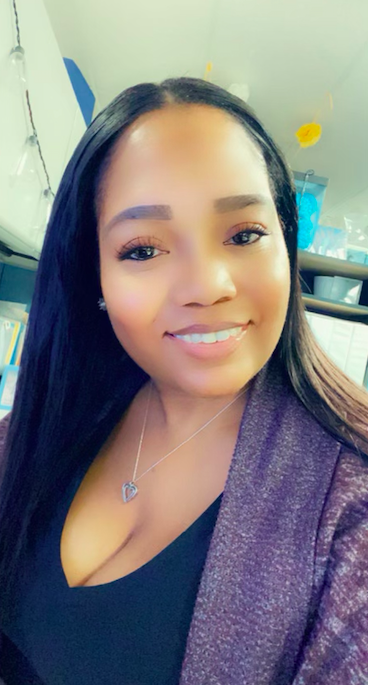 After living two relationships defined by domestic violence, one Dundalk resident is ready to share her story and become an advocate for current and former victims.
Tameka Johnson, a single mother of four who is originally from O'Donnell Heights and now lives in Dundalk, reached out to the Eagle to spread the word about her own courageous choice to share the story of her own suffering, and the story of the daring escape she made to flee from her then-spouse.
Johnson said she has not yet decided exactly how she wants to go about her advocacy when she begins. She is, however, currently working on a book that she has titled "I'm Not Your Punching Bag." In the book, which is still currently a manuscript, she tells the story of a five-year marriage that was dominated by verbal, emotional and psychological abuse. Johnson gave the Eagle a copy of her manuscript.
Johnson said she had made plans to begin her own journey as an advocate shortly after the start of 2020. She had planned her first event, a cupcake social, and all that was left was for people to attend. She was forced to cancel when the COVID-19 pandemic reached Baltimore County.
Johnson said her family is also from the area. Her father grew up in Turner Station. She also is not new to the world of advocacy. She once raised awareness about lead poisoning. She currently works for the Baltimore County Office of Planning, where she has served for nearly five years, and spent time in the past serving on a governor's commission board. Prior to working in government, she said, she worked at Eastpoint Mall.
"I'm really a homebody, I guess due to what I've been through," Johnson said. "It's kind of hard to break out of the homebody [mindset] when you've been in something like that."
Johnson is now living on her own, away from the hell she was forced to endure for many years. She is a survivor of two domestic abusers. The first was a man she called her fiance, a relationship that ended in murder.
Johnson said she and her fiance had returned from a party with her brother. Johnson said she owned a minivan, which she drove to the party because she was pregnant at the time. As the minivan pulled up to Johnson's mother's house, who was babysitting her other children, an argument began. Before the argument started, Johnson's brother went inside the house to gather her children for her.
"My ex stated he wanted to take the van to work and that I could catch the bus to work," Johnson said. "I told him that's not how it was going to go. I'm pregnant. I work and it's far, when he could just walk to his job, which was right around the corner."
Johnson said her then-fiance became angry and exited the passenger side of the vehicle, and then made his way around to the driver's side. He opened the door, she said, and threw the glass Sobe™ bottle he was carrying at her stomach. He then went back around to the passenger side, she said, re-entered the vehicle and resumed his attack by striking Johnson's face several times, she said.
"My brother heard me screaming," she said. "I don't know what was going on in my brother's mind, but I guess the only thing he could think at that moment was to grab a knife."
The fiance, David Cleveland, was pronounced dead at 8 a.m. the following day, Johnson's brother, Donnell Wilkins, stabbed Cleveland in the back several times. He was arrested at the scene and charged.
"That night, I felt like I had lost two men," Johnson said. "My fiance was dead, and my brother went to jail."
"I think he could have handled it a different way, but if it wasn't for my brother being there, I could have lost my life or I could have lost my baby."
Johnson's book does not touch on this story. "I'm Not Your Punching Bag" is Johnson's story of living with her ex-husband, a marriage that lasted just five years and was defined by domestic abuse. Johnson tells her story with a bit of a boxing flavor. She often refers to her ex-husband as "the heavyweight champ," heavyweight," or "champ." She signals to the reader when the next fight begins by describing herself as an amateur boxer getting in the ring with an experienced fighter.
"I grease up my face, strap on the headgear and put in the mouthpiece. Ding ding ding!"
"I'm Not Your Punching Bag" shares details of not only the abuse she suffered, but also her children. Johnson told the Eagle that even today, with the marriage over and that person out of their lives, her children will still share stories of hurtful things they saw or heard, things said either to them or to their mother.
Through every chapter, Johnson takes the reader through the most impactful parts of the marriage – how each conflict begins; how each incident of abuse played from start to end; how each reconciliation period led to the cycle beginning again.
"Everything went good with the relationship in the beginning," Johnson said. "I want to say it was the honeymoon stage."
"I felt like we got married too quick, but we got married in June of that year. Once we were married, it was like he was a whole different person, if that makes sense. Everything just changed."
Johnson said the next five years were filled with several instances of verbal and emotional abuse. He called her by other names but not her own. He even did this in front of her children, she said. He often accused her of infidelity and talking about him to her friends when he wasn't around.
"I remember a time, laying on the bed and just trying to gather my thoughts after work," Johnson said. "He caught me and said 'you are nothing but a [expletive]. You will never be nothing in life. You will never be nothing.'"
Johnson said her ex-spouse would also escalate small situations as a way to pick a fight. Forgetting something at the grocery store was one example of this.
But the most intense part of Johnson's story is how she escaped the relationship. She wanted out, she said, but feared he would not let her leave. Her only choice, she thought, was to leave without his knowledge.
"It got to the point where my kids were telling me, 'Mom, we don't like him. We don't want to be here with him,'" Johnson said. "I told them not to worry because Mom has a plan. I got this."
Johnson said she started apartment hunting in February 2017. No one knew about this plot, she said. The plan was risky, and the calculations needed to be meticulous. Secure a place, gather the kids and escape under his nose.
The plan initially worked.
She found an apartment and furnished it. New furniture for the new place and new beds for the children. It was like a symbol of starting over. On her way home one day, she called one of her oldest children and asked if her ex-spouse was at home. The reply was that he was at home but leaving soon for work.
When he was gone, she instructed her son and other children to pack their belongings. Have everything ready, because they were leaving that night. She had escaped.
"When he came home from work the next morning, I had 93 missed phone calls from him, and 78 text messages telling me that he loves me and to come back," Johnson said. "It was like, one minute he wanted me and the next minute he didn't, in those text messages and voicemails."
Things were fine, until one night Johnson said she heard a banging at her door. It was him. He had found them. He had shown up demanding she return a television to him.
Even after leaving, the harassment continued. She told of an incident when he jumped out of bushes and scared her and one of her children. Another time he hopped in her car. On one occasion, she walked inside a gas station and found him sitting on her hood when she walked back outside.
"I had gotten a peace order against him, but the police could never serve him," Johnson said. "So when he jumped at my vehicle, I had the police serve him right then and there."
How she eventually escaped the abuse will be in her story. The story is still in the form of a rough draft, but Johnson plans to release it some time in the future.
She is now free from him. She wants to not only share her story, but offer hope to others who feel trapped in similar situations.
"I don't want anyone to go through what I went through," Johnson said. "It's hard to deal with. You have days where you're scared to even mingle with someone because you don't know how they are."
"Some people are scared to speak up. I feel that if they have someone in their corner to say 'I got your back, we're going to get through this,' you can help at least one person get away from domestic violence. I believe that in my heart completely."
According to the Maryland Network Against Domestic Violence, 702 victims of domestic violence were served on Sept. 12, 2019. Each year, the National Network to End Domestic Violence conducts a census of domestic violence service providers. Maryland participated in the census on this day.
Maryland Courts granted 22,692 Temporary Protective Orders and 10,107 Final Protective Orders in Fiscal Year 2018.
If you, or if you know someone, are trapped in a domestic violence situation, you are encouraged to call the Baltimore County Domestic Violence and Sexual Assault Hotline at 410-828-6390, or the Family Tree Family Crisis Line at 1-800-243-7337. The National Domestic Violence Hotline is also available and can be reached by dialing 1-800-799-7233.