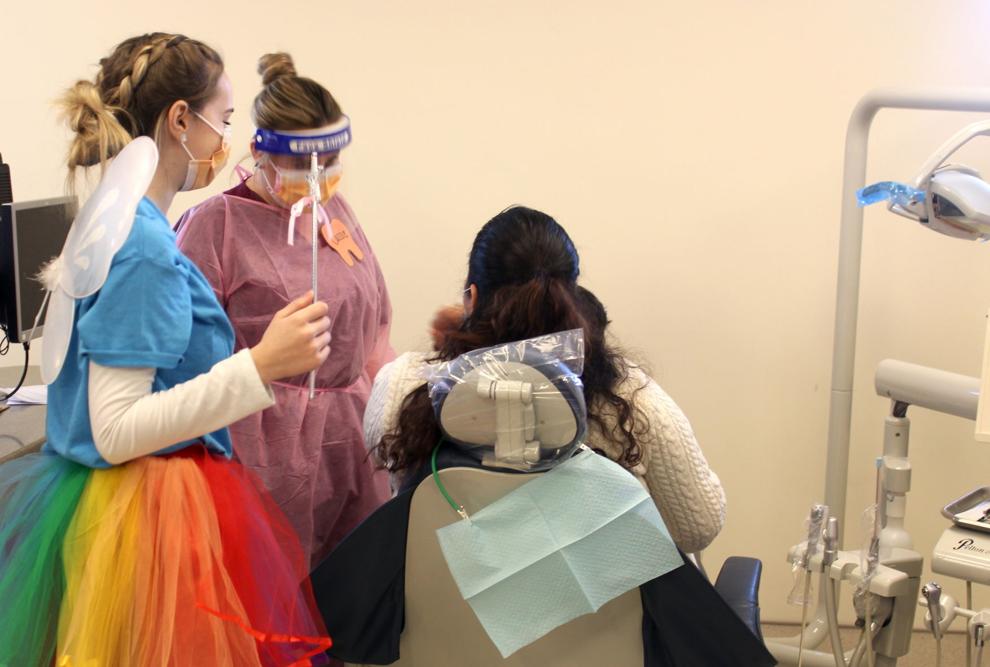 DUNDALK — The first day of spring was busy at the Community College of Baltimore County's Dental Hygiene program, where students and faculty ran a 'Spring Smile-tacular' morning of free teeth cleanings for kids.
Students in scrubs and masks greeted families at the front, cheerfully signing in their little patients and taking them to the clinic while parents waited outside.
Inside, the clinic looked like a dentist's office taken over by a zealous kindergarten teacher — paper chains hung from the ceiling bursting with spring colors, balloons floated at each station, and the room thrummed with a busy, upbeat vibe.
"We have 22 second years in 11 pairs," explained Margaret Hinkle, an assistant professor with the Dental Hygiene program who organized the 'Spring Smile-tacular.' "One acts as a hygienist, the other as an assistant."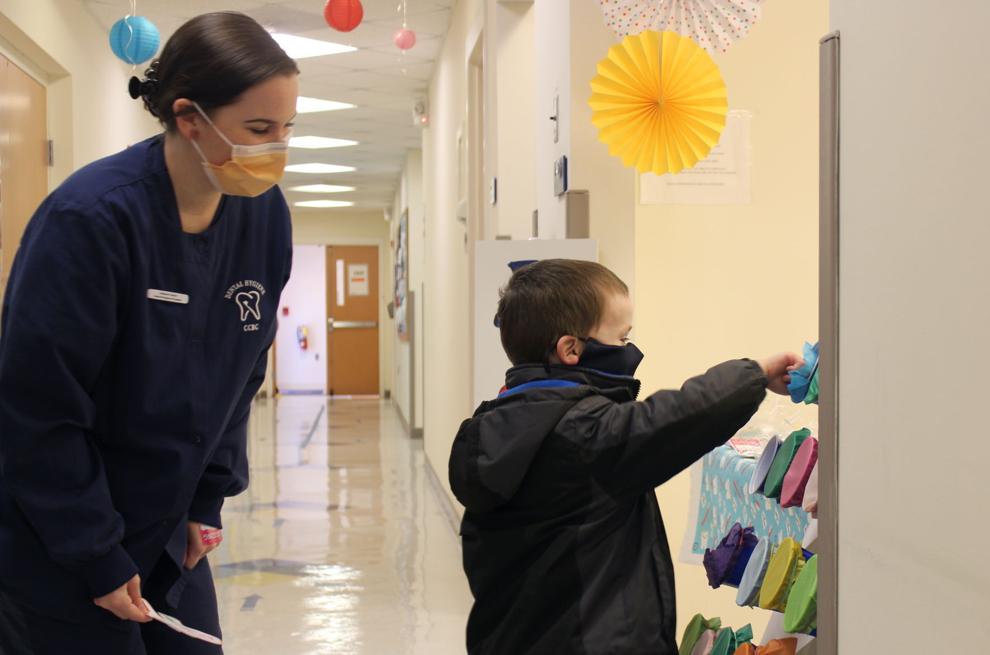 Hinkle was everywhere, answering questions from students, talking with kids and parents and keeping up a welcoming warmth — after all, it was a beautiful spring morning. But keeping the appointments running smoothly required backup — staff were on-hand to supervise the second year students running the cleanings, and other students hovered around ready to help.
"I'm just keeping the little kids happy," said Nicole Bonhomme, a first-year student in the program who was dressed up as the Tooth Fairy with a rainbow skirt and magic wand. "It's important for them to get that exposure, to overcome fear of the dentist from a young age."
Bonhomme would visit the kids who were nervous and scared, sometimes bringing them goodie bags with themed teeth cleaning toys. After each cleaning, the kids would get to claim a prize and write a note or doodle a drawing on a little paper tooth that would be put up over the water fountain in the hallway.
Getting more experience with kids, Hinkle said, would be a crucial part of training for the student hygienists, who are all in their final semester and very close to earn their qualifications for preventative dental care.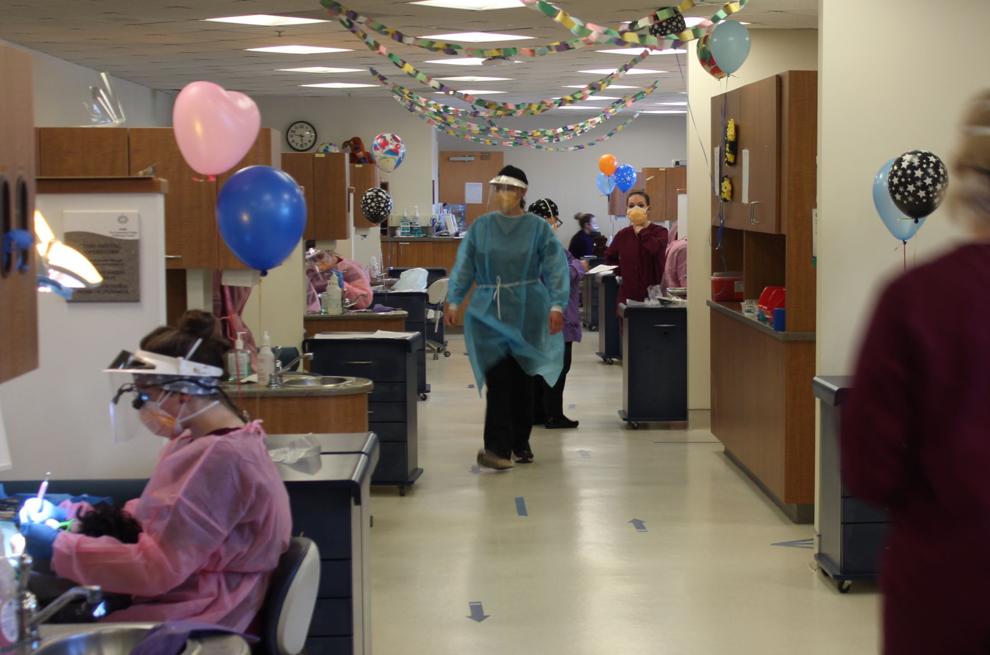 "Our students are required to see different types of patients and, of course, that includes children," Hinkle said. "This helps them to learn how to interact with children and adolescents, as well as targeting their oral hygiene instructions to that demographic."
Students in the program often host free cleanings to get hands-on experience with patients, but don't get the chance to work with kids as frequently — often, scheduled cleaning sessions don't match up well with school schedules, which is why they decided to open up on Saturday.
The near-graduates administering cleanings will be supervised by licensed dental hygienists and dentists, and any major issues they discover like cavities will be referred out to a restorative oral care expert.
Hinkle explained that the pandemic has caused a decline in dental care for kids. Offices were closed, appointments were cancelled and, while many families felt uncomfortable with the risk of exposure during an in-person visit, teeth cleanings didn't work very well over Zoom. And for low-income families who have been hit hard by the pandemic, the cost of an appointment was just another barrier.
Whatever the case may be, Hinkle said, some kids may not have been to the dentist in over a year — a bad thing, considering that issues like cavities can become serious more quickly in children than adults.
"When they get a cavity, it will escalate faster," Hinkle said. "Very rapidly, it can become an emergency situation."
Katie Miller brought her boys Colin and Alex in for cleanings, and said their situation was similar to what Hinkle described — she knows proper dental care in important, but she and her husband were busy trying to keep their family afloat and realized recently that it had been a while since their last check-up.
Miller thanked CCBC for offering the free cleanings, and noted that their visit ran smoothly.
"It means the world to me, as a mom," she said, following as a student took Alex to get his prize while Colin was still finishing his check-up. "They're not screaming and crying, so I'm taking that as a good sign."
Alex was all smiles as he claimed his prize — a little plastic clacker toy.
"You are being so awesome, Alex," one of the nearby students said.
They also handed him a little medal on a ribbon and tried to put it over his head, celebrating his victory over fear of the dentist. But Alex had other ideas, reaching up and trying to put the medal on his mom instead — he knew who the real winner was.
"Are you going to come back?" Bonhomme asked, a reminder that the Tooth Fairy would be watching to make sure he brushes twice a day. Alex nodded with a bright grin.
All in all, they treated almost 40 patients, and may host a similar event later this year or around the same time next year.