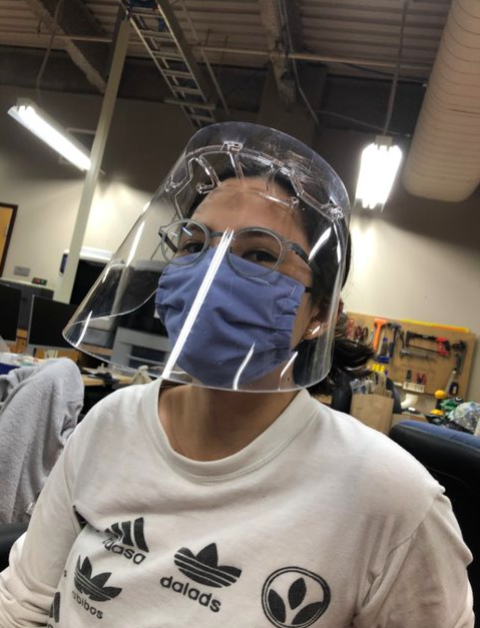 BALTIMORE COUNTY—The Fabrication Laboratory (Fab Lab) and the Computer Automated Manufacturing Program at the Community College of Baltimore County (CCBC) are utilizing the special equipment and skills they have to provide face shields and masks to first responders and low-income residents.
Jaime Alvarez, chair of the Engineering Department at CCBC, said the Fab Lab doubles as a community space for people to work on their own design projects and as a space for CCBC students to learn new skills.
Alvarez said the Fab Lab decided to 3D print face shields after the Baltimore City organization, Open Works, called on people and organizations who have access to 3D printers to partner with them so they could create Personal Protection Equipment (PPE) for first responders.
"We found out that our 3D printer takes about 6 hours to produce the frame for just one shield. So between us and other organizations, Open Works has produced around 10,000 shields," Alvarez said.
The Fab Lab has two lasers that cut the shield material made out of speciality plastic called Polyethylene terephthalate glycol (PETG) and cut the mask frames which are made out of acrylic.
"Because it takes so much time to produce one shield with our 3D printers, we decided to look at other designs that we could produce more quickly using other technologies such as our lasers. That's how we settled on making the shields by laser cutting the acrylic and PETG," Alvarez said.
The Fab lab is also using lasers belonging to CCBC faculty who have one at their home or have one as part of their business.
"One of my staff members' wife owns a business called An Etch Above, which is a laser engraving business in the Parkville area. She had to shut down but she has a laser. So we told her to keep track of how much time she puts into this and to bill us and we will make sure she gets paid for at least part of the effort," Alvarez said.
"It's nice to know we can help out a local business while doing this."
Once the shields are assembled, they are sterilized with hydrogen peroxide and an antibacterial solution before being placed in clear containers where they are UV sterilized.
The first batch of shields consisted of 750 face shields, which were distributed to United Medical Center in Washington, DC, Mercy Medical Center in Baltimore, Baltimore County Police, Baltimore County Emergency Operations (to be distributed to first responders) and CCBC public safety.
The second batch of 850 face shields is in progress. A little more than 700 will go to Baltimore County Emergency Operations to complete their initial request of 1000 shields. The rest will go towards smaller requests and any additional needs from Baltimore County.
Masks are also being produced within the Fab Lab, but there is also a community volunteer component. Fabric is delivered to the Fab Lab and the specific pattern is laser-cut. The cut pattern then goes to the near 80 community volunteers who have signed up to help with sewing.
Once the masks are sewn, they are returned to the Fab Lab where staff sews the ear elastic and the metal nosepiece that provides structure and stability.
Masks are washed, ironed, packaged and sterilized by the Fab Lab staff. The completed masks are then delivered to Housing Our Neighbors (HON) and CCBC staff who distribute the masks to organizations in need, such as homeless shelters and encampments.
As long as the Fab Lab continues to receive donations of funds and/or fabric and there is a need, mask production will continue.
Fabric can be donated in any amount and dark colored material that is 100% woven cotton is preferred. The elastic for the face masks can be anywhere from 1/8" to 1/2".
Those wanting to volunteer can go to fablabbaltimore.org and click on the "Mask Info" box to fill out a survey and get more information. For monetary donations, please go to www.intouch.ccbcmd.edu/Donate-Now and select "PPE FUND- FABRICATION LAB" from the drop down menu.
Alvarez said he is very grateful for all the donations and support from volunteers and is glad he is able to contribute to the effort of supporting first responders and people in need.
"Ordinarily, if I didn't have this project I would be at home working on my regular every day tasks as chair of the engineering department. Instead of just hunkering down, it's nice to work on something like this because it gives you a sense of purpose and a sense of being able to help."
To watch CCBC's video that shows what the shields and masks look like and to learn more about the Fab Lab, CCBC's Youtube page.