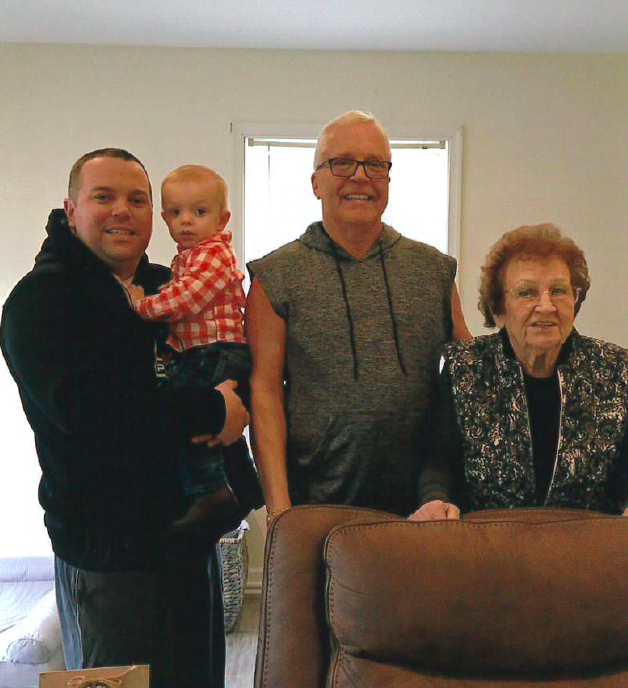 Anna Connelly, the family matriarch of the Connelly Funeral Home of Dundalk, turned 100 years old this week.
Anna and her husband, Charles Connelly, Sr., moved from Highlandtown to Dundalk in 1966 with their three children. The family of five lived at 7108 Sollers Point Rd. In 1973, the family opened Connelly Funeral Home of Dundalk at 7110 Sollers Point Rd., where it still stands today. The family's youngest, Colt Connelly, currently oversees its day-to-day operations. Anna turned 100 on May 26.
"She was raised in Essex and was born to my grandparents, Anthony and Mary Fitz," Colt Connelly said.
According to Colt, Anna Fitz met Charles Connelly, Sr. and the two were married in July 1942. They moved into a home on Bank Street in Highlandtown, where they owned and operated a small funeral home. Their three sons – Colt, Michael and (late) Charles, Jr. – were born in Highlandtown. They lived there until they moved to Dundalk. Seven years later, they opened Connelly Funeral Home of Dundalk.
"Back in those days in the 70s, you didn't have all these diverts and all this stuff," Colt said. "They had to man that phone 24/7.
"When they wanted to go to a bull roast, they had to get one of us to sit here or figure it out, or not go. Now, I can answer my phone in Ocean City. Things have changed."
Charles, Sr. passed away in 1997, according to Colt. Anna Connelly continued to oversee the family business, living in a small apartment one floor above. She and Charles moved into that apartment when Connelly Funeral Home of Dundalk opened. More than 48 years later, she is still living there.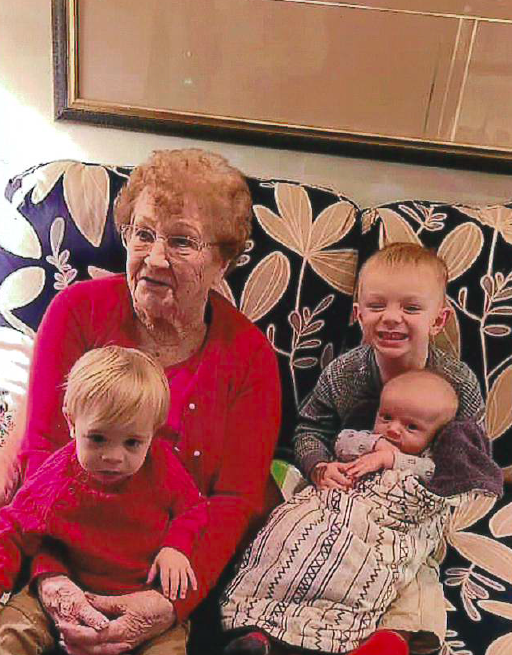 "She still gets her hair done every week and gets her nails done; she keeps up with herself," Colt said. "My father would stay home all day, watch television and sit in the recliner. She'd always say, 'Buster, your bones are going to grow together. Move it.'
"Mom would get in that Cadillac and out she'd go. Until she was 90 … 92, she would always move. She wouldn't sit."
Today, Anna Connelly gets around in a wheelchair, and she hates it, Colt said. Never being one to remain stationary for long, Colt suggested that her consistent activity earlier in her life has contributed to her longevity. Along with that, she has maintained an independent spirit, he added.
Colt shared a story about his mother's driver's license expiring when she turned 92. He offered to take her to the Maryland Vehicle Administration (MVA) to renew it. Driver's licenses in Maryland are set to expire on the holder's birthday, eight years after it's issued. She renewed hers, and set the expiration date to her 100th birthday.
"I told her that if they renewed it then I would take a cake to the DMV and we're going to have a party right there," he said. "I got that renewal in the mail two weeks ago. I took a picture of it and I'm going to put it on a posterboard at her party."
Anna Connelly told the Eagle that she and her husband moved to Dundalk for the purpose of opening their own funeral home. The funeral industry runs in the family. Charles, Sr.'s father, John Gordon Connelly, Sr., opened Connelly Funeral Home of Essex in 1924. It was located on Eastern Avenue. Today, Connelly Funeral Home of Essex is located at 300 Mace Ave. Despite sharing a name, the two funeral homes are not directly connected.
Anna Connelly said that Dundalk is a fine place and she loves the area. She has lived here for 55 years, and she said it keeps getting better and better. When she was getting around on her own, she spent many hours shopping at boutique stores and at the Eastpoint Mall. Colt Connelly said she would be out the door after breakfast, and sometimes he had no idea when she would return.
Anna and Charles, Sr. went out together and "enjoyed the good times" on many occasions, Colt said. The two were social beer drinkers, often going to bull roasts or other functions and staying for hours after the event ended. Colt said they would stay out for as long as 12 hours at a time on occasion.
"I don't know how they did it," he said. "They just had that group of friends back then. They went out and they enjoyed the good times."
Anna and Colt share a tradition, a nightly phone call to check in and tell each other goodnight. Colt said he had been doing that every night for 20 years. But as his mother got older, her hearing began to diminish. Finally, two years ago, they made an agreement that she would call. She does just that, every night at 8:30 p.m. on the dot.
Her 100th birthday was celebrated on May 26. Colt said that Anna spent the day with her two sons, her grandchildren and great-grandchildren. A birthday party with four generations in one building, sharing cake, ice cream, smiles, laughter and love.