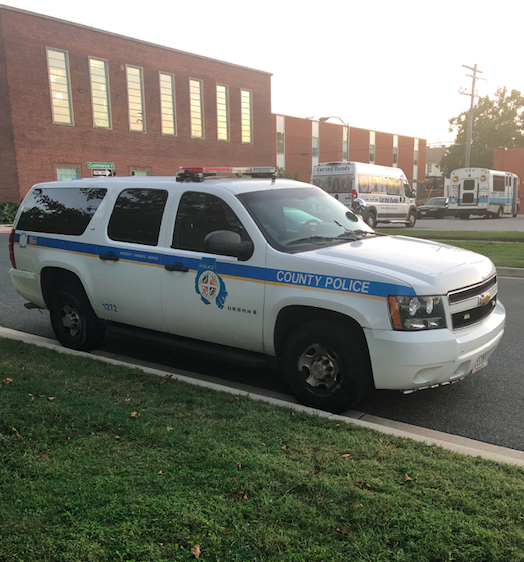 The Baltimore County Council on Monday night passed a bill containing a package of initiatives intended to improve and modernize policing in the county while strengthening community relations.
Called the Strengthening Modernization, Accountability, Reform, and Transparency (SMART) Policing Act, it passed by a vote of 6-1.
Todd Crandell, a Republican representing the 7th District, was the lone dissenting vote.
"Today Baltimore County has taken a critical—and united—next step toward equal justice," County Executive John Olszewski Jr. said in a prepared statement. "The SMART Policing Act will make our Police Department and our County better for everyone.
"I'm grateful to my colleagues on the County Council for ensuring bipartisan progress in meeting the challenge that this moment demands. This is not the end, but it is another important step towards a more just and equitable future."
Voting in favor of the bill were Tom Quirk, 1st District; Israel Patoka, 2nd District; Wade Kach, third district; Julian Jones, 4rth district; David Marks, 5th district; and Cathy Bevins, 6th district.
Kach and Marks are Republicans; the others are Democrats.
As introduced last month, the SMART Policing Act consisted of:
Modernizes Policing Tactics
by:
Banning the use of all neck restraints, including chokeholds, unless a person's life is in immediate jeopardy;
Requiring a policy specifying that officers render aid or call for medical care for any individual in police custody who has an obvious injury or complaint of injury;
Requiring the Baltimore County Police Department to introduce policy affirming the sanctity of life and the dignity and value of all persons;
Enhances and Enshrines Reforms on Use of Force
by:
Requiring the Department to introduce policies to limit the use of force;
Requiring the Department to introduce policy obligating officers to intervene to stop fellow officers from using excessive force and report uses of force;
Providing protections to prohibit retaliation against those who report misconduct;
Requiring the Department to implement an early intervention system to provide officers at-risk of engaging in the use of excessive force with additional training or other behavioral interventions;
Improves Training and Accountability
by:
Barring individuals with prior disciplinary records in other jurisdictions or agencies from serving as a Baltimore County Police Officer;
Requiring annual training in de-escalation, implicit bias, and the use of force;
by:
Authorizing the Chief of Police to select up to two members of the public to serve on a police hearing board. Due to state law, final approval of the membership is subject to collective bargaining;
Requiring collection and public access to use of force data and police involved shootings.
A response posted by the Fraternal Order of Police Lodge #4 last summer (when the reform bill that would eventually become the SMART Act was first introduced) said county police already practice what is required by the bill.
Jones, who had introduced the bill along with Olszewski, had wanted to add four amendments: clarity on the chokehold exception, expanding whistleblower protections to apply to all police misconduct, and specifying civilians may be appointed as voting members on the Police Department's disciplinary hearing boards.
The fourth amendment would require the county police chief to present a 'use of force' report to the county council every year by April 1.
Jones removed those amendments before Monday's vote. The fourth amendment was still passed.
When the bill was introduced last month, Fraternal Order of Police Lodge #4 President David Rose released a statement describing how the lodge had worked with members of the county council, Chief Melissa Hyatt and Olszewski to craft legislation to modernize department policies and strengthen the relationship with citizens of Baltimore County.
"The FOP Executive Board of Directors has voted to support the SMART Policing Act draft legislation that was circulated to all parties over the Labor Day weekend," Rose wrote.
The Lodge has not yet issued a statement on the bill's passing as of Tuesday.
Over the summer, the Lodge posted statistics showing that over the 10-year period of 2010-19, Baltimore County Police had shown a significant downward trend in incident of use of force, use of firearms and citizen complaints, despite a major increase in the county population and calls for service.
A response posted in July also stated Baltimore County Police already restricted chokeholds to situations "where it is objectively reasonable under the totality of the circumstances to use deadly force."
The Lodge also pointed out de-escalation training is already emphasized in the academy, and officers are trained to exhaust all alternatives before shooting (including non-force or less-lethal force).
All Baltimore County Police Officers are trained to recognize the sanctity of life, the response read. Deadly force may only be used when necessary and all uses of force must be "reasonably based on the totality of the circumstances."