The federal government and Maryland's state government have taken preventative actions to "flatten the curve," slowing the spread of COVID-19, the deadly coronavirus that has turned into a global pandemic.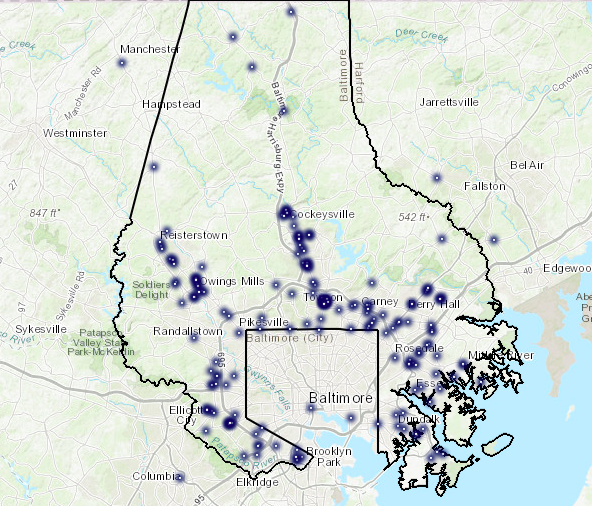 Baltimore County Executive Johnny Olszewski, Jr. said in a press release on March 19 that the county is also taking steps to ensure the safety and well-being of residents during the current public health emergency. The county has designated places for providing meals to students while schools are closed, and the Baltimore County government has created an online tool for users to find restaurants that are offering carry-out and delivery.
"As we continue to respond to this rapidly evolving situation, we have to make sure our residents can access fundamental necessities — especially food," Olszewski said in the release.
"We will continue to work around the clock to identify additional resources to provide food security for Baltimore County families during this challenging time."
Baltimore County's Food Distribution Site Map was launched recently to inform residents about locations offering free meals for youth throughout the County. It includes locations operated by both the Baltimore County Department of Recreation and Parks PAL centers and Baltimore County Public Schools. Users can search for locations closest to where they live. The map will be updated as additional food resources become available for youth and other populations, according to the release. The Food Distribution Site Map can be found at www.bc-gis.arcgis.com.
Also launched recently, the BaltCo To-Go Map shows residents where they can find restaurants that are open, and if those restaurants deliver or offer carry-out. The map also includes information about drive-thru services.
Baltimore County recently created an online form for restaurants to self-report whether they are offering services. Restaurant operators can share their location and what services they are providing, and the data collected will populate an interactive online map that residents can search, according to the release. This map can also be found at www.bc-gis.arcgis.com.
Other vital measures taken by Baltimore County prohibiting gatherings of 10 people or more. This measure aligns with Gov. Larry Hogan's order prohibiting gatherings of 10 or more.
Baltimore County has halted water shutoffs, evictions and foreclosures. The County has placed an extensions on all Baltimore County licenses, permits, registrations, and other authorizations that expire during the state of emergency. Residents will have until 30 days after the state of emergency is lifted to renew their authorizations. This aligns with the state extension, which was declared by Gov. Larry Hogan on March 12.
Baltimore County encourages all of its residents to take the proper precautions to reduce the spread of COVID-19, including regular hand-washing and social distancing as appropriate. All residents, and particularly those at high risk, should follow CDC guidance. For up-to-date fact sheets and information about COVID-19, please visit the CDC website.