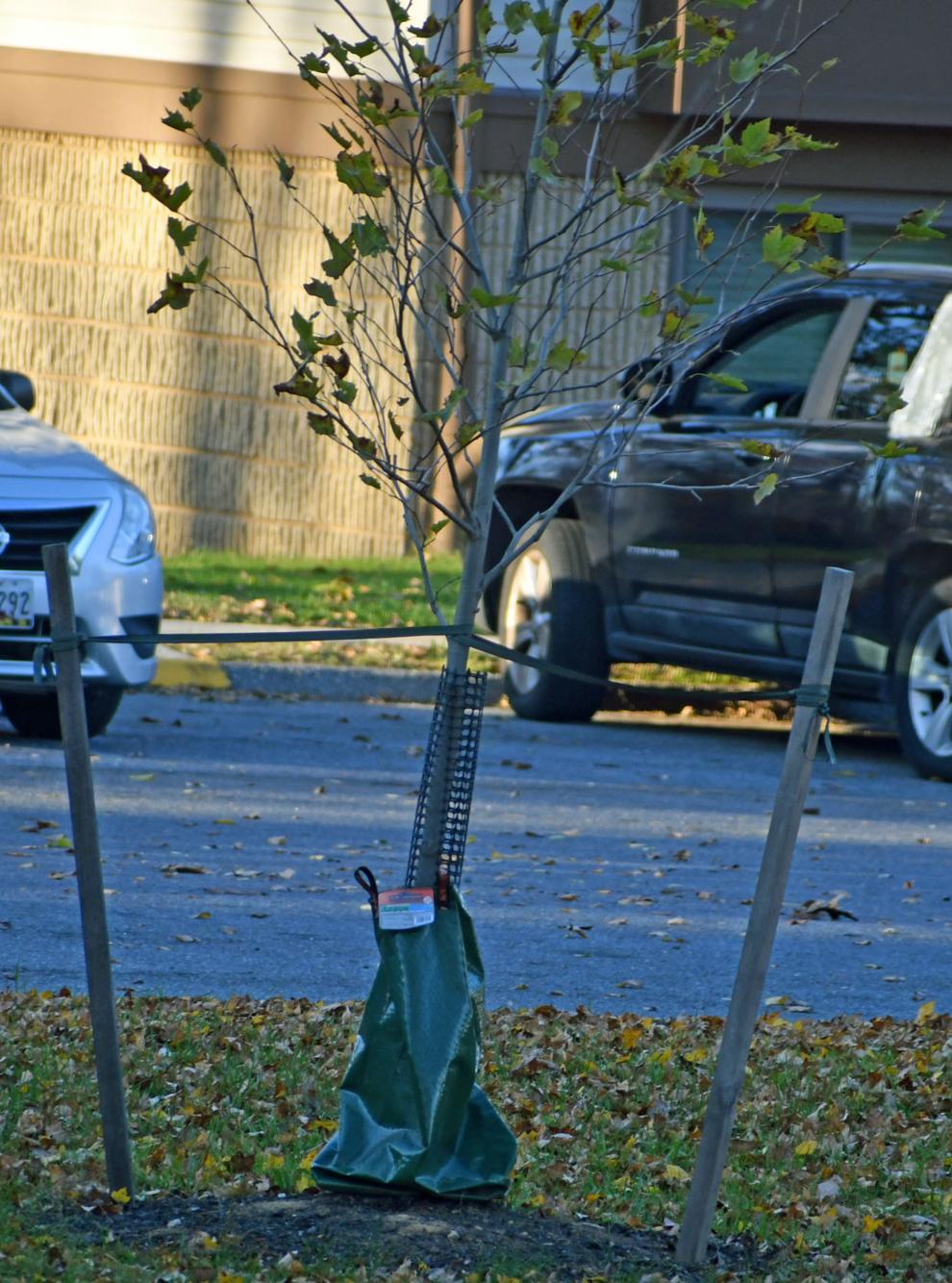 County Executive Johnny Olszewski announced that Baltimore County residents and property owners have exceeded, by more than double, his ambitious goal of planting 5,000 new trees for Earth Day 2021. Last fall, he called on County property owners to help increase the County's tree canopy by planting 5,000 trees, either themselves or through the County's free reforestation programs. More than 215 property owners took him up on the challenge, with a total of 11,000 trees planted during this six-month promotion.
"Earth Week is a good time to recognize that protecting our families' well-being is directly connected with keeping our local and global environment healthy, clean and green," said County Executive Olszewski. "Our residents and property owners stepped up in a big way to plant 11,000 trees, which will remove more than a half-million pounds of greenhouse gasses from the atmosphere every single year. Plus, scientific studies suggest that neighborhood trees in urbanized areas reduce air pollution and correlate with health benefits including reductions in respiratory illnesses, diabetes and cardiovascular disease; as well as helping reduce people's stress and bringing down summer air temperatures."
Celebrating Success with More Free Trees!
To celebrate the planting of more than 11,000 trees from last fall through this spring, the Department of Environmental Protection and Sustainability (EPS) is hosting a tree giveaway on Arbor Day weekend, Friday, April 30 and Saturday, May 1, at the Center for Maryland Agriculture and Farm Park, located at 1114 Shawan Road in Cockeysville.
The giveaway is open to Baltimore County residents only, and each resident may order up to five trees. Trees must be preordered through the County website. Residents are encouraged to order early, as 400 trees have already been pre-ordered and the remaining 250 are expected to go quickly.
The County is offering the following species, which as native Maryland trees, are well-suited to local soil types, require less watering than non-native trees and are naturally resistant to pests and diseases common to our area:
County residents who plant trees themselves are invited to record the tree locations on the County's "Environmental Reporter Web Application," an online tool that enables the public to help the County track environmental data, including locations where people plant trees or install rain barrels.
Free County Tree Planting Programs — Backyard Trees and Turf to Trees
County landowners can apply now for trees to be planted at no cost to them next fall through the County's Backyard Trees or Turf to Trees programs, depending on the amount of land available. Eligible plantings can range from 20 trees up to a large multi-acre reforestation, converting turf to environmentally beneficial forested ecosystems.
The Backyard Trees program requires a minimum planting area of only one-tenth of an acre. This program was created recently to make reforestation more accessible to homeowners with less than an acre of available land. The Turf to Trees program is intended for larger tracts of open land, with 200 trees planted per acre to create rural reforestations, and it includes three years of free maintenance.
Interested landowners can learn more on the County website. These programs focus on reforestation and do not include the planting of evergreens, or small groupings of trees intended to provide landscaping or privacy screening. The Forestry Management Division of the Department of Environmental Protection and Sustainability manages these programs and can be contacted at ForestManagement@baltimorecountymd.gov.
Each tree planted helps increase the County's tree canopy, which curtails stormwater runoff and erosion and reduces greenhouse gasses in the atmosphere. Trees provide food, protection and habitat for wildlife while increasing property values and enhancing the character of neighborhoods.
Baltimore County is working to achieve and maintain a 50 percent tree canopy Countywide and within the three drinking water reservoirs by the year 2025. The County is also striving to achieve and maintain 40 percent tree coverage within more populated areas inside the Urban Rural Demarcation Line and for each Census Designated Places (CDPs). Trees planted through the County's reforestation programs and giveaways are also credited towards the County's Chesapeake Bay cleanup program.