DUNDALK — The environmental club participants at Dundalk Elementary School (DES) have taken initiative to hand-make pouches for animals affected by the wildfires that have devastated parts of Australia.
News sources report that at a minimum, a quarter of the population may have been lost, along with tens of thousands of koalas.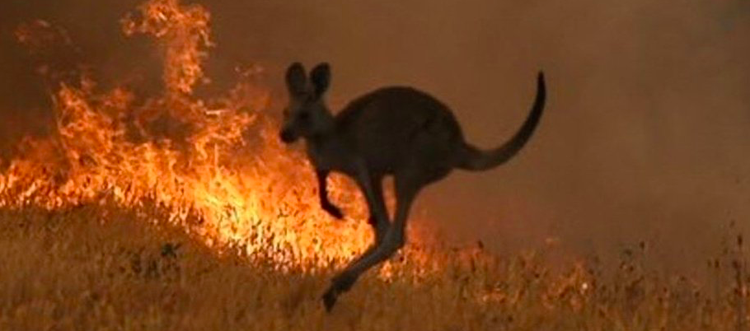 DES fifth grade teacher Nathaniel Whiteley saw on Facebook that wildlife rehabilitation centers were in need of pouches for orphaned baby animals.
Whiteley began discussing the brushfires in Australia with his club members and thought, along with DES fourth grade teacher, Katie Myers, that it would be a good idea to get the students involved.
"We wanted the students to understand exactly what was going on in Australia and how the wildlife and environment were threatened by the fires, but more than that — we wanted them to know that even on a global level they were capable of making a positive impact," Whiteley said.
"They did just that," he added.
Whiteley and Myers, who started sponsoring the environment club this past fall, were extremely excited to start the club and start utilizing the new DES building's features, like the outdoor classroom, to get students engaged with their own environment in Dundalk, as well as their environmental impact on a global level.
According to Whiteley, when he and Myers pitched the idea to their students, they were very excited. "When sharing ideas to snowball on top, they were enthusiastic in all that they said. More so, students displayed a great deal of sympathy and remorse for those going through the devastation of the fires — both humans and animals. We discussed how California recently went through fires as well, not on the same magnitude, and tried to relate to those in need the best we could," Whiteley said.
On Jan. 16, third, fourth, and fifth graders began making furred pouches for koalas and possums, and pouches with no fur for kangaroos and wallabies.
The materials used had to be breathable and gentle enough to accommodate the sensitive skin of the baby animals, so they used cotton fabric. The fabric was donated to the environmental club from the club members' parents and grandparents. Nearly two large basket loads of fabric that were donated. Due to time restrictions to the project — because they wanted to finish and ship them as soon as possible so they could be used in wake of the brushfires — they were only able to use some of the fabric.
Students had to learn some sewing techniques before beginning to sew the pouches. The students wasted no time and were soon cutting thread, pinning cloth, and sewing away. A few students knew how to sew, so they were able to help Whiteley and Myers show the other students how to hand stitch.
By the end of the project, parent volunteer Irene Mann was asked to help by bringing in her personal sewing machine and assisted them with sewing.
"By the end of the day we had about two dozen pouches that were made by the students with the help of teachers and parent volunteers. We hope to seal and ship the final products this week along with cards that the students made for the wildlife rehabilitation center where we are shipping the pouches," Whiteley said.
The beauty in participating in a club was that the kids interact regardless of grade level, Whiteley said.
"The big ones help the little ones and vice versa. As an educator, it is incredible to watch as these guys worked so virtuously. It was truly a Dundalk moment," he noted.
The pouches will be shipped to Australia this week.