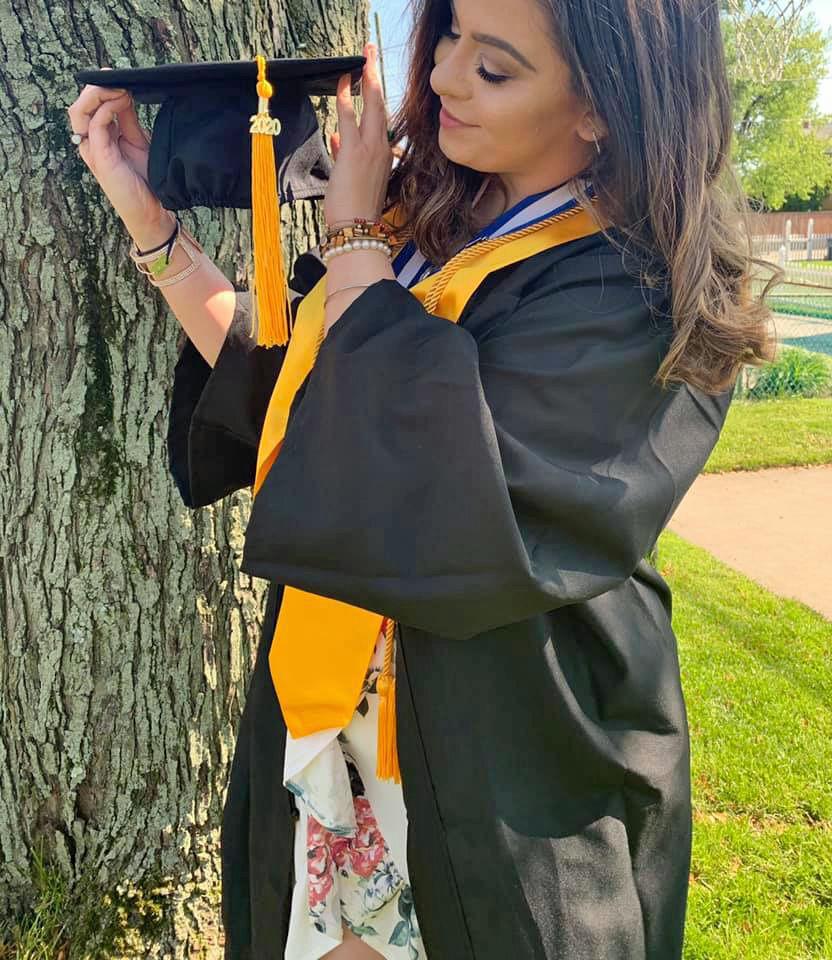 Jazmine Richison couldn't really be called a model student during her four years at Patapsco High. Neither could she be described as an adequate student.
"Indifferent" might be the best way to put it.
"I cared more about hanging out with my boyfriend at the time, and my friends, Richison said last week. "I would just walk out of school, miss entire periods, because I just didn't want to be there. Or I would come to school very late."
"And I wasn't focused on classwork when I did show up for class."
Last week, Jazmine delivered the commencement address at the Community College of Baltimore County's 2020 graduation ceremony as the college's recipient of the President's Distinguished Graduate award.
Yes, her attitude toward education has changed somewhat.
Jazmine's high school apathy was due to "a mixture of reasons," she said.
"I had a lot of health issues going on," while in high school, she said. "I was suffering from anxiety, depression."
Her father had left during Jazmine's freshman year, and she blamed her mother, Donna, for his absence. "I was young and dumb," she said. "It was not mom's fault."
Jazmine's then-boyfriend had already dropped out of school, and "I just wanted to spend time with him, not go to school," she said. "School just didn't matter at the time, for a bunch of reasons."
Among those reasons: growing up in a family that struggled financially at the time; her father coping with addiction; her own heavy smoking "that was impacting my life choices."
Richison graduated from Patapsco in 2017 with a 1.91 grade-point average.
And then … Jazmine decided to change her attitude toward education. Just like that. Talk about strength of will.
"Something one day just clicked," she said. "I started reflecting on all the struggles [she had gone through growing up], and just kind of realized my life was headed in the same direction.
"I didn't want that for myself. Didn't want to be a drug user, in addiction. I really did not want to be another statistic."
Her next hurdle: coming to grips with her high school GPA leaving her with limited options. Options she, at first, was reluctant to pursue.
"I always felt CCBC was my only option," Jazmine said. "And there was a stigma attached to that: community colleges were considered '13th grade.'"
"People saw them as not being a challenge, not being an actual degree. Just a continuation of high school."
Jazmine's older brother, John, attended CCBC Dundalk. He did well, earned awards "and had such a turnaround," she said.
John helped her register, and helped her get a work-study position. Jazmine's mother encouraged her to register for Honor's courses.
Incoming freshmen at CCBC can take Honor's courses regardless of their high school grades. So "when I decided to register, I really wanted to make the most of my time there.
"It was kind of my goal at CCBC: I wanted to do better. I was determined to do better."
During her time at CCBC, Jazmine joined the Student Government Association; joined campus chapter of Phi Thea Kappa (the international honor society for two-year colleges) and served as its vice-president and Maryland state president; and excelled in the classes she took in the CCBC Honors program.
As a member of the SGA, Jazmine went to Annapolis and spoke to the state legislature to advocate for community colleges, and also travelled to Washington, D.C. to advocate for community colleges.
Jazmine received CCBC's Outstanding Student Leader Award in 2019 and had a blog posted on Forbes.com, in which she touted the importance of "College Promise" (a scholarship program of which she was a recipient).
After majoring in psychology at CCBC, Jazmine will start at UMBC in the fall to pursue a bachelor's in psychology and a minor in political science. Her ultimate goal is law school.
"I don't know if politics is in my future, but it's something I'm thinking about," she said.
Jazmine received the CCBC President's Transfer Award, which grants her a full scholarship at UMBC.
To qualify for the President's Distinguished Graduate Award, a student must be a graduating student in a degree program; should have demonstrated excellence in one or more categories of leadership, academics, service, and perseverance; must have a minimum GPA of 3.5; and participate in interviews conducted by the search committee.
"I'm very privileged, and grateful, for the support I've received from my family and the effort they put in," Jazmine said. "I truly could not have done this without the support system I have at home."
Jazmine admits to being "really disappointed in herself" for not appreciating education sooner and "really regretting" some of the decisions she made in high school. But it did all play a part in her journey to who she has become.
"I'm really grateful my story has come so far," she said. "It took the mistakes of my past to get me here, so I can't look at them with just regrets."
""Even though I'm embarrassed of the piece [of her story] that brought me where I am now, I'm proud of that piece because it led me here."