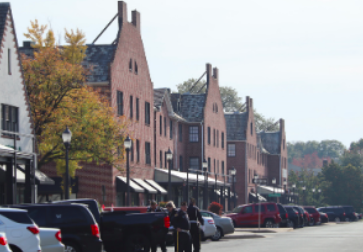 Dundalk Renaissance Corporation (DRC) has been awarded a $244,000 grant it will distribute to businesses in the Historic Dundalk Town Center (HDTC).
Only businesses located within the HDTC are eligible for these COVID-19 recovery funds, according to Nick Staigerwald, business development manager for DRC. Businesses categorized in retail, food, entertainment and personal services are eligible, and have until June 30 to apply.
Staigerwald said that the funding for the Maryland Strong Economic Recovery Initiative (MD SERI) was drawn from both the Rainy Day Fund and funding allocated in the The 2021 RELIEF Act. $5 million comes from the Rainy Day Fund, he said.
"In the past few years we have seen a number of new independent businesses open in the Historic Dundalk Town Center, and our Business Development Manager Nick Staigerwald has worked hard to identify ways we could help support them through COVID-19," DRC executive director Amy Menzer said in a press release. :We are so grateful that our governor recognizes the importance of small businesses to our communities. Dundalk Renaissance is fortunate to have received one of the largest awards in the state and very thankful for their support of HDTC businesses."
Staigerwald said that the HDTC is one of 41 designated Main Streets across Maryland, making the businesses there eligible for this grant. He stressed an emphasis on smaller business in the area, including businesses pertaining to retail, food service, personal services and entertainment.
"Those are the businesses that have been affected the most, and have the least amount of access to PPE and other loan and grant opportunities that came out earlier in the pandemic," Staigerwald said. "That does not mean that businesses that did receive loans or grants, or businesses that don't fall under those categories do not qualify. Any business can apply."
Staigerwald said that all awards given to businesses are grants, and any business that receives a grant will not have to pay it back. The purpose of the grant is so that businesses can pay outstanding bills accrued after the pandemic began. All bills that fall between March 1 and June 30 of this year are covered by this funding, he added. These bills include business-related expenses – utilities, rent, internet, etc.
Staigerwald said there is not a deadline to apply, but it is better to get applications in sooner and not later, so businesses have a better chance of receiving an award that benefits them. To apply, go to www.dundalkusa.org, or email Staigerwald at nick@dundalkusa.org.