DUNDALK — The COVID-19 pandemic forced communities across the country to cancel all Independence Day Weekend festivities. Dundalk is not one of those communities.
Restrictions put in place as a response to the pandemic forced the Dundalk Independence Day Parade Committee to cancel the traditional Independence Day Parade. For 85 years, the parade went on without a hitch, featuring prominent guests from Baltimore County and the state of Maryland.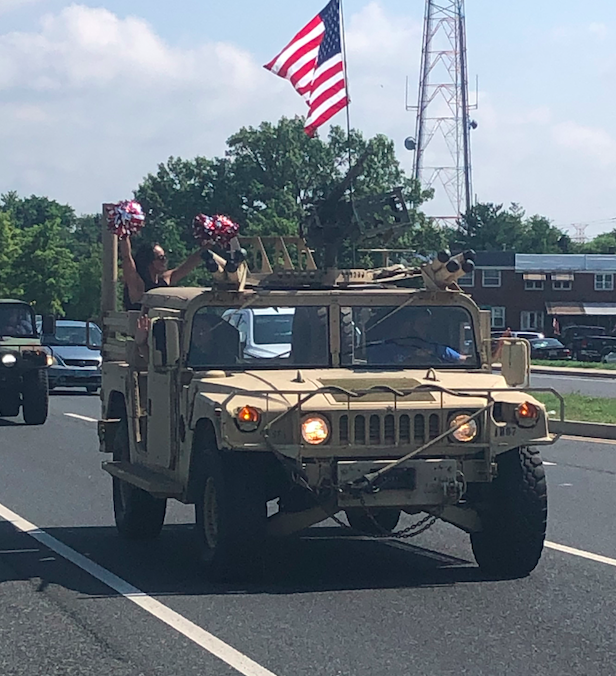 This year, however, the committee had to make a choice – do nothing, or improvise and still give Dundalkians some semblance of a normal Fourth of July in southeastern Baltimore County. The Dundalk Heritage Fair was canceled, as was the fireworks display and the July 4 6K race.
Dundalk Independence Day Parade Committee co-chair Will Feuer said he was "wowed" by the reaction to the community caravan.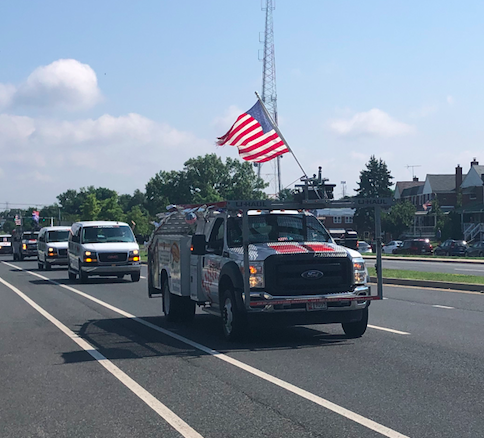 "We were excited and humbled by the amount of people we saw lining the streets waiting for the caravan to pass by," Feuer said. "We knew we had limits on our size, but despite that we feel we had a great showcase of our local businesses and community organizations. Of the 42 entries, only four were not able to make it out that morning."
Feuer said that the committee had made a commitment to put on a celebration for the July 4 holiday at the beginning of the year. By March, they knew they would have to adapt if they wanted to hold themselves to that commitment, he said.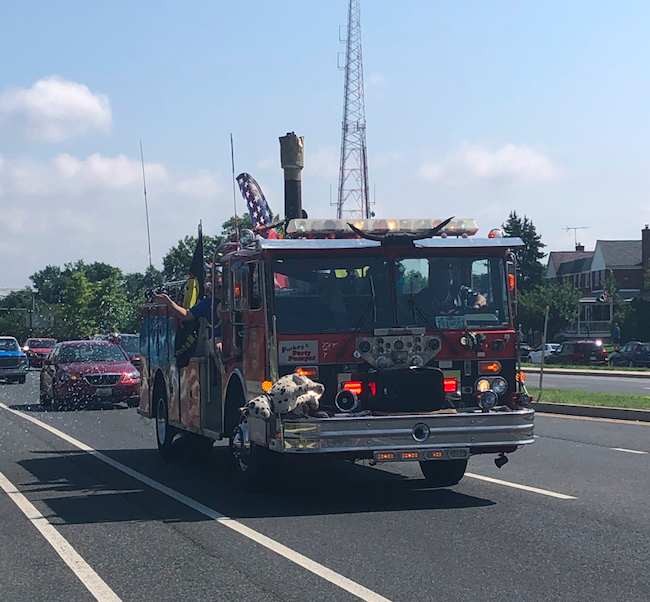 On June 18, the committee was told that their request for a permit had been denied by the Baltimore County Government. Feuer said the committee was told that same day by the Baltimore County Police Department that it could have a community caravan, but with limitations.
"That afternoon we began making calls, and within a little over two weeks, we had participants, convertibles, a new route, a lineup order, a staging area, and trailers to pull costumed characters (since no one could walk)," Feuer said.
July 4 was also different this year in that it was the first Independence Day in many, many years without beloved local icon Joe Falbo, the late Dundalk Heritage Association president who passed away unexpectedly last November. Falbo was many things to many people in Dundalk, as he was active in youth recreation, the Dundalk Heritage Fair and Independence Day fireworks.
"We know Joe is watching over us and we hope to make him proud, even during these difficult times," committee co-chair Will Feuer said in a letter to the Eagle. "The Parade Committee honors his memory and we recognize all that he has done for Dundalk with an entry in the Caravan."
The heat set in long before 9:30 a.m., when the parade started, but that didn't stop small groups of people from sitting along the route with lawn chairs, water, sunblock and snacks. Some people in attendance said it shows Dundalk's resilience and patriotism, while others said that July 4 just did not feel the same.
"I think they've done a great job," said Melissa Maynard, talking about the parade committee. "The Fourth of July is a big deal. I'm not from Dundalk, but I've lived here for almost 18 years. It's been proven over and over every year how much Dundalk is patriotic and I think it's great that they're trying to do this."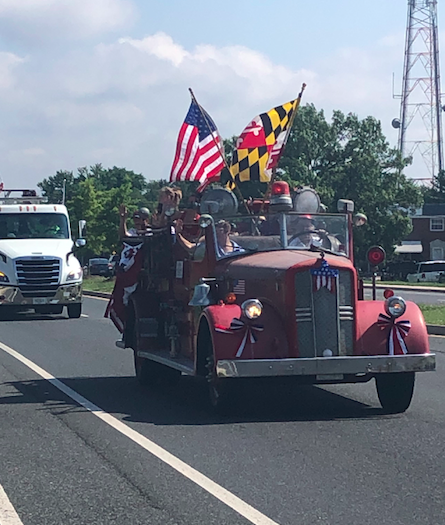 "I'm happy about it, because I didn't want to miss the parade, "Laura Wallace said. "I'm excited they're doing something, but I wish we had our normal parade."
The community caravan made its way down Wise Avenue to begin the parade. Crossing over Merritt Boulevard, the caravan participants continued down Holabird Avenue, making a right turn onto Delvale Avenue and continuing to German Hill Road.
The caravan made a right turn onto German Hill Road and made its way back towards Merritt Boulevard, turning right onto it and traveling down until reaching Sollers Point Road. From there, caravan participants traveled down to the traffic circle in Watersedge, using it to navigate to Dundalk Avenue. The caravan turned onto Dunmanway and took a few more turns before arriving at the end point in front of Dundalk Elementary School.
"We're super happy they're still trying to do something," said Edgemere resident Kelsey Ader. "I think the fact that they extended it made it so that you can socially distance while still being able to enjoy it."
"I wish there were more people out here supporting it. If they go through the effort to set it up, it would be nice to have somewhat of a crowd, even though you still need to socially distance."
Caravan participants included, but was not limited to, the Dundalk American Legion Post 38 Honor Guard, Baltimore Batman and his Batmobile, local environmentalist John Melzer and his buddy Shaun the Sheep, Irene Spatafore and Angels Supporting Our Troops, the Greater Dundalk Chamber of Commerce, the Dundalk Renaissance Corporation, Clean Bread and Cheese Creek, the Dundalk-Patapsco Neck Historical Society, Clean Bread and Cheese Creek, and many, many more.
"This community never fails to give back," said Ed Peterson, a Dundalk resident and Vietnam veteran. "I grew up a block-and-a-half from [Dundalk Avenue], and the parade was a part of the family every year."
"The hard work they put into it every year does mean a lot. What more could you do? They went out of their way and it's well organized. It's just something that needed to be done."
Once the parade ended, some people remained behind in Heritage Park, where Soup for the Soul handed out free boxes of food to people in need earlier in the day. A DJ was set up under the pavilion in the park. People set up chairs in the shade and took in the sounds, or enjoyed the breeze that day without taking in the direct heat from the sun.
"I think it was great," said Sierra Caccavale about the community caravan. "I didn't think they were going to do anything, but they did. I'm happy they did."
Caccavale said that the top goal that day, and every day, is to keep people safe, adding that the past few months during the pandemic have been "crazy." Other people who watched the parade that day agreed.
"It doesn't feel like the Fourth of July," Ader said. "I tell everyone the same thing, that usually the Fourth of July is the best thing that Dundalk does."
"Usually, you come out here and you see that everyone is decked out, and it's almost like a ghost town right now."
Feuer said that tradition is important to Dundalk, and the committee is ecstatic that it was able to deliver despite it not being a "traditional" parade.
"This marks the 86th consecutive event to celebrate Independence Day in Dundalk," Feuer said. "I personally loved seeing the smiling faces on the kids, and adults!, as we passed by."
Feuer said that the committee now knows it has a fallback option if the Dundalk Independence Day Parade is ever cancelled again in the future. The committee hopes that doesn't happen, he said.