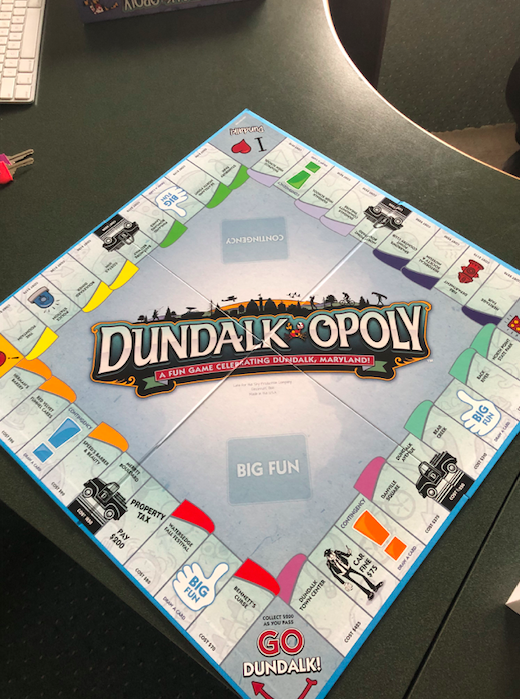 Walmart is selling a board game with an appeal so hyperlocal, Dundalkians are racing to the North Point Boulevard establishment to buy several at a time.
The board game is Monopoly™. But people are not buying it – sometimes in mass quantities – because they have this unexplainable urge to see their friends go to jail or collect $200 every time they pass "GO." The hysteria behind this game is fueled by residents' shared love for their hometown.
The customized game is called Dundalk-opoly. If you've taken an adventure to the "I grew up in Dundalk, MD" Facebook™ group over this past month, chances are strong that you have seen at least a photo of the cover for the game. It is currently sold out, and more copies are not expected to arrive for at least a couple more weeks, according to store manager Brandy Raynor
"We doubled the quantity we ordered the second time, and we still sold out," Raynor said. "People are still calling in and asking for it. It's pretty awesome."
A Monopoly game customized to look like a specific city in America is not unique. Travel around the country and you'll find many communities enjoying their own respective custom games. But Dundalk-opoly is unique in that while it is a brand new game, it still captures the magic that is found around Dundalk. The game can be found online, on sites such as eBay™. The author of this article found one such copy available on eBay for $49.99.
According to local reports, the game has also been seen for sale at the North Point Flea Market. It is important to note that any copy of Dundalk-opoly found in any place other than the Dundalk Walmart has already been purchased. Purchasing this game at any other establishment – such as the North Point Flea Market – is a second purchase, and likely will be offered at a higher price. To pay the appropriate price for the game, it is best to wait until inventory has been restocked.
"Finch" Flores, a Dundalk resident who makes up one-half of the local band Pink Elefants, bought a copy last month. He brought it by The Dundalk Eagle newsroom this week so the staff could see it.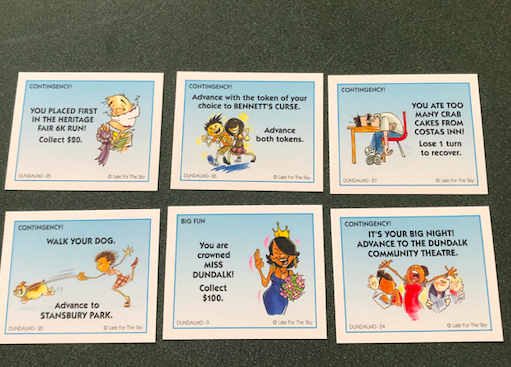 The board has been tailored to appear 100 percent Dundalk. The two traditional railroad squares and two utility squares have been replaced by prominent Dundalk roads – Dundalk Avenue, Merritt Boulevard, North Point Boulevard and the Baltimore Beltway. The neighborhoods are named after iconic local establishments and attractions. Costa's Inn, Boulevard Diner, Speed's Barber & Beauty and the Watersedge Fall Festival are just some of the recognizable names you will see.
"I have to say, it brings you back and makes you appreciate certain things and go, 'Oh, wow. That is kind of our thing isn't it?'" Flores said. "It's interesting to play with people that are from Dundalk.
"I haven't played it yet. I just opened it and looked at all the cards. Just that alone was fun."
Being a person who grew up in Watersedge, Flores said he can appreciate seeing the Watersedge Fall Festival included on the board. He does not appreciate, however, the Watersedge Fall Festival being one of the most inexpensive pieces on the board.
"I wish it was a little closer to Boardwalk," Flores said.
Some of the things in the game are unrealistic, which could rub some Dundalk lifers the wrong way. Dundalk is an unincorporated city without a mayor, but keeping in line with the traditional board game, a player can still be elected mayor. Another is winning the Miss Dundalk Pageant, which does not exist. The last known Miss Dundalk Pageant took place in 2017 at the Dundalk American Legion Post 38.
"['You are crowned Miss Dundalk'] is one specific card that stood out for me," Flores said. "Collect $100 – I guess that's all that's worth. That seems a little unfair, but that's okay.
"We're going to find you if you're out there."
Some longtime Dundalk businesses do not appear on the board. The Eagle, to our utter disappointment, is not on the board. Nor does Drug City appear, but one space on the board is labeled as "The Fountain," a 1950s-style soda fountain located inside Drug City. Squires, a longtime family-owned Italian restaurant that is a Dundalk favorite, is also not seen.
The famous – or maybe the more appropriate word is "infamous" – Back River Water Treatment Facility ("Poop Plant") appears on the board, as do Bennett's Curse Haunted House and the Danville Shopping Center.
What's up with those pieces?
Another Dundalk resident, Kristine Sunceray, said she thought the developers of the game could have done more research before creating it. She was most disappointed, she said, with the game's pieces, adding that none of them resemble anything related to Dundalk or even to Maryland.
One piece is a pretzel. Another resembles that of the smile cheesed by Chester the Cheshire Cat. Then, there is a hand, a shoe, a heart and an elephant.
"I was a little under-impressed, especially with the pieces," Sunceray said. "It wasn't really Maryland- or Dundalk-themed to me.
"The pieces I would think of are, like, a crab, or a Black-Eyed Susan. Some of the cards had things like the [Dundalk Heritage Fair], and I thought that was cool. Other than that, I just thought that someone who made it did quick research and didn't do it in-depth, in my opinion."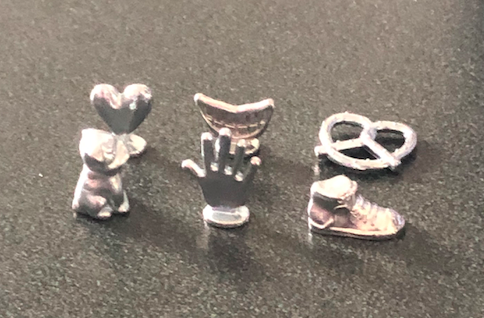 This game is new, or is it?
While the excitement behind Dundalk-opoly is still pretty fresh, the concept of a Dundalk-themed Monopoly game is not. Peggy Shaffer, a resident of Old Dundalk, said she received a Dundalk-themed game from her mother in 1986. Many of the places that appear on that board are no longer around. The game was created in 1980 by Glen Allen Production.
Gail's Go-Go Girls – now called Gail's Female Revue, a gentlemen's club on North Point Boulevard – was one of those spaces. The Medical Center of Dundalk, which was at one time found on Merritt Boulevard, is another square on that board. Stansbury Stereo, JCPenney and Santoni's Supermarket are also seen on that version of the game.
Surprisingly, Bethlehem Steel was not included in the 1980 version of the game. But seen on that board is the Baltimore County Council 7th District Town Hall. Ironically, that is where game players went to pay their property taxes. A calculator is included.
Shaffer said that her mother started a collection for her, giving her Dundalk-themed Christmas ornaments. One Christmas, she received the game.
"It was just sort of a novelty," Shaffer said. "We didn't play it much."
Shaffer said she has not yet played Dundalk-opoly, but is interested in seeing it.
Residents interested in getting their own copy of Dundalk-opoly are encouraged to check the Dundalk Walmart page on Facebook for updates.