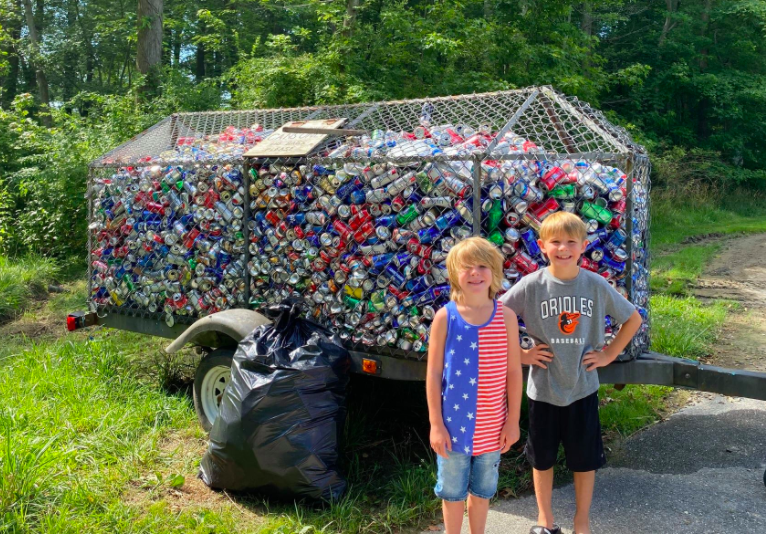 MIDDLE RIVER—Tripp and Brody Weinreich love being outside and learning anything related to animals and reptiles—which is why Marshy Point Nature Center is their home away from home.
When the Weinreich brothers found out that the annual summer camp they have been attending at Marshy Point for several years was canceled due to COVID-19, they decided to find a way to support the center.
"We collected cans from our neighbors and my mom's work friends," 8-year-old Tripp said. "We are going to collect cans all summer and fall."
Aluminum pop cans, that is. The brothers knew that Marshy Point collects aluminum cans to be recycled as a way to help fund nature center programming.
Soon, the boys and their parents Carin and Lee, called on their neighborhood Facebook groups, local marinas, schools, and more to help them in their efforts. In just over a month, the Weinreich's have collected around 10,000 aluminum cans to donate to the nature center—enough cans to fill an entire trailer.
Tripp said he chose to support the nature center because he values what the Marshy Point camp councilors teach him about environmental preservation.
"I like to learn about different animals like fish, reptiles and turtles. Some animals are endangered and if one goes, they all go," Tripp said.
"My favorite part is just being outside and playing and seeing the owls," 6-year-old Brody said.
The brothers' camp counselors can attest to their love of nature and animals—and for their enthusiasm towards protecting the environment.
"If I could pick one word to describe them it would be energetic," James Duffy, a camp counselor at Marshy Point said.
"They are our most dedicated campers. They have been coming to camp ever since I started working here and it has been amazing to watch them grow. When Brody first came he was shy but over the week and after being outside and making friends he grew so much. They're just like little adults now."
"They are always enthusiastic and willing to do anything," Kelsie Fronheiser, another camp counselor said. " [Tripp] knows a lot for a little kid. He's an avid animal lover and has always been a big nature fan."
Carin, the mother of Tripp and Brody, said she is proud of her boys and is always telling them that their actions affect the well being of the environment—no matter how small.
"We try to teach them that kids can help with their acts, whether it is picking up a piece of litter, it will help the environment. They love animals and everything about the Bay. We recently got a kayak so we have been doing that down at Marshy Point. They really miss camp though," Carin said.
Marshy Point did have to cancel this year's summer camp but they are doing virtual summer camp sessions via a private Facebook page.
These sessions will include brief, daily, pre-recorded lessons that campers can view at any time during their scheduled week, or later. Marshy Point Naturalists will also post scavenger hunts and activities for campers to complete in their backyards and/or community parks. They will also monitor the Facebook group for each camp, and provide feedback and assistance when necessary.
One upcoming summer camp session, From Rivers to the Bay, will run August 3rd to the 7th and is for ages 11 and 12. Another session, Bay Explorers, will run from August 17th to the 21st and is for ages 6 and 7. These two camp sessions are free and to register for them people can contact the Nature Center between 9 a.m. and 4 p.m., Monday through Friday.
The remaining spaces will be filled on a first-come, first-served basis. If space is available, people will also need to share their Facebook profile name and info., so that they can be invited to the private Facebook group for that camp.