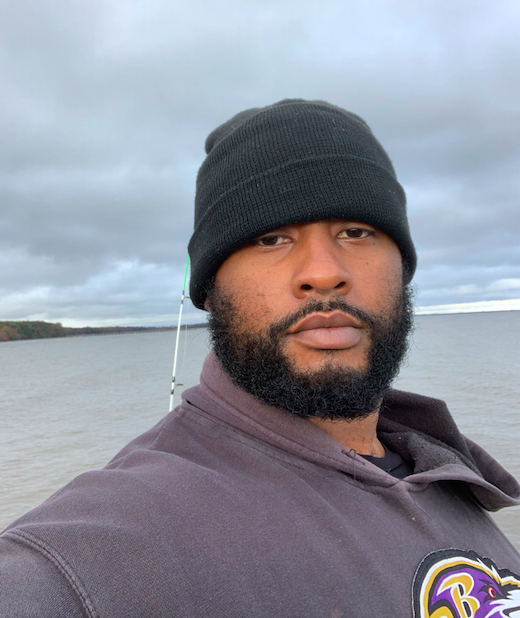 Jaqulin Williams, like most people, is trying to navigate through the demand of this pandemic.
Williams, who is originally from Baltimore City, now lives in Dundalk. He is married, and he and his wife both attend CCBC-Dundalk. Williams is a combat veteran who served for five years in the US Army.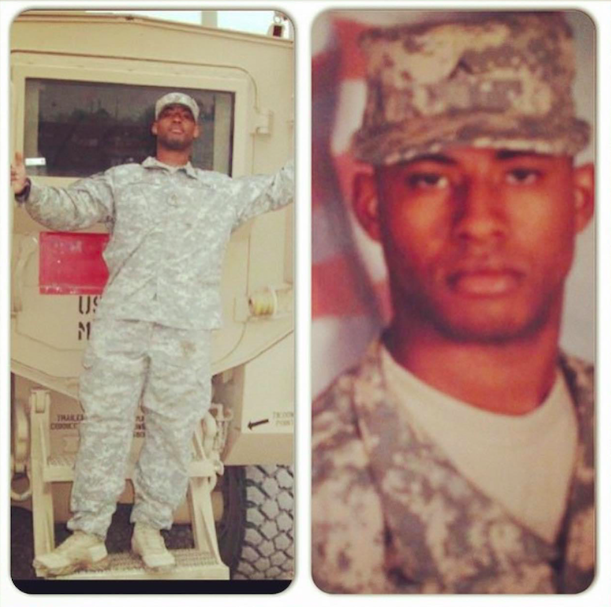 Williams was a combat engineer while with the Army. He spent some time overseas, when his unit was deployed to Iraq, as part of Operation Iraqi Freedom (OIF), in 2009. His unit was assigned to complete route clearance for other units. They would patrol supply routes in vehicles and look for dangers, such as improvised explosive devices (IEDs) or ambush sites.
"They would send us out a day or two before someone had to do a supply run," Williams said. "Or, if an important person was coming, we would get the word and we would clear the routes for them."
Williams said he was also assigned to stand security when very important people (VIPs) visited Iraq, such as high-ranking military officials, elected officials and diplomats. Being in Iraq in 2009, Williams said he had an opportunity to meet former US president Barack Obama, who had been inaugurated that year.
"I didn't get to talk to him, but I got to meet him," Williams said.
Williams said he enlisted when he was 21 years old. He got tired of getting in trouble on the streets of Baltimore and decided it was time for a change of scenery. He has several uncles who served in the military, he said. He sent them all a message one day, telling them he would join the branch of the first person who picks him up and takes him to a recruiting office. It just so happened to be one who served in the Army.
"He took me to the recruiting station where he used to recruit," Williams said. "I ended up getting recruited by one of the people he worked with."
Williams said he had re-enlisted after his first contract ended. A severe injury led to a medical discharge. Williams said that in addition to the physical injury, he carries emotional pain from his time in the service. He found himself in a battle with depression and even had to fight off suicidal ideations.
Williams said he knew he needed to find an outlet after he left the military. It started with fishing. Later, he rediscovered his love for weightlifting. He got in the gym, and soon realized he wanted to be a weightlifting competitor.
"At first, I wanted to do bodybuilding but it was starting to drive me crazy," Williams said. "I switched to doing strongman sports. Bodybuilding was starting to get a little too hectic."
Williams is now enrolled at CCBC-Dundalk. Transitioning to college life was a challenge, he said. He wasn't used to all the technology being used, he said, which he hadn't used when he was in high school. Logging in to an online dashboard was new to him. He also didn't understand how young people could spend so much time on their electronic devices, he said.
"It's definitely something I'm trying to adjust to, but I still struggle, especially now that everything is virtual," Williams said. "It's a struggle between trying to work and then turn around and catch a Zoom class. I might miss a Zoom class because I'm either trying to work or I have another class."
The COVID-19 pandemic has been stressful for Williams. Like most people, he lost his "happy distraction" when the pandemic reached the US. Gyms were ordered to shut down in Maryland, and remained closed for several months. Williams said that he is just now started to "come around" from his depression brought on by the pandemic, but it has been with him for a long time.
"You stay stuck in the house, everything is shut down and you can't go anywhere," Williams said.
Williams said he thinks the biggest struggle for veterans is the readjustment to everyday life. No matter how long he has been out of the military, he sees things that bring back memories from his service.
"It's definitely a struggle when I might see a car or a box on the side of the road and I think it's an IED," Williams said. "But I'm dealing with it pretty good."