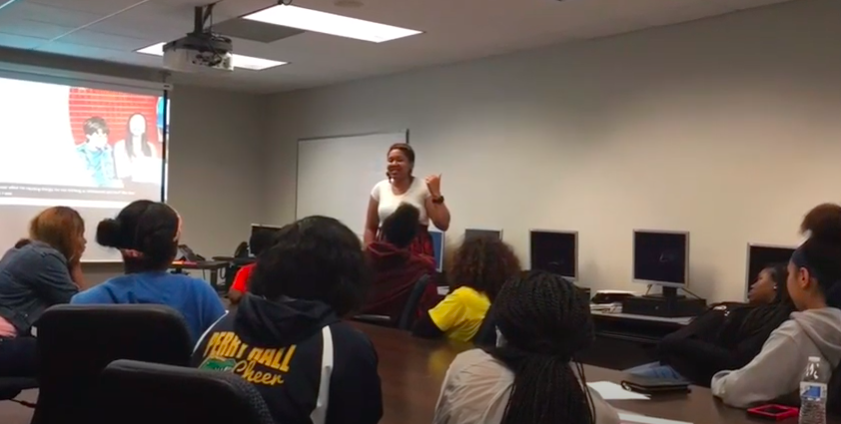 Low-income high school students and potential first-generation college students can access a program designed for academic and personal growth – Dundalk Upward Bound.
Dundalk Upward Bound is an extension of CCBC's Upward Bound program, designed to give students academic support, one-on-one counseling and exposure to cultural and educational activities, according to CCBC's official website. The goal, it said, is to give these students a chance at succeeding not only in high school, but also in college and the workforce.
Kelly Kelley, the program's director, told the Eagle that the program has come "full circle" for her, saying that she once was a student going through the program. This was at CCBC Catonsville, when the campus was still called Catonsville Community College. She also served as a residential counselor with the University of Maryland, Baltimore County (UMBC) Upward Bound Program, she said.
"When I graduated from high school, I already had 10 credits under my belt," Kelley said. "I started as an early sophomore."
The Dundalk Upward Bound program is designed to help students gather knowledge and experience in several areas, including recreation, entertainment and culture. The program also offers things such as college preparation, academic advisement and mentorship.
Kelly said she got started with CCBC Upward Bound when her father's co-worker told him about the program. After talking with her parents, she went to Catonsville Community College for an entrance interview, albeit with a pessimistic view, she said.
"They were talking about going to school during the summer and going to school on Saturdays," Kelley said. "When do I have a life because I'm in school Monday-Friday, so I was really oppositional to it."
Kelley entered the program because she was told it wasn't negotiable. Her parents had already made that decision, she said. She started during her sophomore year. That first summer, she began to flourish in the program, she said. She went on college tours, and began getting involved with cultural enrichment programs. She also was able to gain a "sneak peek" at material in classes she was taking the following school year, she added.
"I got to meet kids from other schools and build friendships that I still have to this day," Kelley said. "I ended up being one of the head scholars in the program.
"It allowed me the opportunity in my senior year to take college courses. When I graduated from high school, I already had 12 credits under my belt. I went to college as an early sophomore."
The services Kelley was able to use through Upward Bound are still offered by CCBC today. These include academic advisement and mentorship, academic instruction and tutorial assistance, opportunities for college exploration and college survival workshops. Kelley said that students receive services based on their individual needs.
"When students enter our program in ninth grade, we do a freshman seminar class to help them transition from middle school to high school and show them what that environment is like," Kelley said. "With our seniors, when they graduate from high school, then during that summer before their first year of college we'll do a bridge program.
"They're able to take one or two college classes at CCBC, but we also do mini-workshops with them. Those mini-workshops are basically like orientation style, which you do when you go to your first year in college. But it's helping them to make that transition from high school to college."
CCBC offers a 20-week program during the academic year, and a 6-week program during the summer. These two are not the same, Kelley said. During the academic year, 20 days are scheduled throughout the school year. This is different from the standard two-Saturday-per month schedule that was offered before the pandemic.
"Pre-COVID- they came to us two Saturdays per month at the CCBC Dundalk campus from 9-12 and get tutoring, academic support or we may do some type of workshop," Kelley said. "A lot of times we did college tours and cultural enrichments on those Saturdays.
"Any days when the kids were out of school for some type of cultural development, we planned some type of trip or cultural activity for them, as well. That's kind of the 20 days, depending on the school year, that we meet with them during the academic year."
The 6-week summer component requires students with the program to go to the CCBC Dundalk campus every Monday-Thursday. They receive the same services, Kelley said, in addition to seminar classes to prepare them for the next highest level.
Upward Bound also features career academies, Kelley said. Students are placed in these academies as part of career exploration opportunities offered by the community college. These include academies for arts and entertainment; science, technology, engineering and medicine (STEM); and Business, Entrepreneurship, Systems and Technology (BEST).
"The idea is to give [students] exposure, an opportunity and experiences in careers that they are interested in," Kelley said. "We do a lot of partnerships with different pathways at CCBC, and we do partnerships with corporate and community partners that provide them opportunities for tours, or some type of info session."
The pandemic has also caused Upward Bound to go virtual with college tours. CCBC has partnered with colleges and universities around the country, scheduling information sessions and arranging virtual tours, Kelley said. By next year, the program hopes to return to actual college tours, she said.
"We've taken the kids everywhere," Kelley said. "The furthest we've gone is New Orleans, so they got to visit some schools there.
"We've gone to Pennsylvania, Virginia, North Carolina, Georgia … it was really, really nice."
Kelley said that students come into her office today to learn more about Upward Bound, and many of them exhibit the same attitude she had when she was a high school student – not interested. Dianne Drake, who is now the director of admissions at CCBC, was the Upward Bound director who spoke to her, and could tell that Kelley wasn't interested, Kelley said.
Kelley said she was told that no one is forced to join Upward Bound because they won't get anything out of it. She tells students the same thing today.
"Our program pretty much sells itself," Kelley said. "You get out of it what you put into it."
CCBC Upward Bound is free for students. Dundalk Upward Bound services students who attend Chesapeake High School, Dundalk, High School, Patapsco High School, Kenwood High School, Parkville High School and Overlea High School. Kelley said that students living in the Dundalk community who seek out the program and meet the requirements can also enter. The program is only for high school students.
For more information about Dundalk Upward Bound, go to www.ccbcmd.edu.