Gov. Larry Hogan addressed the state again this week, saying that helping struggling Marylanders is the primary focus this year.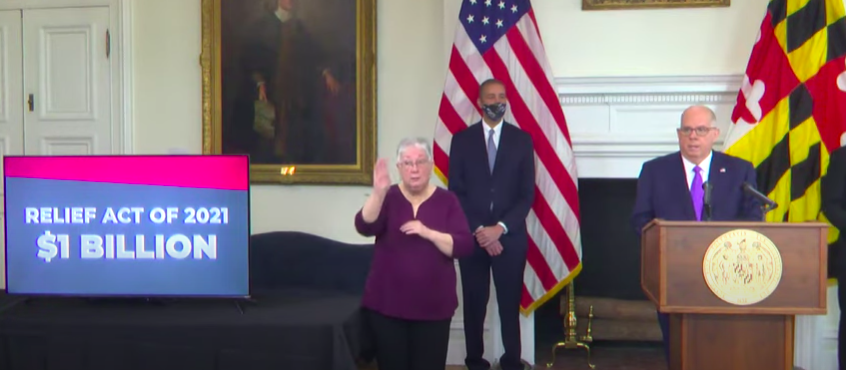 Hogan gave his remarks from Annapolis, announcing a $1 billion economic stimulus and tax relief package. The package is split up into different programs, including direct stimulus payments for families and individuals, a repeal of state and local taxes on unemployment payments and sales tax credits for small businesses.
"While Maryland's economy is coming back faster than many other states," Hogan said, "America is going through one of the worst economic crises in our country's history."
Hogan said during his remarks that he has had conversations in recent days with Speaker of the House Nancy Pelosi and Senate Majority Leader Chuck Schumer, whom he said agree that helping those struggling is the top priority this year.
The Recovery for the Economy, Livelihood, Industries, Entrepreneurs and Families Act of 2021 (RELIEF) was introduced as emergency legislation, Hogan said. This allows the RELIEF Act to be enacted immediately.
One of the features of the RELIEF Act for individuals is direct stimulus payments for those collecting a low-to-moderate income. This relief begins with immediate payments of $500 for families and $300 for individuals who filed for the Earned Income Tax Credit, followed by a second-round stimulus for EITC filers that would provide an additional $250 for eligible families and $150 for individuals. Similar to federal stimulus payments, no application for relief is necessary.
Marylanders would qualify for these payments who annually earn:
• $50,954 ($56,844 married filing jointly) with three or more qualifying children
• $47,440 ($53,330 married filing jointly) with two qualifying children
• $41,756 ($47,646 married filing jointly) with one qualifying child
• $15,820 ($21,710 married filing jointly) with no qualifying children
The two rounds of payments provide $267 million in relief to 400,000 Marylanders.
The RELIEF Act will also make a $180 million commitment to repeal all state and local income taxes on unemployment benefits, helping people get more refunds during tax filing season.
Relief for small businesses
The RELIEF Act also guarantees a series of tax credits and protections for small businesses, including sales tax credits and unemployment tax relief, and COVID-19 loan and grant forgiveness.
The RELIEF Act makes a $300 million commitment to supporting small businesses with sales tax credits of up to $3,000 per month for four months—for a total of up to $12,000. This relief will directly help more than 55,000 Maryland small businesses.
This relief is automatic and based on a sliding scale up to $3,000. For example, if you are a business with $100,000 in monthly revenue and you collect $6,000 in sales taxes, you only remit $3,000. If you have $50,000 in monthly revenue and you collect $3,000 in sales taxes, you keep all $3,000.
On Dec. 10, Hogan issued an executive order to prevent small businesses from facing major increases in their unemployment taxes. Under this order, an employer's 2021 tax rate will be calculated based on their non-pandemic experience by excluding the 2020 fiscal year, and instead by using the last three fiscal years of 2017, 2018, and 2019. A change in law is necessary to enable this policy to remain in place beyond the state of emergency. Combined, the executive order and the RELIEF Act provide $326 million in relief.
The RELIEF Act's loan and grant forgiveness plan would safeguard Maryland business owners against any tax increase triggered by the use of state loan or grant funds. This relief would come at a net zero cost to the state while saving businesses an estimated $40 million.