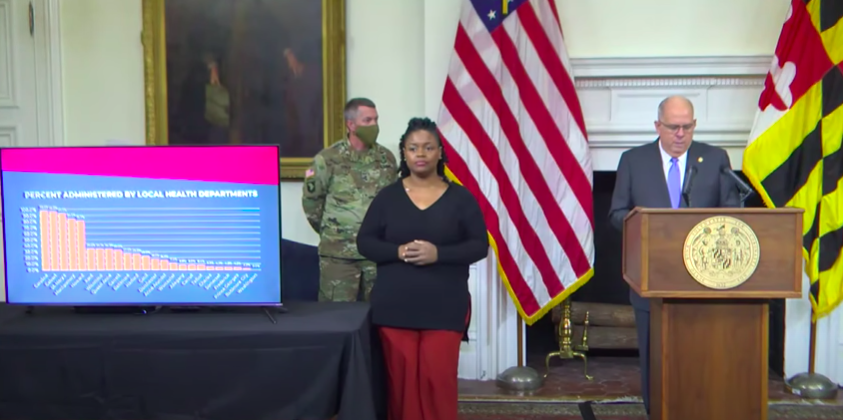 Gov. Larry Hogan held a press conference on Tuesday announcing sweeping changes to Maryland's COVID-19 distribution plan.
As of Jan. 5, the state had administered first-dose vaccines to 1.27 percent of the population, or 76,916 doses. The governor spoke to the state with a sense of urgency, saying that distributing and administering doses of the vaccine this year is "without question the greatest peacetime undertaking in American history."
"While the initial distribution of vaccines does offer a glimmer of hope, we still have a long way to go in this fight," Hogan said. "Distributing and administering vaccines throughout 2021 ... will be a massive, all-hands-on-deck, ongoing operation between the federal, state, and local governments and the private sector. I want to assure the people of Maryland that we are going to leverage every resource to get more shots into more arms as quickly as we possibly can, in a safe and orderly way."
One of the sweeping actions Hogan announced is a statewide effort to accelerate distribution, and will include involvement from the Maryland National Guard. The MNG began on Wednesday dispatching emergency support teams to assist local health departments with their vaccination clinics. These emergency support teams will also provide logistical support and assist with administering vaccines, Hogan said.
Also helping with administration are 700 volunteers identified by the Maryland Department of Health. Hogan signed an executive order this week requiring all providers in the state to report data to state health officials within 24 hours after administering vaccines. Reporting lags make it difficult for these officials to have a clear picture of overall vaccine administration in the state.
The governor has also placed an incentive for providers to maintain an above-average pace, requiring them to maintain a 75 percent rate or have their number of future doses reduced. In addition, the state is adopting a "Southwest" model, named after the domestic airline company, meaning the state will move on to the next group before finishing administering doses to a current group.
Hogan said Maryland is currently progressing through Phase 1A, which has been expanded to include all licensed, registered, and certified healthcare providers. Phase 1B has also been expanded, he said, to now include all Marylanders age 75 and older, special needs group homes, high-risk inmates, developmentally disabled populations, continuity of government vaccinations, as well as teachers, child care, and education staff. The state plans to enter Phase 1B by late January, he said.
The new Phase 1C now includes all Marylanders ages 65-74, and workers in other critical sectors, including grocery stores, public transit, agriculture production, and manufacturing. Phase 1C includes an estimated 772,000 Marylanders. Based on the current pace of allocation, the state expects to fully enter Phase 1C by early March, Hogan said.
Hogan said Phase 2 has been updated and will now include Marylanders ages 16-64 who are at increased risk of COVID-19 illness due to comorbidities, as well as essential workers in critical utilities and other sectors.
The number of state residents in these four phases is estimated to be at or around 3.23 million.