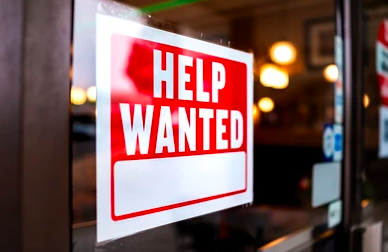 ANNAPOLIS — Marylanders will no longer be eligible to receive pandemic enhanced unemployment benefits beginning July 4, Gov. Larry Hogan announced last week.
State residents will have until 11:59 p.m. on July 3 to file claims for these emergency unemployment benefits, which supplement unemployment claimants with up an additional $300 per week. The governor cited the state's aggressive economic recovery combined with surpassing the 70 percent threshold for vaccinated residents. Hogan's decision has been met with mixed responses.
"Our health and economic recovery continues to outpace the nation, and we have reached the benchmark set by President Biden of vaccinating 70% of adults," the governor said last week in a press release. "While these federal programs provided important temporary relief, vaccines and jobs are now in good supply.
"We have a critical problem where businesses across our state are trying to hire more people, but many are facing severe worker shortages. After 12 consecutive months of job growth, we look forward to getting more Marylanders back to work."
Maryland is one of 24 states, Hogan said, that has elected to discontinue these enhanced benefits. On June 1 he sent a formal 30-day notice to US Labor Secretary Marty Walsh, saying that the state will discontinue the following federal unemployment programs:
• Federal Pandemic Unemployment Compensation (FPUC), which provides an additional $300 per week
• Mixed Earners Unemployment Compensation (MEUC)
• Pandemic Emergency Unemployment Compensation (PEUC)
• Pandemic Unemployment Assistance (PUA)
According to the US Department of Labor, the nation has 8.1 million job openings. All over Dundalk, businesses display "help wanted" signs and even offer extra incentives to attract jobseekers. Some are offering signing bonuses, while others are offering compensation above minimum wage.
The decision was met with pushback. Senate President Bill Ferguson said in a statement that the governor has made many thoughtful decisions during the pandemic, this not being one of them.
"This rash and rushed decision will hurt Marylanders who have been hit the hardest during the pandemic, having lost jobs through no fault of their own," Ferguson said. "It feeds into a hard right-wing narrative that denies human dignity, puts profits over people and puts politics over sound economic research.
"To rebuild stronger, Maryland must follow a clear plan of recovery that gives workers, employers and the economy time to adjust predictably. I urge the governor to reverse or delay this decision, and, instead, refocus his administration's efforts to ensure all Marylanders and Maryland businesses have the tools they need to survive and thrive in the post-COVID Maryland economy."
Democratic legislators are not the only people disappointed in the decision. After Hogan announced the end of enhanced benefits, workers around the Baltimore area began holding protests. Tracy Lingo, staff director for UNITE HERE Baltimore Local 7, told the Eagle that many of her union's members have not seen their work locations reopen. This goes against a narrative from Republicans that job openings are plentiful and people can return to work, she said.
"That certainly is not true in our industry," Lingo said. "Even at our locations that are back open, people are not fully back to work."
UNITE HERE Local 7 represents hotel, gaming and food service workers throughout the state, according to its official website, www.uniteherelocal7.org. Lingo said the union represents the Baltimore Hilton in downtown Baltimore City. A hotel that normally employs 300 currently employs just 30 people, she added. She said the Baltimore Convention Center is facing the same issue.
"Since the convention center is still a field hospital, we have five people making meals for the field hospital, but usually there are 200 people working," she said. "It's the same thing at the Hyatt. The Marriott Waterfront is the same story.
"These big hotels downtown depend on convention and meeting business. It's the bread and butter for those hotels and it's also what employs our members."
Lingo said these large events take a significant amount of time to plan. Jobs in the hotel industry lost during the pandemic and not expected to reopen until next Spring, she added. This already presented a crisis for people who expected to see enhanced unemployment benefits end in September.
"To have them end in July is, really, pretty catastrophic," Lingo said.
As far as the abundance of job openings, Lingo said that many Local 7 members have jobs to return to, but have not yet been recalled. She added it does not make sense for them to go looking for new jobs when they already have one. Some members are looking for work opportunities within their own jobs, but they are scarce.
"For those folks to hold on to the job they really want, the career they have, they have to be available when that job calls," Lingo said. "They can't really go out and get a different job.
"If they're working another job, and then their career job calls, they are going to risk losing their career job if they don't go back."
GOP lawmakers stand with Hogan on the matter. Del. Bob Long, R-6, told the Eagle that the CARES Act, a federal coronavirus relief bill passed and signed into law shortly after the onset of the pandemic, is not free money. When the CARE Act was passed, people out of work as a consequence of COVID-19 began receiving an additional $600 per week. Maryland was one of several states to accept the federal extension that includes an additional $300 per week. It was extended again, to Sept. 6, when Pres. Joe Biden signed the American Rescue Plan.
Long said the federal government is giving out money but keeps adding to the national debt. "It causes inflation, which devalues the dollar and prices keep going up," he added.
"This pandemic has caused hectic lives for everyone and it is still causing hardships. Now that we are making the transition to post-pandemic, there is still going to be more hardships. We have put in place some safety nets to help people transition through these tough times."
But economists and labor experts disagree with Hogan's claim. The Tobin Center for Economic Policy at Yale University found in a 2020 study that workers who experienced larger increases in unemployment insurance (UI) generosity did not experience larger declines in employment after these enhanced benefits went into effect. Additionally, workers facing larger expansions in UI benefits have returned to their previous jobs over time at similar rates as those who received unemployment benefits before the CARES Act was passed.
"We find no evidence that more generous benefits disincentivized work either at the onset of the expansion or as firms looked to return to business over time," the study said.
The Economic Policy Institute, a nonprofit, nonpartisan think tank, said that pockets of worker shortages will always be present in a system as complex as the US labor market. It went further, saying a common reason is employers won't increase wages to attract workers. It also said that a job opening is weak is no different than a job opening when the labor market is strong.
"This means that when a job opening goes unfilled when the labor market is weak, as it is today, employers are even more likely than in normal times to be holding out for an overly qualified candidate at a very cheap price," the think tank said.
The Economic Policy Institute said that evidence of a legitimate labor shortage is rising wages. It added that wages are not currently growing at a rapid rate. Federal Reserve Chairman Jerome Powell has also dismissed the notion that the country is currently facing a labor shortage, saying that wages don't reflect a shortage.
The think tank also said that there are more unemployed workers than available jobs – nearly 40 percent. In the leisure and hospitality industry, there are currently more than 80 percent more unemployed workers than job openings. This reflects Lingo's claim that Local 7 members have not yet been recalled to their jobs.
Ferguson has asked Hogan to change his decision and take a different course of action by June 16.