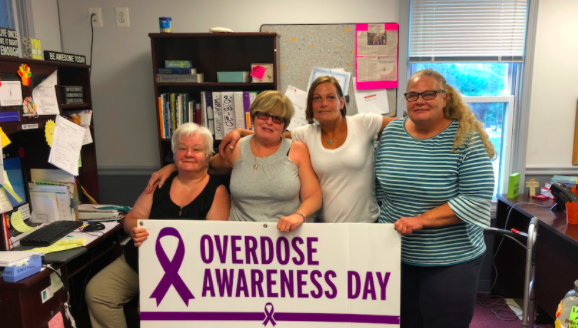 BALTIMORE COUNTY—Aug. 31 is Overdose Awareness Day, a day dedicated to creating a better understanding of overdose, reducing the stigma of drug-related deaths and creating change that reduces the harms associated with drug use.
This year has presented the country, the state of Maryland, and Baltimore County with an increasingly complex set of public health challenges. While the COVID-19 pandemic is still among us, the opioid crisis is still rearing its ugly head and continuing to take lives.
According to the Maryland Opioid Operational Command Center's report (OOCC) for the first quarter of 2020 (January 1 to March 31), intoxication-related deaths from all types of drugs and alcohol increased throughout the entire state when compared to the first quarter of 2019. Opioid-related deaths increased by 2.6 percent in the same period.
Opioid-related emergency department visits and EMS naloxone administrations were down substantially in the first quarter of 2020. Steven Schuh, Executive Director of OOCC, said in his message in the quarterly report that typically the emergency visits and naloxone statistics would rise in correlation with fatalities. The fact that they down indicates disruptions in the state's broader response systems that may have lingering effects on people who use drugs.
"The pandemic has complicated our ability to respond to the continuing opioid and substance use crisis, which remains one of the greatest public health challenges ever to face our state," Schuh said.
"We hope to begin simultaneously stanching the immediate fallout from the pandemic and laying the groundwork for the months and years ahead when the full effects of the pandemic on the substance use crisis are clearer."
Baltimore County's Health Department is following suit in the way the state has addressed both the pandemic and the ongoing opioid crisis. Having 80 opioid-related intoxication fatalities reported in the first quarter of 2020, second most out of the 24 jurisdictions in the state, the county's health department has had their work cut out for them.
"The first quarter numbers for Baltimore County show a slight increase over the same period in 2019. As a county, we would obviously like to see those numbers decrease. But if you look at the Baltimore County Opioid Response Working Group Final Report from November 2019, you will find that Baltimore County has come a long way toward fully adopting each of those recommendations," the county health department said in an exclusive press release to The Dundalk Eagle.
"It may take time to see an impact, but we are well ahead of where we were even a year ago with regard to treatment options in Baltimore County."
A method used by the state to combat the opioid epidemic is by creating Opioid Intervention Teams (OITs) for each jurisdiction in the state. These teams are then are tasked with making sure their communities meet certain state bench marks related to the opioid epidemic. Some of these bench marks involve harm reduction, creating peer recovery specialist programs, and collaborating with community organizations to eliminate the stigma associated with addiction.
According to the county health department, Baltimore County's OIT has implemented measures that the OOCC now encourages in other jurisdictions. 
"Baltimore County Opioid Intervention Team has partnered with us to raise awareness by helping to promote our free Naloxone trainings and making library locations available as training sites," the county health department said. 
In addition to establishing partnerships with organizations like the county library, the county health department recently was recognized by the National Association of Counties (NACo) 2020 Achievement Award for its harm reduction program. The program received the award for employing a public health nurse to integrate health-related services within the Harm Reduction model – the first harm reduction program in the state to do so.
"Driven by our goal to accelerate efforts for addressing opioid misuse, we launched an effort to engage our partners and the public around identifying recommendations for improvements. The recommendations are captured in the Baltimore County Opioid Response Working Group Final Report. Work is ongoing to address these recommendations," the health department said.
 The county health department is continuing these services while also addressing the COVID-19 pandemic. 
The Bureau of Bureau Health/Local Behavioral Health Authority has incorporated alternative tools in order to continue to provide substance screening and other services. Naloxone trainings are now conducted virtually and Naloxone kits are made available after training is completed.
Virtual services are provided to inmates in the Medication Assisted Treatment Program and the department sates it has supported community partners as they have transitioned to utilizing telehealth services. Personal protective Equipment (PPE) is provided when appropriate for non-telehealth services. The department's 88-REACH lines remains operational and call access to Peer Recovery Specialists are available Monday through Saturday from 8:30 a.m. to midnight.
The entire state has seen an increase in intoxicated related deaths and when asked if there could be any correlations between the corona virus pandemic and this increase in intoxicated related deaths the county health department said,
"The current data does not show a spike in overdoses as a result of COVID-19 in Baltimore County. However, we did see an increase in other areas like deaths from alcohol. Furthermore, we are continuing to see an increase in non-opioid overdoses that show the presence of opioids. In other words, many drugs are now being mixed with opioids like fentanyl."
While the department hypothesizes that isolation and other COVID-related life changes like employment and housing insecurity is affecting an increase in intoxication deaths, they are still working to collect data to identify the relationship between overdoses and COVID.
One of the departments latest projects it is woking on is its anti-stigma campaign, which was one of the Baltimore County Opioid Response Working Group Final Report recommendations. The Baltimore County Health Department is close to finalizing the parameters of this program, and hopes to have it completed in the coming weeks. 
Local Organizations Recognize Overdose Awareness Day
On Monday, August 31, Hopes Horizon, located at 4111 E Joppa Rd, Ste 101
in Nottingham will hold their annual Overdose Awareness Day parade. The parade will start at 12:00 p.m. at the center's building.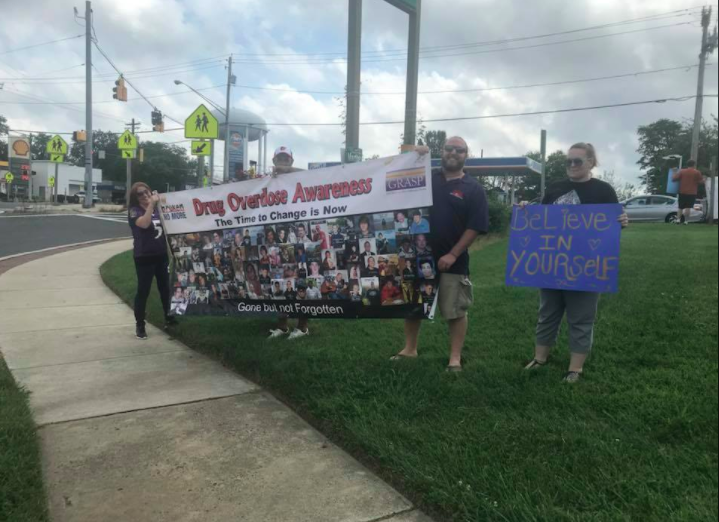 Micheal Soley, the director at Hopes Horizon, said clients, staff members, and people throughout the community get together for this parade every year to remember loved one in their lives who have passed away from overdosing.
"After the parade people come back to the center and talk about those who they have lost and we usually have someone share a message of hope all while there is a cookout going on."
One Voice Dundalk will also hold its own International Overdose Awareness Day event for the third straight year on August 31 from 10 a.m. to 6 p.m. at 6718 Holabird Ave. The past two years, the event has featured things such as Naloxone training, basic first aid, and where and how to call for help during emergencies. The organization's intent is to spread awareness about an ongoing problem in Eastern Baltimore County involving substance use disorder.
One of the services offered at One Voice Dundalk is helping members apply for benefits – subsistence, housing, WIC, etc. Nancy Myers, director of On Our Own and One Voice Dundalk, said that during the center's COVID-19 shutdown, which lasted more than four months, several members lost access to benefits. Internet access and access to a telephone are vital components for applying for assistance.
When they did reopen in July, it took a significant amount of time to submit applications and have benefits reinstated for members. Also taking a significant amount of time, getting members back into their normal routines at the center.
"Even though we probably don't do a whole lot, we do provide them with harm reduction all day long," Myers said. "When they're in here, they're not doing what they normally do."
Also appearing at One Voice Dundalk's International Overdose Awareness Day event will be Amazin' Recovery Treatment Services (ARTS). ARTS is located at 6730 Holabird Ave, which director Pamela Jackson said is the location she picked because a lot of people in the area who need help can be found there.
"I opened my doors as soon as the pandemic started and we wondered where did the people go," Jackson said. "I contacted [One Voice] and fired off some emails, and I found out they were closed because of the pandemic. Once they opened, I've been here every day trying to get people to come over."
"My hope is because [Myers] is limited in what she can do, if they know they can come over to ARTS and get somewhere to sit and get information that can save their lives. If she can bring in some of the ones that don't have the desire to go to treatment, if she has 10 and I have 10, that's 20 more opportunities."
Some of the programs offered at ARTS include community integration for adults, adolescents and young children, as well as intensive outpatient treatment for drugs, alcohol and other addictions. Jackson said the center also has an agency that offers medically-assisted treatment that people can seek as well.
"We took in a guy [last week] who is homeless and is sleeping in the woods, but he is determined to do his therapy with us," Jackson said. "Hopefully, we can get him somewhere stable. He wants to work. He has the desire."
"He said to me, 'I'm going to back and tell everybody else that you are here.'"
Spending just one day at One Voice Dundalk can open one's eyes to the grim reality of the substance use disorder issue in Dundalk. The members who visit come from different walks of life, each being led to the recovery community center by way of differing circumstances.
One such member, who elected to remain anonymous, said that they have been living in eastern Baltimore County "off and on" for the past 10 years. They were born and raised in Baltimore City. This person said they have a grandmother who lives in Dundalk and their mother moved to Dundalk some time ago.
"[Growing up in Baltimore] was rough at times," this person said. "I remember seeing a lot of drugs as a child but didn't know what they were. I just knew they didn't smell like cigarettes."
"My parents would close and lock the door to do them. I grew up hanging around people who were two or three years older than me, and some of them were maybe seven or eight years older than me. They were all into sniffing heroin. I had tried it just a few times."
This person said they were prescribed Percocet after having a surgery performed. The prescription ran out after two years, and they resorted to finding them on the street. When that didn't work, they began using heroin regularly.
"The first time I ever tried it I was 12 years old," they said. "I struggle with it still to this day. I'll be 41 in November." 
This person said they are currently in a Methadone program, but they are still struggling with the addiction.
Another member, who also chose to remain anonymous, said they are currently living with their mother and nephews. He is trying to arrange to receive social security and use it to find his own place to live.
"That way I can have my own life," they said. "My mom, she doesn't give me money. I'm out here panhandling and begging people for money."
Myers said One Voice Dundalk will hand out PPE to those without access. Those who attend the event will also have opportunities to receive education on administering Naloxone, harm reduction and why it's necessary, substance use disorder during a pandemic, and recovery and treatment resources.
Other Baltimore County opioid treatment/ rehab centers include Hopes Horizon, located at 4111 E Joppa Rd, Ste 101 in Nottingham, EPOCH Counseling Center East located at 621 Stemmers Run Road Stem-Ross Professional Center in Essex, S and S Counseling Services located at 1212 Philco Road in Rosedale.
While it might not always be possible for people to pay for treatment services,  Narcotics Anonymous (NA) meetings are a free resource. New Life Church located at 1116 Middle River Road in Middle River hosts a NA meeting every Monday at 7:00 p.m. Call (800) 407-7195 to speak with a Placement Specialist.