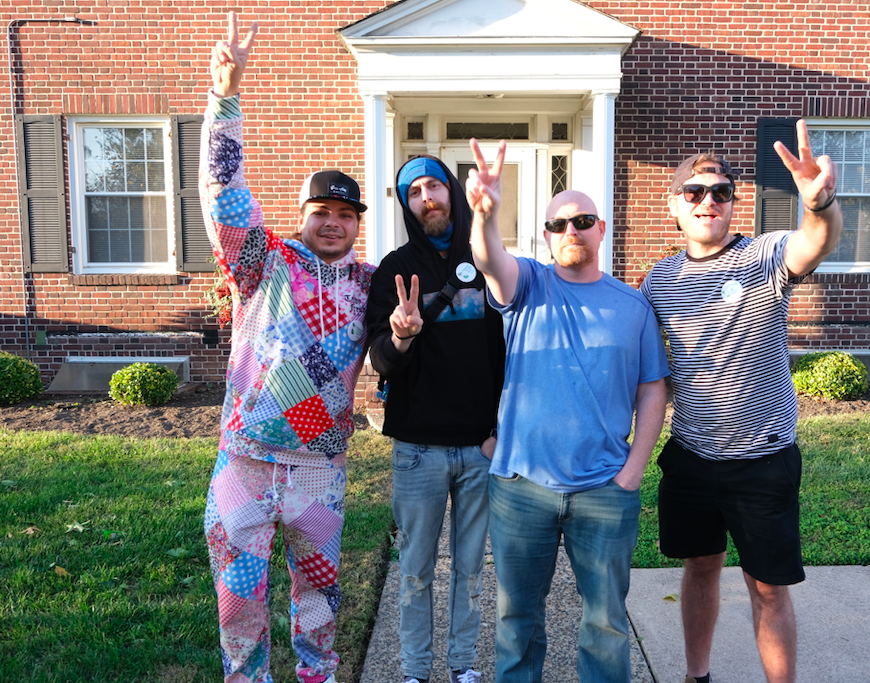 Veterans Park might not be the typical locale to shoot a music video, but three local musicians did that while giving back to their community.
Pink Elefants, a band comprised of three young men born and raised right here in Dundalk, recently premiered the music video for their single "Peace Sign." The video premiered last week and can be found on the band's Youtube™ channel.
"Finch" Flores, one of the members of Pink Elefants, said he and his bandmates had originally planned to use their budget for the video to bring in all the bells and whistles found in most music videos – expensive cameras, a videographer, lights and effects, etc.
"Honestly, we've never been too happy with the way that turned out," Flores said. "It's cool, but it never felt super genuine from us."
"Let's do something in the community. Let's film it with our phones, and let's do whatever we can to give back."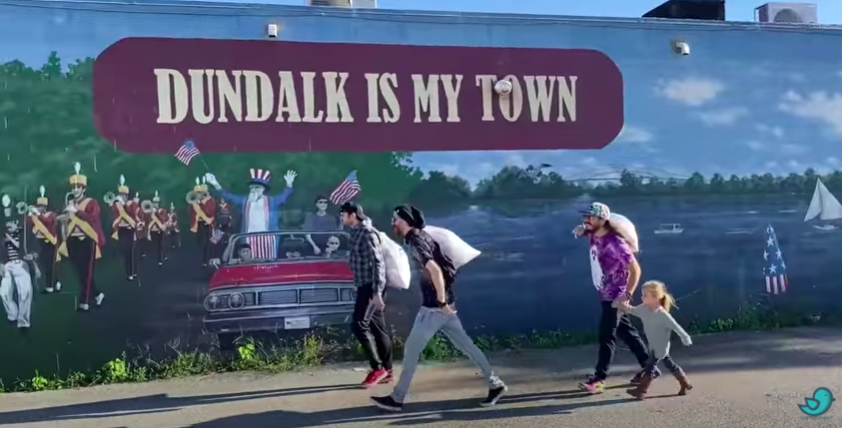 The video was shot entirely in Dundalk, with cell phones. The money that would have been used on all those bells and whistles was instead used to feed, clothe and care for people in need. The video begins with the three standing in front of Aldi™ on Merritt Boulevard.
They can be seen buying shopping carts full of food and supplies from Aldi, Walmart™, and several other recognizable businesses around Dundalk. The music video later cuts to Veterans Park, where Pink Elefants can be seen handing out food and supplies to those in need. In addition, they spent the day performing their music and spreading positivity around the park, they said. The act has changed them, Flores said.
"Once we realized how it feels, we thought that we should have been doing this," Flores said. "Ten bucks can buy a couple of hamburgers from McDonalds or something, and just hand them out. I promise it's going to make your day better."
"We didn't really understand that, and this song and doing this video totally made us better."
The budget for the music video was provided by their recording label Chirp Entertainment. This, however, isn't the first time Pink Elefants have tried to boost morale during this global pandemic. The trio recently recorded a song called "The Recluse," which is about life during quarantine. They shot a video for the song, asking their fans to send footage of themselves singing the lyrics.
Those fans, a group that the band has come to call the "Elepham," are now on Youtube. The music video features several different people singing along with the lyrics.
The meaning behind "Peace Sign"
Josh, another band member who asked to go by his stage name "Illevin," said that the meaning behind "Peace Sign" is up to the listener. On the surface, a listener might think the song is about a friendship or an intimate relationship that is "on the rocks."
"We can do what you like/ we can make up lost time/ kick back, baby recline/ reset, press rewind," is how a part of the song's chorus goes.
"I kind of thought this would be really neat if we actually took that meaning and put it towards our relationship with our community," Illevin said. "Things are really tough because of [COVID-19]."
Illevin said he was shocked when he learned he wasn't able to hear back from any food pantries. He reached out to at least 20, he said, and none of them would answer, reply back, or accept food. This was difficult for Illevin to comprehend when so many people are struggling, he said.
"These are canned foods that we haven't put our hands on," Illevin said. "Some were closed up. Some just weren't accepting."
"I think the lesson to truly learn here is that it's just not that easy," Flores said. "It should be much easier to do something like that."
Illevin said the simplest way for them to give back was to just go out and do it themselves. But not completely by themselves, Illevin said. The three had assistance from Eastern Interfaith Outreach, a food pantry based in Essex.
Flores said they went to Eastern Interfaith Outreach because the people there knew how to do what he and his bandmates were wanting to do. A nonprofit hunger relief organization, Eastern Interfaith Outreach is involved with food donations for the food insecure, assistance for older adults and several other initiatives.
"It was great to have them," Flores said. "People who were willing to come out in the rain, three cars deep and a good amount of people there."
"It was cool to see. You could tell that they do this at all times. We almost couldn't help, because they were so quick with separating and everything. I would pick up a box of macaroni and cheese, and someone else would take it out of my hand and throw it in the box it's supposed to be in."
Illevin said that while Pink Elefants filmed the music video for "Peace Sign," he had stumbled across the music for "God's Plan," a song performed by Drake. That music video is very similar, with a disclaimer at the beginning saying the video's nearly $1 million budget was given away.
In the video, Drake buys groceries for everyone in a store. He gives away cars, money for college tuitions, and donates Christmas gifts to those in need.
"We can't do that, and no one watching that video can relate to that," Illevin said. "We did things that cost us no money, or just a little bit of money."
"If you have no money, one of the things we did, you can go and drop off clothes at one of those yellow clothes drop-off boxes."
Flores said that giving everything away was much easier than he had anticipated, as everyone graciously accepted the things Pink Elefants were giving out. They bought over 100 cheeseburgers from McDonalds, Flores said, and handed them out along with care packages and food.
In the video, the destination is Veterans Park. They approached anyone and everyone in the park at that time. Faces in the video are blurred out, but the love and positivity spread that day is visible.
Getting through the pandemic
Pink Elefants put out their first single, "Maryland," at the end of 2019. Just a short time later, the pandemic began, urging leaders to impose restrictions on places of public interest. This included music venues.
After launching a single and making plans to start a music career as a new band, the three didn't sit back and wait for the pandemic to end. Instead, they used social media to their advantage.
Night after night on the band's Facebook page, Pink Elefants go live and perform for their fans. They include links for people to donate to the band through money-sharing apps like Venmo, Cashapp and PayPal. Flores said support from their "Elefans" have helped him and his bandmates this year.
"They've supported us so great that it's made us better people," Flores said. "I see how positive it is in the comments, how positive the people are. They say that we've saved lives, comments and messages from people who were down and out one night and then they came across our live [session]."
"They watched us live for a couple of hours and it distracted them. That reason right there is really why we do it every single night. We miss a night here and there, but no more than one night a week off."
The third member of the group, who goes by the name Sammie Cakes, said the pandemic has helped them in a way. Going live night after night has helped them get through this year just as much as it has helped their fans, he said.
"For us, I wouldn't say it's been that bad," Sammie said. "We've had some moments and stuff like that, but, for the most part, I think it's definitely been not that bad."
Seeing Dundalk in other videos
In addition to "Peace Sign" and "The Recluse," Dundalk can be found in other videos. People might be surprised to learn that the music video for "19Mexico" is filmed at the Seasoned Mariner. The setting suggests Tijuana or Cancun.
"That's the beauty of movie magic," Illeven said. "[The Seasoned Mariner] allowed us to do it. They didn't charge us, so I'll give a shout out to them. That was very nice of them."
A portion of the video was filmed in Federal Hill in Baltimore City, but the band has been consistent about staying home when shooting music videos.
"We take a lot of pride in where we're from," Illeven said.
As they move into 2021, Flores said they want to take their performances on the road and begin playing at live venues. In the meantime, they will continue to build a set and plan big shows for their fans.
"We want to come out big," Flores said. "I want it to be the kind of thing where you might be something where you see someone come down from up above."
"I want it to be right. I don't care if it's at Howard's Pub. It's going to be a sick show no matter what."
In addition, Pink Elefants wants to continue giving back to their hometown. The band members have said they are interested in any and all help from others in the community. If you are with a community association or other community organization and you are interested in helping Pink Elefants with their outreach, the members ask that you contact them through their Facebook page at www.facebook.com/PinkElefantsMusic.