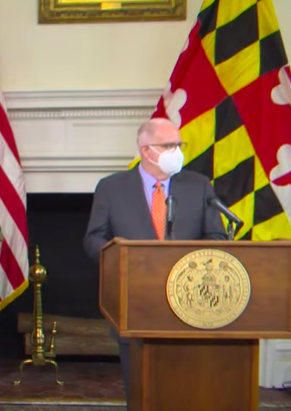 Gov. Larry Hogan addressed the state again last week, this time expressing his frustration over Maryland not receiving enough COVID-19 vaccine doses to stay on track with the state's vaccination plan.
Hogan highlighted the dire need of more vaccines while also commending the efforts from early and aggressive actions of state and local officials, as well as the "continued vigilance of Marylanders" in the fight against COVID-19. State health metrics have been trending downward in recent weeks.
Over the past month, the state's positivity rate has dropped by more than 46 percent to 5.08, which is the lowest since Nov. 8, Hogan said. Also making a significant drop, the case rate per 100,000 residents has dropped by more than 60 percent, he added. The case rate has dropped across all age groups, he said. Marylanders 65 and over, whom currently are the primary focus of the state's efforts, have shown the biggest drop over the past month.
"We are pushing back against this invisible enemy, and we're making great progress," Hogan said. "However, we need to remain cautious and vigilant as we continue doing all of the things that have helped us make that tremendous progress."
But the lack of doses from the federal government is preventing the state from meeting the demand for the vaccine. It's not just a problem in Maryland, but is a problem for every state, county and city across the US, Hogan said.
"Federal guidelines and our state policies currently make two million Marylanders eligible for the vaccine, but the state of Maryland only receives approximately 11,000 doses per day," he said. "Unfortunately, just because you may be eligible, it does not mean a vaccine or an appointment for a vaccine is available to you."
"The basic problem is pretty simple – we need more damn vaccines."
Hogan said he would drain the Rainy Day Fund to buy a vaccine for every person if he could, but that option is not available to him. The federal government is the only entity in the nation that can supply Maryland with more doses of the vaccine, he said.
What is being done on the state's end, he said, is rapidly scaling up infrastructure so the state can utilize every dose it is allocated, and vaccinate every person possible and as quickly as possible.
Six weeks ago, the state was averaging 3,000 shots per day, with resources largely allocated to hospitals and to 24 local health departments. That process was too slow, Hogan said. The state then began providing more vaccines to providers in every county and stood up Maryland National Guard support teams to assist with distribution. Clinics were set up at all 239 nursing homes and at assisted living facilities across the state, Hogan said.
The state government and the federal government began pilot programs to make vaccines available in pharmacies, and opened mass vaccination sites in central locations. Provider and vaccinator networks have been expanded to now include more than 2,300 points of distribution, including 24 health departments and 80 hospitals.
All of this increased the number vaccines administered by more than 770 percent over a six-week period, Hogan said. The number of shots given per day has rapidly accelerated from 3,000 to 26,211. One hundred percent of allocated doses have been sent to providers, and 78 percent of first-shot doses have been administered, he added. The rest are already scheduled and spoken for.
"As of [Feb. 11], Maryland has already administered 785,170 vaccines to the 2.1 million Marylanders who are currently eligible," Hogan said. "At this point, we are simply waiting for more vaccines to arrive. Everyone who lives or works in a Maryland nursing home has been offered a vaccine. The clinics in most assisted living facilities are now complete, and clinics are currently underway in all of the other independent living facilities across the state."
Hogan said that some leaders, but did not indicate which, want to go backwards by giving the 24 health departments a monopoly on all available doses. He called it absurd and not a realistic way to help people across the state. Approximately 70 percent of allocated doses are being provided by facilities other than those health departments.
The state currently has two mass vaccination sites – Six Flags America, in Prince George's County, and the Baltimore Convention Center. On Feb. 25, M&T Bank Stadium in downtown Baltimore will become the state's third vaccination site. Appointments became available this week.
Marylanders interested in learning when more appointments will become available are encouraged to text "MDReady" to 898-211. To learn more about vaccination providers in your area, go to www.COVIDvax.maryland.gov.