WASHINGTON — The American Rescue Plan, a $1.9 trillion stimulus package signed into law by President Joe Biden on Thursday, will include $6.36 billion for Maryland state, county and municipal government, as well as $6.25 billion in direct payments for Marylanders.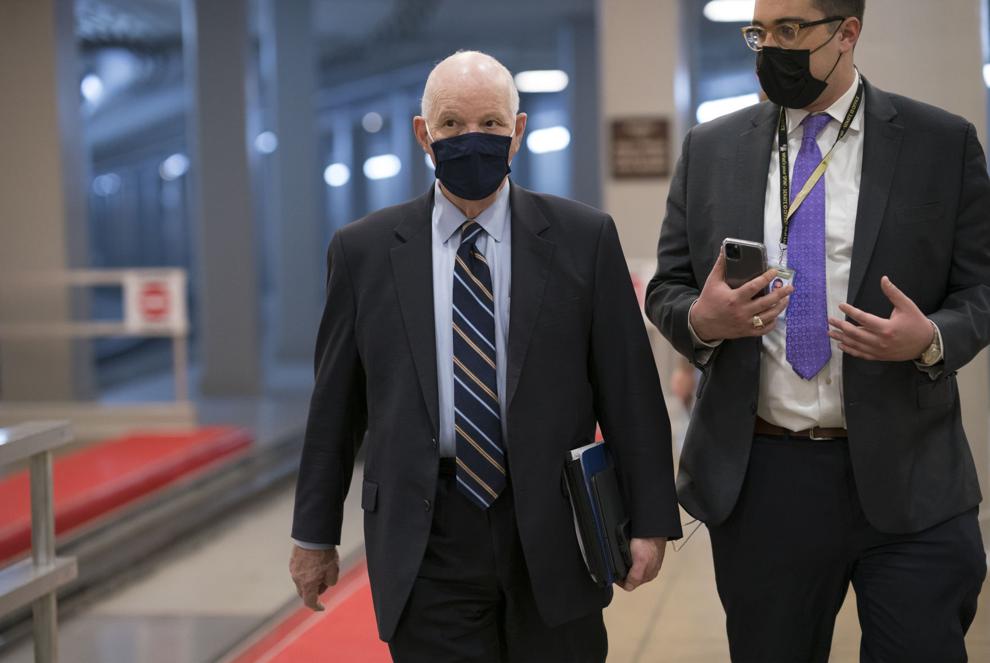 Baltimore County will receive $160.46 million in direct funding, the third highest county allotment in the state after Montgomery at $203.77 million and Prince George's at $176.36 million.
Senator Chris Van Hollen, who voted with the senate majority to approve the legislation on March 6, described the package as 'the bold relief our state needs at this moment.'
"I was proud to fight for Maryland's priorities within this bill," Van Hollen said in a statement, which he said included boosting unemployment insurance, getting students safely back in schools and support for small businesses. "Americans called for action, and with the American Rescue Plan we answered those calls."
As economic stimulus makes its way through the state, it could fuel speculation about a 'hot summer' of economic activity. Governor Larry Hogan this week announced a set of eased regulations meant to encourage that activity, including allowing 100 percent reopening in many of the state's businesses and restaurants.
Hogan shared positive pandemic news in a release Friday — overall COVID-19 hospitalizations have fallen more than 60 percent from a January peak of nearly 2,000 to 765 this week. The state's positivity rate has fallen 62 percent from the third wave peak, and the case rate has dropped by 74 percent.
And vaccines continue to flow, with a seven-day average 42,264 shots per day. With more than 20 percent of the state having received at least one dose, Maryland is 16 out of 50 in national vaccine distribution rankings.
That said, Hogan and other health experts have cautioned that the pandemic is far from over.
"Fewer Marylanders are being hospitalized, and more and more people are getting vaccinated as we work together each day to bring this pandemic to an end," Hogan said in a statement. "We will keep following the science and taking a cautious and vigilant approach as we continue on the road to health and economic recovery."
What will that economic recovery look like? Well, the American Recovery Plan seeks to shape a strong start, and on Friday Van Hollen's office shared a breakdown of Maryland-specific funding in the bill. Be warned — lots of mind-boggling numbers coming up.
We already mentioned $6.36 billion in government funding, including $3.87 billion for the state, $1.17 billion for counties and $1.14 billion for municipalities. We also touched on $6.25 billion in direct payments to 2,516,312 Maryland households.
We should also note the Child Tax Credit, which will benefit 1.1 million children in Maryland and lift an estimated 52,000 out of poverty, as well as earned income tax credits to benefit 255,000 workers statewide. The legislation also extends expanded unemployment benefits through Sept. 6, continuing assistance for more than 300,000 Marylanders.
The plan includes over $100 billion nationally toward healthcare, including $7.5 billion for vaccine distribution and $6 billion for vaccine research and development, as well as $10 billion for production of personal protective equipment and $47.8 billion for testing and tracing.
Small businesses across the country can look forward to $7.25 billion for the Paycheck Protection Program, $15 billion for Economic Injury Disaster Loans, $28.6 billion for the Restaurant Revitalization Fund and $10 billion toward the State Small Business Credit Initiative.
Talking Maryland education, we've got $1.95 billion coming for K-12 education, $549 million for institutions of higher education and $513 million in grant funding for child care in the state. The legislation also includes national investments in closing the digital divide and supporting students with special needs on the order of $7 billion and $2.5 billion, respectively.
Statewide public transit will get a nearly $1.7 billion dollar boost, including big chunks for systems in Baltimore City and the D.C. suburbs. Airports aren't left out — nothing quite compares to $95 million for Baltimore/Washington International Thurgood Marshall Airport, but closer to home on the east side, Martin State airport will take in $148,000.
In terms of housing support, the American Rescue Plan budgets $318 million for Maryland renters and between $180 and $311 million for state homeowners, as well as $166 million for the Low Income Home Energy Assistance Program. Nationally, the bill includes more than $15 billion to support homeless services and prevent utility shut offs.
For Senator Ben Cardin, who joined Van Hollen and other senate Democrats in approving the bill through an entirely party-line vote, the investments coming to Maryland will lift up the hardest-hit families and small businesses to aid pandemic recovery across the state.
"We fought for this bill because it is going to bring real, concrete relief to Maryland and our nation," Cardin said in a statement. "Americans support this package because they know how much of a real difference it will make in their lives and their communities."