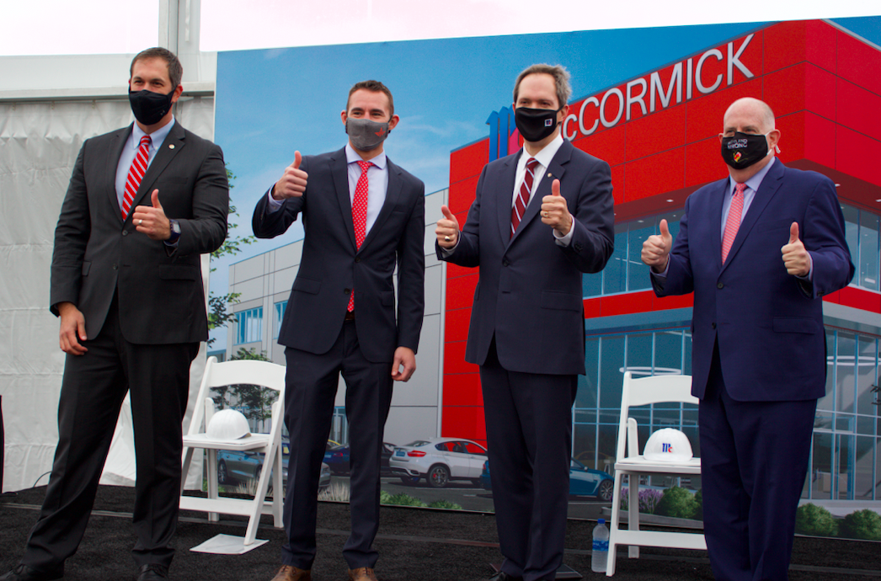 SPARROWS POINT —Governor Larry Hogan, County Executive Johnny Olszewski, and managers of TradePoint Atlantic adorned their typical business attire with hard hats and shovels to commemorate the groundbreaking of McCormick's Sparrows Point distribution center last Wednesday.
When all is said and done, this 300 million dollar center will be 1.8 million square feet, the largest McCormick center in the world, and will employ 200 people—creating jobs for the local economy during one of the most challenging economic times in our nation's history.
"I said I just couldn't imagine Old Bay being made in Pennsylvania or anywhere else so we had to keep them here and that was five years ago," Hogan said.
"From its early days when thousands here built the steel that built our country's bridges and skyscrapers, this important site has played a tremendous role in the history of our state and our economy and we are so proud to see it once again become a shining example of industry and economic development."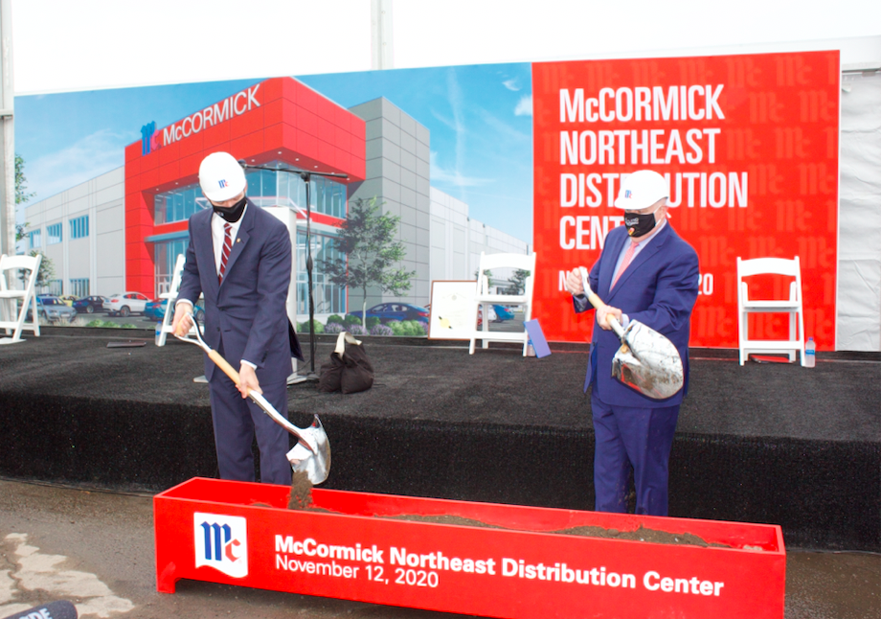 The thousands who built steel Hogan was referring to were of course all the workers at the Bethlehem Steel Plant, a plant that for decades provided jobs, supported the local economy, and put Baltimore County on the map as an industrial powerhouse.
Once the plant closed, it seemed like the county lost its luster and economic vitality. But, however , it did not lose its resiliency. Tradepoint Atlantic stepped in and turned what was once the iconic steel mill into an industrial park that is home to businesses like Under Armour, Amazon, Perdu, and now McCormick.
"This site produced strong pay and benefits that supported families as they pursued their version of the American dream," Olszewski said.
"As that mill shut its door we all knew there would be a void that would be hard to fill. But, Tradepoint Atlantic continues to bring new life to Sparrows Point and despite the economic toll of COVID-19, with our proud partnership, they continue to grow and have added over 8,000 jobs to our economy."
Kerry Doyle, Co-Managing Director at Tradepoint said the journey from where Tradepoint started to where it is now has not been easy.
"I recall two thoughts going through my head at that time. One was, 'what the heck did we get ourselves into' and the other was that we have a lot of hard work ahead of us."
Six years later, with an extensive list of businesses that have now set up shop at Tradepoint, and with the McCormick plant scheduled to officially open in 2022, Doyle said the future of the industrial park, Baltimore County and the entire state of Maryland is looking bright.
"Standing here 6 years later, a few things come to mind. We still have a lot of hard work ahead of us, but as a result of the partnerships that have been forged, we have never been in a better position to continue that hard work."