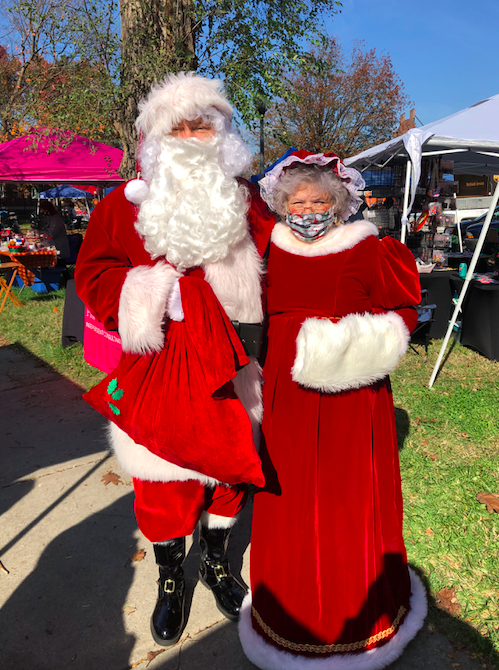 Anthony Makras stood in front of his store, eating french fries from a basket while looking across the parking lot at Veterans Park.
The final Merchants in the Park event for 2020 took place on Nov. 14, running simultaneoulsy the Dundalk Renaissance Corporation's Second Saturday, a food drive held by the Greater Dundalk Chamber of Commerce and a toy drive held by Santa's Helpers.
Makras, who organized Merchants in the Park, said that around 50 merchants were in operation in Veterans Park for the final event. The highest number to attend this year was 60. In the event's first month, which was July, 25 merchants set up in the park.
"It's very satisfying," Makras said, when asked about watching the turnout grow between July and this month. "The merchants seem to be doing well and people are supporting them, which makes me happy."
The owner of Dude's Snack Attack, located on Shipping Place, Makras started Merchants in the Park with a dual-purpose in mind. Before opening his store, he ran merchant events at different venues. He no longer has the time to run those events, but started Merchants in the Park as a way to give merchants a way to reach customers.
On the flip side of that, Makras used the event to promote and support local nonprofit Soup for the Soul. Makras is longtime friends with Stacy Nagel, the organization's director.
Makras said he delivered Soup for the Soul's amount to Nagel in the form of a check on Nov. 18. The amount was not disclosed at press time.
Soup for the Soul set up its own tent at each event. Nagel said that during the first month, each tent donated one item that Soup for the Soul gave away in a raffle. The nonprofit raised $200 in that first month. The full amount from monthly raffles also was not disclosed at press time.
The final event had a Christmas theme despite being held in November. Makras said that children most likely will not have the opportunity to visit Santa Claus next month due to COVID-19 restrictions. Santa and Mrs. Claus were at the final Merchants in the Park on Nov. 14, played by Bill and Dottie Whitcomb.
"It's Christmas and Thanksgiving kind of rolled together," Makras said.
This event was originally planned to begin in April. That plan was scrapped when the COVID-19 global pandemic reached the US, forcing Baltimore County to place restrictions on public gatherings. Makras didn't receive authorization to run the event until July.
Makras said he hopes to start the event back up in Spring 2021, with the first event happening at the end of March. His intent is to have an event before Easter, an event ahead of Mother's Day and an event ahead of Father's Day, he said.