A suspicion of ballot harvesting arose this week, pertaining to the GOP primary race for Maryland's Second Congressional District seat.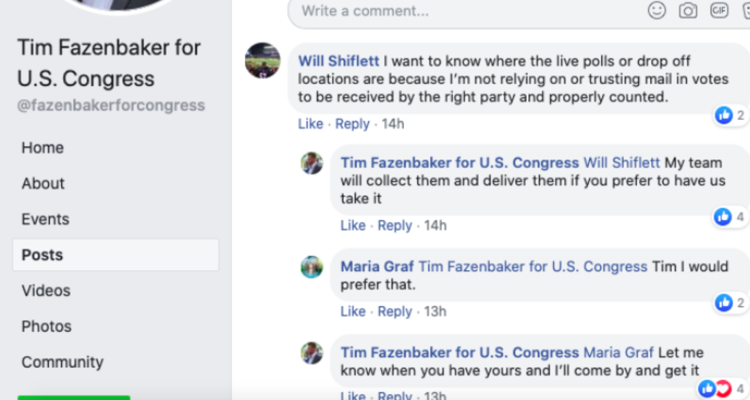 Ballot harvesting is a practice that involves election officials or others to collect completed ballots and turn them in to polling stations. It is not legal for candidates or people affiliated with their campaigns to collect ballots and deliver them to polling stations. One such accusation, however, has been presented.
Genevieve Morris, one of the candidates running in the GOP Maryland-2 primary, accused Tim Fazenbaker, a Dundalk native and candidate running in the same primary, of ballot harvesting. She made the accusation while on air with The Morning Drive with Casey and Elliot on WCBM, an AM radio station that broadcasts conservative opinion talk shows.
The topic of ballot harvesting arose when Morris was asked by one of the two show hosts about mail-in voting. Morris began her answer by saying that she isn't sure if elections can be safeguarded under a mail-in system. That statement was a segue into her accusation against Fazenbaker.
"I'm deeply concerned because I just learned this morning that one of the candidates in my primary is ballot harvesting, which is illegal here in Maryland for candidates to do," Morris said on the show. "That's deeply concerning to me that we have folks, even in the primary, who are planning to use mail-in voting to their advantage."
The source for Morris's claim was a comment on one the posts on the Tim Fazenbaker for US Congress Facebook page. "As ballots are arriving to some voters today, we would like to ask you to comment on why you're voting for Tim Fazenbaker," the post reads.
Underneath the post, comment left by one person expressed concern about mail-in voting, asking for locations for polling stations because they don't trust that votes will be received and counted properly.
"My team will collect them and deliver them if you prefer to have us take it," a reply from the Facebook page to the comment thread. That reply was later taken down.
In the same thread, the person responding to comments for the page appeared to attempt to make arrangements with another person. "Let me know when you have yours and I'll come by and get it," the reply read.
Fazenbaker responded to a request for a statement to this newspaper, calling Morris's allegation a baseless attack from a "never Trumper," adding that Morris took his statements out of context.
"There are caveats in the law that say someone can assign another person, outside of a campaign, to take their ballots," Fazenbaker said. "That was the context."
Fazenbaker told the Eagle that it's illegal for campaigns to pick up ballots and deliver them to their destination. It is legal, however, for campaigns to request a person outside the campaign to be the person to pick up ballots and deliver them.
"The route we would have to go is that we would have to help them have somebody assigned so that their ballots can be taken," Fazenbaker said. "I can't do it. My team can't do it. But I can get them somebody that can take that."
Morris's campaign manager, Paul Harvey, said he asked for an opinion on the matter from the Baltimore County Board of Elections. They have not yet responded to his inquiry, he said. He added that the Board of Elections has the same information that was given to this newspaper.
""Anyone running to write laws should at least follow them," Morris said in a press release issued by her campaign. "Fair and free elections are important to us not only as Americans, but also as the foundation of our democracy."
"The State of Maryland needs to do everything that it can so voters do not feel like their vote doesn't count. Whether purposeful or out of ignorance, it is con-cerning that Tim Fazenbaker does not know what the law is or believes that he is above the law."
Fazenbaker said that he did not commit a crime.
The Dundalk Eagle was not able to request comment from the Maryland Board of Elections ahead of its press deadline.