SPARROWS POINT — On Jan. 1, The She Shed, a store that rehabs old furniture, opened at 4425D North Point Blvd. and customers are calling it one of the best kept secrets in Dundalk.
"They host classes constantly and it's a place where women and men can be creative and learn something new," Dundalk resident Erin Long said.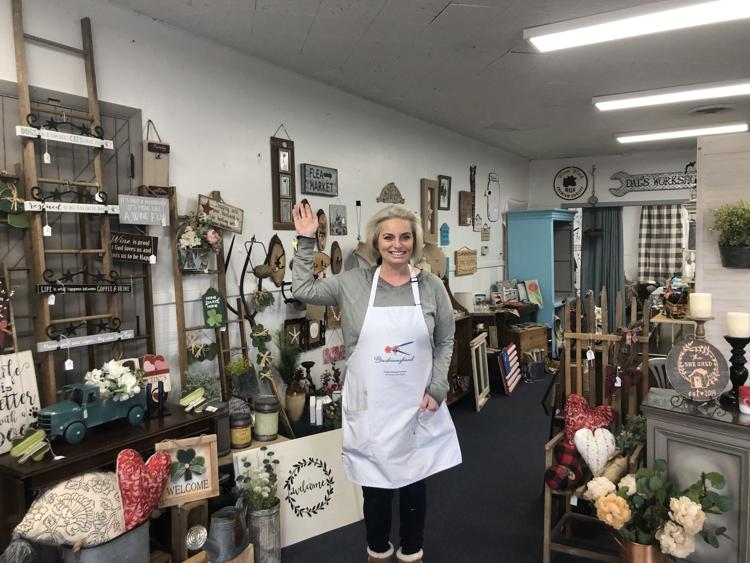 Owner Dawn Debaegh began to paint and indulge in creative activities on her own when she took a break from working as a paralegal, a job she did for 25 years, to be a stay at home mom for six years.
While raising her youngest child at home, she began to watch DIY Network Shows and TLC (The Learning Channel), which inspired her to begin doing her own arts and crafts. She spent a bunch of time in her basement, better known as "the Laboratory," creating art.
Once her son began grade school, Dawn went back to work as a paralegal and did that job for 18 more years. Still doing arts and crafts in her spare time.
Once Debaegh's son began grade school, she went back to work as a paralegal, working that job for 18 more years, all while doing arts and craft in her spare time, but not as much as before.
While working as a paralegal, Dawn became very sick, ultimately learning that she had rare disease called mixed connective tissue disease.
"I started painting again because I found it to be very therapeutic and it took her mind off of things," Debaegh said.
After getting into the flow of painting again, Debaegh started selling her refurbished/painted furniture on Etsy, a website offering handmade or vintage items and craft supplies, and it started selling all over.
"I was shipping pieces to New York and California," Debaegh said. "It was going everywhere."
Eventually, a lady who owned a shop in Ellicott City approached Debaugh, offering her an opportunity to sell her stuff in her store. Debaegh said that's when she brought in the Dixie Bell paint line.
"I just loved the Dixie Bell paint line because I could play with it and the paint made me feel more creative," Debaegh said.
One day, Debaegh stopped into the Tracy's Thrifty Treasures, owned by Tracy Chapman, to see if she could carry the Dixie Bell paint line in her store. Chapman agreed and business took off.
Debaegh said she went on to purchase the Sparrows Point zip code to sell the Dixie Bell paint line because business was so good.
"The customers got so creative with the paint," Debaegh noted.
When Chapman sold Tracy's Thrifty Treasures and moved to Myrtle Beach, another owner came in and took over. That owner had some health issues and the opportunity for Debaegh to take over came up. She took the opportunity, opening The She Shed, a name suggested by a customer.
At The She Shed, Debaegh rehabs old furniture, host art classes that are influenced by customer suggestions and ideas and sells paint.
According to Debaegh, Sparrows Point and the community of Dundalk have been nothing but supportive to her business and have bought paint at record levels.
Debaegh has sold so much paint in Sparrows Point that she has been invited to the Dixie Bell Paint Conference in Florida, so she can participate in forums, teaching people how to be successful retailers.
"They cant believe Sparrows Point only has 9,000 people in the community, because we sell more paint than almost anywhere else in the country," Debaegh said. "That kind of community support can't be taught."
According to Debaegh, The She Shed is as successful as it is because the community comes out and wants to see the business thrive.
"I think it's just a part of the Dundalk, Sparrows Point areas," Debaugh said. "Our customers try to come here before they go to a big chain furniture store. It's just the fact that they try to come in and do that is awesome."
Sparrows Point resident Daphne Rodgers has been volunteering at The She Shed for three months and thought the arts and crafts part of her life was over.
Rodgers would pass The She Shed constantly and figured she'd stop in to see what is was about. One thing led to another and now she's there all the time.
"Working with Dawn is like being with a sister," Rodgers said. "There's good times, there's bad times, but she teaches me different strategies with the products. A lot of people come in, but it's always like a friend just came in the door. The communication is friendly, not business, just friendly. The atmosphere is great 24/7."
"Hanging with Dawn makes me forget about all my problems," she noted.
Debaegh wants The She Shed to be about customer service.
"We want the customers leaving feeling good, that's really important to me," Debaegh said.
In the future, Debaegh wants to take The She Shed to Tradepoint Atlantic to teach and sell her items, then retire on the beach.
"I've been really blessed in a way that I have to pinch myself some days," Debaegh said.
Debaegh is thankful for the community support and said if there is something they need, don't hesitate to reach out.