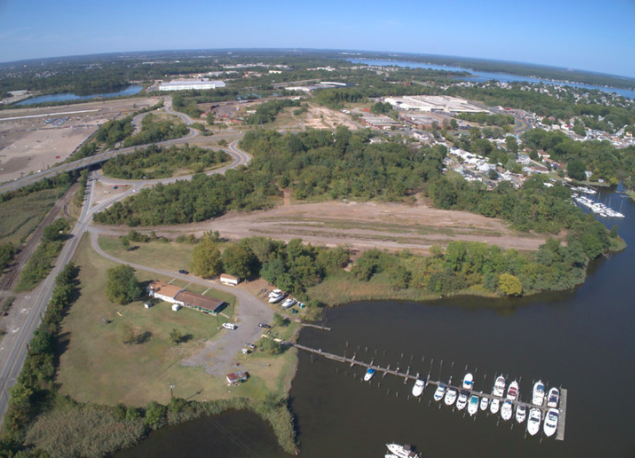 SPARROWS POINT — Baltimore County and Tradepoint Atlantic (TPA) issued a groundbreaking announcement last week – the construction of a new community park in Sparrows Point.
The Sparrows Point Park Project, the effort behind the construction of the soon-to-be-named public park. It will sit on 22 acres of land that TPA has donated to Baltimore County for the project. The park will be located on the 1900 block of Wharf Road, where Bethlehem Steel once stood. It will serve as both a public space and a much-needed recreational space for the Edgemere-Sparrows Point area.
"The historic and famed Bethlehem Steel Mill in Sparrows Point is about to breathe new life," according to the Baltimore County Government's official website. County Executive John Olszewski, Jr. said in a press release issued by his office that "[growing] up in the shadow of the steel mill, I've seen firsthand how Tradepoint Atlantic is transforming our local economy and I'm thankful for their continued partnership as we now work to provide this vibrant neighborhood hub that will connect our families and communities for generations to come."
Olszewski, along with other county officials, including County Councilman Todd Crandell, R-7, spoke at a virtual community meeting on Feb. 22. The future plans for the park, as well as what it means for both the community and TPA, were presented.
"I'm excited about this project, not just as county executive, but as your neighbor," Olszewski said during the meeting. "I look forward to using this with my family along with yours, and it's a place where I hope to get to see my daughter play many games in the years ahead."
The park will take up 15 acres of the 22 acres of donated land. The reason for this, according to County Director of Rec and Parks Roslyn Johnson, is so that the county stays with accordance of environmental standards, minding both the tree buffer and the Chesapeake Bay critical area.
The park will feature a full-size turf field with LED lighting. It will have a 10,000-foot playground, a kayak and fishing pier that will meet American Disabilities Association standards, a scenic walking path and a 16,000-foot community center.
The community center will be the largest in Baltimore County, she said. It will have a double gym and two activity rooms. The double gym was built so the center can host multiple activities at once. One side of the gym could be used for a full court basketball game happening on one side of the gym, and two activities happening simultaneously on the other side.
Johnson said the LED lighting that will light up the turf field will cut down on light pollution. The lights can be controlled remotely, she added. The turf field will be a part of Phase I, which is scheduled to begin sometime this fall. The reason it is one of the first things being built is so that it can be used by the Edgemere-Sparrows Point Recreation Council. The new field will fill a significant recreational gap in the area.
The ESP, Johnson said, has 120 girls registered for field hockey and 100 boys registered for football. This will also increase the number of fields in the Sparrows Point community, she added. Sparrows Point High and Middle Schools currently share one field.
Johnson said the County has no intention of uprooting trees and putting them somewhere else. She added that the County kept wildlife in consideration while designing the project, and said that community feedback showed residents in the area have the same concern.
Crandell called the project a "culmination of a lot of work by a lot of people, and most of those people are represented here today."
"This did not come about overnight," he said. "This was a longstanding effort for many years. I remember when I first got elected, [Fran Taylor's] predecessor in one of my first days in office, or maybe even as a candidate, said that we need a community center in Edgemere."
"We have 10,000 people on the peninsula without a community center. Talking to rec and parks leaders at the time, we need more field space. We have a lot of kids involved in a lot of things."
TPA President Aaron Tamarcio said that seven years ago he explained TPA's vision for the community, and listened to community members as they shared what they wanted to see. One element that stood out, he said, was the opportunity for people to re-engage in Sparrows Point and be part of it again, and to do so in a way that is valuable to the community from a recreation and parks standpoint.
"When we worked together with the [county] to identify an opportunity, we saw that this particular site was a perfect opportunity to provide that type of access and really a great space adjacent to the community," Tamarcio said.
"We are very excited to be a part of this. As I stood before you seven years ago and committed to you that we are a long-term partner, I stand before you now to double-down on that statement."
Tamarcio said that the new park will also give TPA an opportunity to engage its own tenants – companies like Amazon, Harley-Davidson and Under Armour – to support ongoing development opportunities in the area.
"This will be a park for the community, but it will also be a showpiece for our tenants and for Tradepoint Atlantic itself," he said.
What it means for the community
ESPRC President Tim Dodge spoke about the recreational gap in the community. Dodge said he was "ecstatic" about the project, adding that the rec council has faced many challenges during its day-to-day operations. The ESPRC has had to seek permission from schools in the area to use their fields, navigating past scheduling conflicts and equipment issues.
"Parents who have had kids in rec programs understand the importance of rec programs in the community," Dodge said. "They help our kids to build social and emotional skills, and improve physical fitness and cardiovascular endurance.
"I can attest to this, being from Dundalk and living in Sparrows Point – building lasting friendships. If you ever come to our community, everybody knows everybody. We all played soccer, or football or baseball. We all grew up playing on teams together."
Dodge shared information about the ESPRC at the meeting. Back in 2008, he said, the rec council invested in an online registration system. One of the benefits of having it was being able to track the progress of the rec council's every program. Between 2008 and 2019, the ESPRC has grown from 16 programs to 26, a 63 percent increase. These include programs that are unique to the Southeast Baltimore County area, Dodge said, such as volleyball, field hockey, and boys and girls lacrosse. These also include an ASPIRE program for special needs and higher ground academic programs.
"One of our goals is to not only expand athletically, but to offer programs that kids want," Dodge said. "That may not be athletics, so that's how we see our role and that's why we've grown so much over the past 10 years."
Fran Taylor, president of the North Point Peninsula Council (NPPC) said his organization enthusiastically accepted when asked to be part of planning. He had previously emphasized to both TPA and Baltimore County the importance of preserving Sparrows Point history while providing a community benefit, he added.
"We are very excited that our suggestion for a canoe and kayak launch was included in the site," Taylor said. "Starting with this location, paddlers of all levels can experience a one-and-a-half mile paddle to the Veterans Memorial Park Beach in Fort Howard, to a 10-mile paddle around the peninsula and ending at the Edgemere Senior Center."
Taylor said that paddlers will have access to additional beaches, restaurants, parks and other destinations. Overnight seasonal camping on Hart Miller Island will be an option in the future. NPPC is working to install another accessible launch, Taylor said. Also coming soon is a Sparrows Point heritage center, which will be located at TPA, and will feature displays of artifacts from Indigenous Americans and early settlers of the Sparrows Point peninsula, the town of Sparrows Point and Bethlehem Steel.
Phase I construction is projected to begin this fall, though a start date has not been announced. A groundbreaking ceremony is expected sometime later this year. Phase II construction will begin sometime after Phase I, and will include the kayak launch and fishing pier, playground, walking path and community center.
The Baltimore County Department of Recreation and Parks is inviting residents to participate in an online survey to share their input on amenities at Sparrows Point Park. The survey is available on the Baltimore County Government website, www.baltimorecountymd.gov. For more information or questions, email sparrowspointpark@baltimorecountymd.gov.