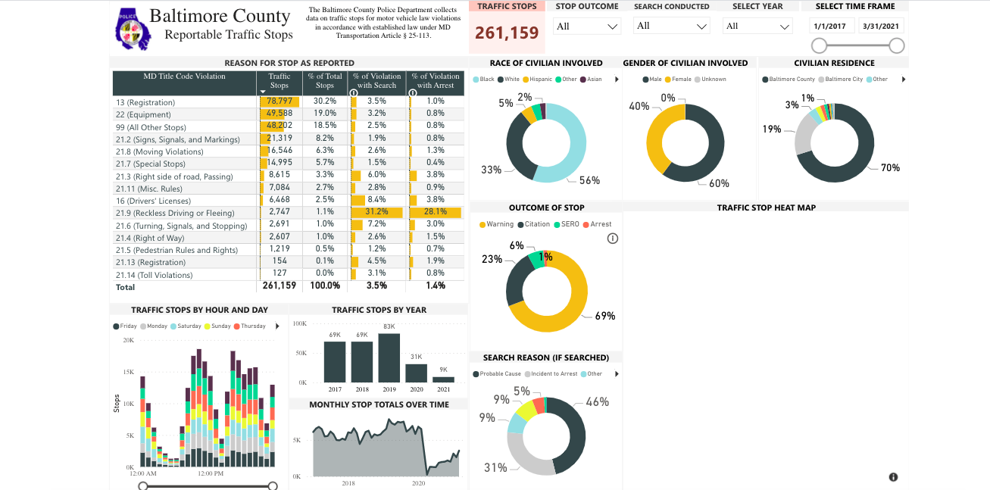 TOWSON — Baltimore County Executive Johnny Olszewski released a new interactive data dashboard last week displaying detailed information about police traffic stops in Baltimore County.
This new dashboard expands Olszewski's unprecedented efforts to provide more information to the public and increase transparency and accountability.
"Building a culture of transparency is critical for making our government more responsive and accountable to the people we serve, and for building trust between government and communities," Olszewski said. "I want to thank Chief Hyatt, the Baltimore County Police Department and our BCSTAT data team for their work in developing this latest dashboard to further advance our administration's push to provide the public with more information."
The Traffic Stop Data Dashboard, developed by Baltimore County's BCSTAT team in collaboration with the Baltimore County Police Department, displays reportable traffic stop data from 2017 to the present in accordance with Maryland state data collection and reporting legislation. These data include the number of traffic stops by race, the reasons for stops, and traffic stop outcomes.
This dashboard allows users to see stop, search, and arrest trends over time, demographic statistics, and other related data in an interactive format.
"This new dashboard reinforces our dedication to transparency and accountability," said Police Chief Melissa Hyatt. "We remain committed to treating every person in Baltimore County equitably with dignity, and respect."
In November 2019, after a preliminary review of basic traffic stop data showed that African American individuals were issued citations at a higher rate than other individuals, Olszewski created the Workgroup on Equitable Policing to examine policing policies and make recommendations regarding equitable practices, training and supervision, and transparency and accountability for law enforcement.
The group is chaired by Troy Williams, the County's first Chief Diversity and Inclusion Officer, a position created by Olszewski to help promote equity and inclusion countywide.
In July of 2020, after several high-profile national incidents of deaths of African Americans at the hands of police officers, Olszewski acted proactively, issuing a second executive order to make the group permanent and expand the scope of the group, now known as the Equitable Policing Advisory Group (EPAG). The dashboard released today fulfills a recommendation of the EPAG to make data more available to the public.
"This new tool represents an important step forward and reaffirms the County's continued commitment to implementing the recommendations of the Equitable Policing Advisory Group," Troy Williams said. "Moving forward, we must continue to work across the criminal justice continuum in order to foster more equitable policing for every resident across Baltimore County."
The new Traffic Stop Data Dashboard released today join Baltimore County's growing set of resources that provide unprecedented transparency for residents and reflect Olszewski's commitment to a more open and accountable government. Prior efforts include:
• Launching BCSTAT, Baltimore County's first data-driven performance management program that aims to improve performance, ensure data quality, enhance transparency and increase accountability across government.
• Creating an interactive dashboard displaying detailed policing information outlining the number and disposition of complaints against police officers and instances of uses of force.
• Creating a comprehensive Public Safety NIBRS Data Dashboard, where residents can view detailed information about crime.
• Releasing the Baltimore County Open Budget platform to empower residents to explore the County's budget in an online, easily understood format. In December 2020, Olszewski announced an expansion of the Open Budget platform allows users to view County expenditures down to the individual check level.
• Providing a number of downloadable raw data-sets related to numerous government functions and services.