On Our Own and One Voice Dundalk is there for those seeking freedom from addiction, but what happens if it is forced to close?
Nancy Myers had to answer that question this past March. When the COVID-19 virus made its way to Baltimore County, several establishments were forced to close. One of those happened to be the building that sits at 6718 Holabird Ave., across the street from Squires.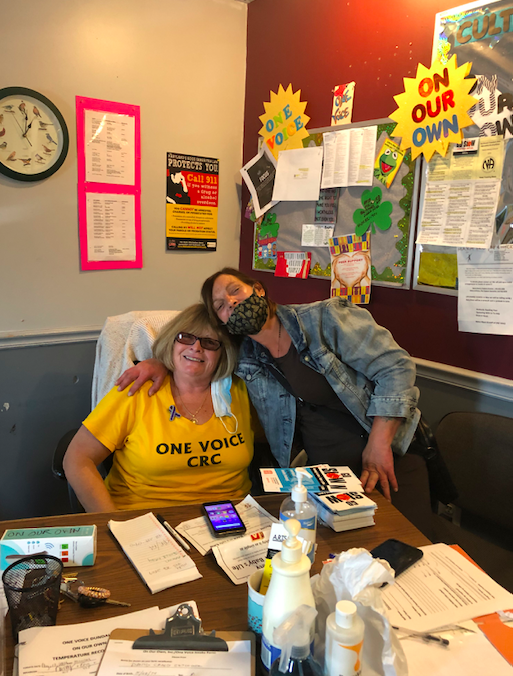 Myers is the director of On Our Own and One Voice Dundalk, a substance abuse recovery center that offers specific services for those battling substance use disorder, such as group counseling, one-on-one counseling, educational activities, leisure activities and arranging logistics for those ready to enter treatment.
"We opened July 6, but we had to be here alone to do what we could do with what we were working with when we were cleaning the place and doing some harm reduction," Myers said. "Even though we were coming in and doing virtual trainings and stuff, we still had a lot of stuff that hadn't been touched in months."
Those two words – harm reduction. According to the National Health Care for the Homeless Council, harm reduction is a set of practical strategies and ideas aimed at reducing the negative consequences associated with drug use. In essence, harm reduction works with a goal to prevent deaths.
Aug. 31 is International Overdose Awareness Day. One Voice Dundalk will hold its own International Overdose Awareness Day event for the third straight year. The past two years, the event has featured things such as Naloxone training, basic first aid, and where and how to call for help during emergencies. The organization's intent is to spread awareness about an ongoing problem in Dundalk involving substance use disorder.
Statistics from the Maryland Department of Health show that there were 2,406 deaths related to drugs and/or alcohol in 2018. Of that total, more than 2,000 were opioid-related. Heroin was responsible for 119 deaths in Baltimore County that year, while 71 deaths were attributed to prescription opioids. Fentanyl, a highly-powerful synthetic opioid, was responsible for 1,888 deaths in 2018, with 308 of those deaths happening in Baltimore County.
One of the services offered at One Voice Dundalk is helping members apply for benefits – subsistence, housing, WIC, etc. Myers said that during the center's shutdown, which lasted more than four months, several members lost access to benefits. Internet access and access to a telephone are vital components for applying for assistance.
When they did reopen in July, it took a significant amount of time to submit applications and have benefits reinstated for members. Also taking a significant amount of time, getting members back into their normal routines at the center.
"Even though we probably don't do a whole lot, we do provide them with harm reduction all day long," Myers said. "When they're in here, they're not doing what they normally do."
Also appearing at One Voice Dundalk's International Overdose Awareness Day event will be Amazin' Recovery Treatment Services (ARTS). ARTS is located at 6730 Holabird Ave, which director Pamela Jackson said is the location she picked because a lot of people in the area who need help can be found there.
"I opened my doors as soon as the pandemic started and we wondered where did the people go," Jackson said. "I contacted [One Voice] and fired off some emails, and I found out they were closed because of the pandemic. Once they opened, I've been here every day trying to get people to come over."
"My hope is because [Myers] is limited in what she can do, if they know they can come over to ARTS and get somewhere to sit and get information that can save their lives. If she can bring in some of the ones that don't have the desire to go to treatment, if she has 10 and I have 10, that's 20 more opportunities."
Some of the programs offered at ARTS include community integration for adults, adolescents and young children, as well as intensive outpatient treatment for drugs, alcohol and other addictions. Jackson said the center also has an agency that offers medically-assisted treatment that people can seek as well.
"We took in a guy [last week] who is homeless and is sleeping in the woods, but he is determined to do his therapy with us," Jackson said. "Hopefully, we can get him somewhere stable. He wants to work. He has the desire."
"He said to me, 'I'm going to back and tell everybody else that you are here.'"
Spending just one day at One Voice Dundalk can open one's eyes to the grim reality of the substance use disorder issue in Dundalk. The members who visit come from different walks of life, each being led to the recovery community center by way of differing circumstances.
One such member, who elected to remain anonymous, told the Eagle that they have been living in Dundalk "off and on" for the past 10 years.They were born and raised in Baltimore City. This person said they have a grandmother who lives in Dundalk and their mother moved to Dundalk some time ago.
"[Growing up in Baltimore] was rough at times," this person said. "I remember seeing a lot of drugs as a child but didn't know what they were. I just knew they didn't smell like cigarettes."
"My parents would close and lock the door to do them. I grew up hanging around people who were two or three years older than me, and some of them were maybe seven or eight years older than me. They were all into sniffing heroin. I had tried it just a few times."
This person said they were prescribed Percocet after having a surgery performed. The prescription ran out after two years, and they resorted to finding them on the street. When that didn't work, they began using heroin regularly.
"The first time I ever tried it I was 12 years old," they said. "I struggle with it still to this day. I'll be 41 in November."
This person said they are currently in a Methadone program, but they are still struggling with the addiction.
Another member, who also chose to remain anonymous, said they are currently living with their mother and nephews. He is trying to arrange to receive social security and use it to find his own place to live.
"That way I can have my own life," they said. "My mom, she doesn't give me money. I'm out here panhandling and begging people for money."
One Voice Dundalk Recovery Community Center's International Overdose Awareness Day event is Aug. 31 from 10 a.m.-6 p.m. at 6718 Holabird Ave. Jackson said she will give away masks and hand sanitizer to those who do not have access to PPE.
Myers said One Voice Dundalk will also hand out PPE to those without access. Those who attend the event will also have opportunities to receive education on administering Naloxone, harm reduction and why it's necessary, substance use disorder during a pandemic, and recovery and treatment resources.