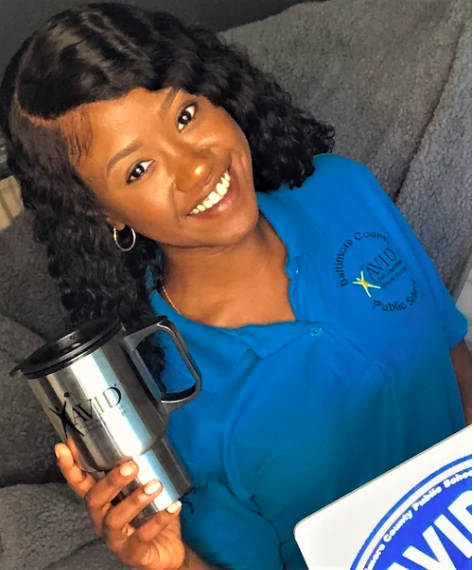 Most summers, approximately 100 Baltimore County Public Schools educators attend the annual three-day AVID teaching and learning conference in Philadelphia to prepare for the new school year.
This year, in the midst of a pandemic and with the training from AVID going online, BCPS planners figured they'd register far fewer teachers, and certainly not the 175 who attended last year. And they were right; those organizing the training didn't get anywhere near the numbers they got last year.
"We anticipated having fewer people, but we went way over our expectations. We were by far the largest school district represented (at the national conference)," said Michael Barberesi, the AVID district director and supervisor for the BCPS Office of College and Career Readiness.
"What it says is that when (school systems in the South and Mid-Atlantic) are looking for how to do AVID with fidelity, they come to us, to see how we are doing it. . . . We are a model of how this can be done right."
The excitement among BCPS educators at this year's AVID conference, Barberesi said, underscores the commitment that district educators are bringing to the job of preparing for virtual instruction when the new school year begins on September 8.
Only about 50 of the attendees were AVID instructors, he added; the rest were subject area teachers exploring new and effective ways to build a virtual classroom and to keep students engaged and learning at a high level.
AVID, which stands for Advancement Via Individual Determination, is a national K-12 college readiness system that provides students with engaging approaches to rigorous academic content using research-based best practices and instructional strategies.
At the AVID DigitalXP conference, 95 percent of the BCPS teachers who attended said they would apply the training to their digital classrooms this fall, while 94 percent said they acquired specific strategies to use. Barberesi said the workshops and training provided instructional lessons first with a secondary emphasis on the digital tools teachers might use.
"It's not just the bells and whistles," he said. "This is aimed at embedding sound instruction into digital learning and improving student outcomes."
FEELING PREPARED AND A BIT INSPIRED
The online training experience was a new one for Brandi Thomas. As AVID coordinator and an AVID elective teacher at Southwest Academy Magnet Middle School, Thomas knew the training would help her transition from the live classroom to online instruction, but she says it still felt a little surreal.
"Never would I have thought that I'd be attending AVID Summer Institute from my living room!" she said. As she had in years before, she arrived to the training clutching a hot cup of black tea and wearing her BCPS-blue AVID polo shirt. But this time, she said, "I paired it with a pair of slippers, instead of my flats."
During the summer institute, teachers trained for a variety of distance learning needs and capabilities and became familiar with a suite of tools like Flip-Grid and Edji to use for everything from marking digital texts to allowing students to make videos based on teacher prompts. Even with the challenge of many students in a Google Meet online classroom, Barberesi said, BCPS teachers will be ready.
Thomas said part of her institute work involved learning how to create "eBinders" to digitally help students organize their assignments, notes, and other information. She created her own eBinder using a profile page, her favorite heroes, and interesting trivia about her.
In addition, follow-up training for school-based AVID coordinators will allow them to bring many of the lessons of the summer institute back to their school staffs to learn and use, Barberesi said.
"Our teachers are telling us they are thirsty to learn more. With the resources they have received, they can walk into that digital classroom from day one and feel confident," he said. "This was a lot of work, but we all feel so much better prepared."
Thomas said she already has put her lessons to use with colleagues at Southwest Academy. Using what they learned at the conference, she and the school's AVID Site Team were able to create goals for the new school year aimed at ensuring student access to rigorous content as well as college and career readiness. Throughout the coming year, she said, the team will use strategies and tools learned at the institute to stay on track.
"Our plan includes incorporating . . . strategies in instruction, implementing systems that support teachers and students, leadership that ensures strategic planning and college readiness, and cultures that foster rigor in content and special area classes," Thomas said.
"Although the end of our last school year was far from ideal, my experiences at AVID (summer institute) have equipped me with the knowledge, the tools, the resources, and the attitude to provide my students with a supportive, rigorous, interactive digital learning experience," Thomas added. "Whether in Philadelphia, or from the comfort of my own home, . . . I feel prepared, and truthfully, a bit inspired, for the upcoming school year!"