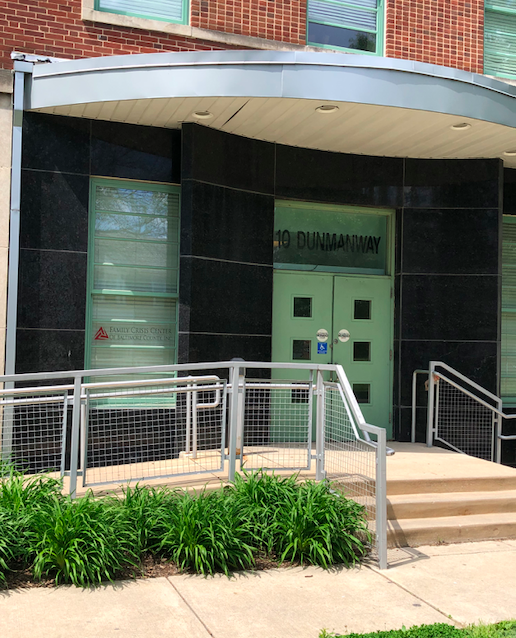 DUNDALK — The Family Crisis Center's mission is to help families get and stay safe, and Point Breeze Credit Union believes in people helping people. These two roads led to a substantial donation from the credit union with Dundalk roots.
Point Breeze Credit Union, which has five branches spread around Baltimore County, recently gave a $10,000 donation to the Family Crisis Center. PBCU has been in business for nearly 85 years. It was established during the Great Depression, and was originally meant to serve employees of Western Electric Company's Baltimore Works.
"When we look to reach out to the community, we're looking to find organizations that really are about people helping people," said Tonia Niedzialkowski, Executive Vice President and Chief Operating Officer of Point Breeze Credit Union. "When we looked, we found the Family Crisis Center, who is about helping families who suffer from domestic violence."
"It also happens to be in the general area where our first branch was located. It was a great match."
The Family Crisis Center, located at 10 Dunmanway, aims to assist families who suffer from domestic violence. The nonprofit agency was founded in 1979.
"]Point Breeze] are just good members of our community looking to support the good work of the community," said Amie Post, Executive and Clinical Director of the Family Crisis Center. "We were the fortunate beneficiaries of their vision to contribute to the communities in which they work."
Post said that despite the COVID-19 global pandemic, the Family Crisis Center continues to provide services without interruption. These services are provided while the center follows guidelines issued by federal, state and local officials, she said.
"We were able to move all of our nonessential employees that represent about 65 percent of our services to remote work by March 16," Post said. "We provide those services without interruption 100 percent across the board."
"We also have a team of dedicated essential workers who run our emergency shelter for victims of domestic violence, who have fled their homes due to risk of death."
The Family Crisis Center's emergency safe shelter provides anonymous shelter to domestic violence victims, both adults and children, for up to 90 days. Meals are provided, those who stay at the shelter can receive ongoing counseling and case management services.
Post said that the 12-person team that oversees the shelter have shown up without question during the pandemic. The Family Crisis Center also sponsors and runs the Baltimore County Domestic Violence Hotline, which is manned 24 hours per day every day, Post said. Trained volunteers and staff members help callers develop safety plans and connect them to resources that will help them move toward their goals of safe relationships, she said.
The Family Crisis Center has partnered with Northwest Hospital's Domestic Violence Program (DOVE) in Towson. Any resident who requests to go to the shelter is able to maintain their safety in off-site sheltering spaces for a 14-day isolation period. This is to slow the transmission of COVID-19 into the shelter building, Post said.
"That couldn't happen without a coordinated partnership across all agencies," Post said.
Post said that one of the most important and innovative things the Family Crisis Center has done is start a program for people who have been perpetrators of domestic violence. The program is offered in a group format. Group meetings are currently prohibited due to social distancing guidelines. That program has been moved to a one-on-one telehealth and coaching support with a standardized curriculum, she said.
"This is so that no one's progress is interrupted, and also because we believe it's productive to stay in touch with people who have already struggled to maintain healthy relationships," Post said.
"We think that's really important and essential, and we're maintaining contact right now with 72 individuals in one-on-one services."
Post said the Family Crisis Center has been a part of the Dundalk community for 41 years. It offers the following programs and services for both victims and perpetrators of domestic violence:
Advocacy is provided to residents at the shelter as well as those in the larger community. Services include:
•Risk assessment and safety planning
•Follow-up to police response to domestic violence calls for service
•Ongoing support, setting goals, planning and advocacy-based case management
•Linkage to resources within the agency and the community
•Skills development group
•Outreach services to community partners
•Participation in community events
Early Intervention Program
This program offers a range of services to individuals and families, including extended families, who are impacted by domestic violence or abuse. The focus is on screening, detection, and early intervention to address problems before they escalate and to interrupt cycles of violence across generations. Services focus on increasing family safety and building capacity in order to support individuals and families in moving forward towards resiliency and functioning without violence.
The Psychotherapy Clinic at the Family Crisis Center offers ongoing mental health counseling to residents at the safe shelter as well as members of the community. Problems are addressed by a trained mental health professional ensuring a confidential, safe and judgement-free space to talk about and find solutions to build inner resilience and the capacity to move forward in one's life. This service is offered to children, teens, adults, older adults and couples.
Life Skills Group is an 8-week free program that focuses on helping participants learn new skills, try on new ways to manage self and experience a supportive environment. Classes are held on Wednesday from 10-11 a.m. and Monday from 6-7 p.m.. Topics covered include mindfulness, emotional regulation, distress tolerance and interpersonal effectiveness.
All of these services, as well as information about the Family Crisis Center's emergency safe shelter and all programs and services offered can be found on the center's website, www.familycrisiscenter.net.