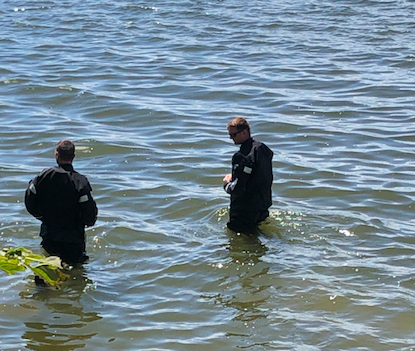 Emergency vehicles lined Peninsula Expressway just beyond the south side of the Bear Creek Drawbridge after being tipped off about human remains.
According to the Baltimore County Police Department, homicide detectives responded to a call about partial human remains spotted in the water. The remains were spotted by fishermen, according to a press release issued tonight by BCPD. As to what those remains are has not been revealed.
The Eagle was at the scene earlier today after receiving a tip on social media. Peninsula Expressway was lined with BCPD dive vehicles, Maryland State Police and other vehicles. A BCPD helicopter flew over the scene while divers searched the waters for more remains.
Dive teams spent much of the day searching, according to the release. Detectives continue to actively investigate this case. The identity of the deceased is not known, according to police.
Anyone with information on the identity of the victim, or the circumstances surrounding their death, is encouraged to contact BCPD by phone at 410-307-2020.