DUNDALK — Baltimore politician and Turner Station native Kweisi Mfume joined Dundalk High School during their Black History Month Cultural Experience on Feb. 27.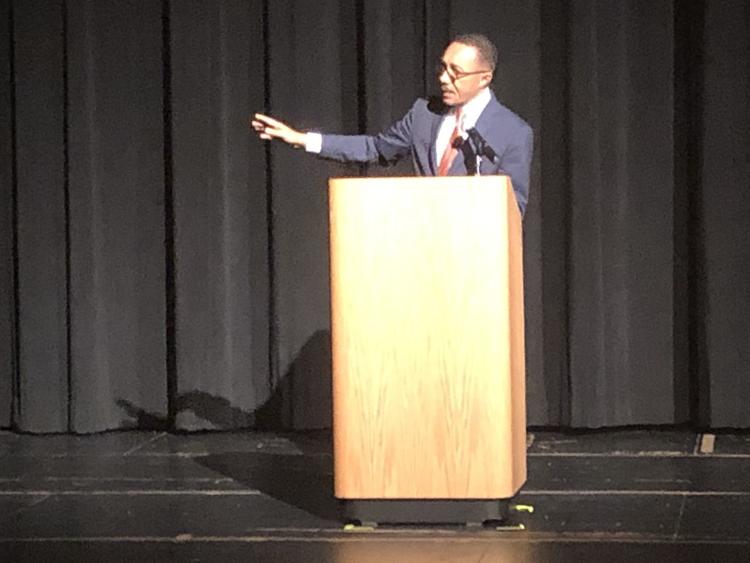 The event featured Dundalk High students giving brief dialogue about how recognizing black history is important and praised pioneers like Martin Luther King, Jr., Harriet Tubman, and Madam C.J. Walker.
Mfume, who previously served two terms on the Baltimore City Council, and five years as a member of Congress, said he appreciates the work of Dundalk High and other high schools in shaping the lives of young people.
"Sometimes, even at my age, it's good to hear and to see and be reminded of the people who came before me. I know this is Black History Month, but I want to kind of remind us of one thing – that what we celebrate is American history, because black history is American history," Mfume said.
Whether you're Hispanic, African-American, Asian-American or Native American, if you're in this country, black history is everyone's history, Mfume said.
In some countries that Mfume has visited, he said they look alike, think alike, and act alike, but one of the great reasons that the United States of America, since 1776, has led the world in every category is because of the uniqueness thats in America.
"This is a great country with a great history, and it's a history that we all have contributed to. If you are an American, it is your history. There were always different parts and different groups in black history that stumbled but refused to fall, were tired but refused to quit, who contributed to this history," Mfume said.
As the Dundalk High Black History Month Cultural Experience continued, Mfume expressed the importance of education to the students.
"What you learn in high school, the discipline, the respect, the study habits really do pay off if and when you go to college, because it creates within you the kind of person who has to be there in order to succeed. Don't take education for granted. Take advantage of the opportunities that are around you and enjoy it," Mfume said.
In addition, Mfume encouraged Dundalk High students to get out and vote, and referenced the late South Africa President Nelson Mandela's political stance that landed him in jail, as a reference to the importance of taking advantage of voting opportunities.
On Feb. 4, Mfume won the Democratic nomination to fill the vacancy of United States of Representatives for Maryland's Seventh Congressional District, following the passing of Elijah Cummings. Mfume will run against Republican and Middle River resident Kimberly Klacik.
Mfume said that Cummings would always reiterate that young people in high school, middle school and college are the messages that are sent to a future that they, at their age, will never see.
"It's really important that whatever you believe in gives you the ability to give someone else a positive message into the future. I want you do that," Mfume said to the students.
Segregation, to Mfume, was the worst part of black history in the United States, something he lived through in Turners Station.
"When I look at you the way you are here, not segregated but together as one group of young people, it's special," Mfume said as his speech he came to a close.
Baltimore County Public School (BCPS) Board of Education member Rodney McMillion said Dundalk High's Black History Month Cultural Experience might've been the nicest event he's attended since becoming a board member.
"It was outstanding. The kids are involved the dancing, the music, the singing, the guest speaker, Mfume was amazing, the crowd was amazing," McMillion said.
Since Dundalk used to be a segregated area, McMillion feels it's the historical piece that needs to remembered.
"This was a segregated community and it has come together and we can't forget that because that's where we came from and now this is where we are. We're together regardless of skin color, we're in this together," McMillion said.
Dundalk High junior Joshua Muhumuza, one of the top three finalists for the next BCPS Student Board Member, said it was a tremendous opportunity to see Mfume speak.
"We usually don't get to witness these types of assemblies. He was so friendly," Muhumuza said.
Muhumuza, who wants to be a politician, said Mfume told him that in order to reach people is to listen and not fake who he is.
"Be who you are," Muhumuza said.