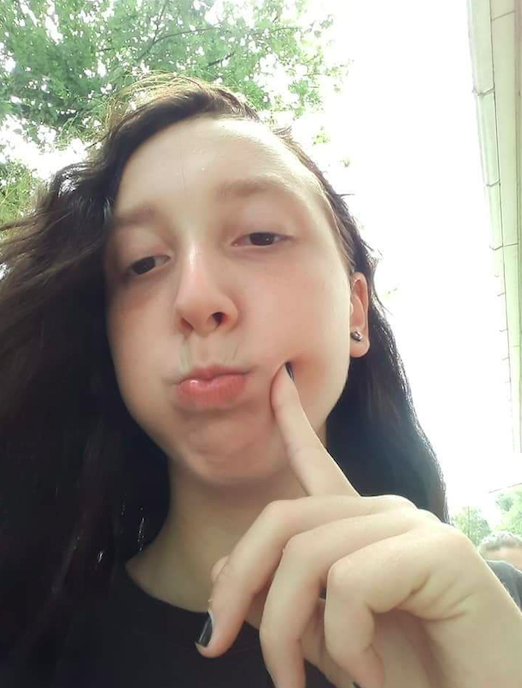 Candlelight shined just as bright as street lights on Delvale Avenue on Dec. 6, as family, friends and neighbors held a candlelight vigil in memory of Trinity Lynn Brooks.
Brooks, 15, was the victim of a fatal car accident on Dec. 3. Jennifer Jones, 30, from Millersville, lost control of the 2006 Nissan Altima she was driving, driving onto a sidewalk and then a resident's backyard, but not before fatally striking Brooks on the sidewalk.
"I hope and pray (Jones) serves life in prison," Gennie Scarff, Brooks' grandmother, said at the vigil. "I'm never going to see her again and it's not fair to me."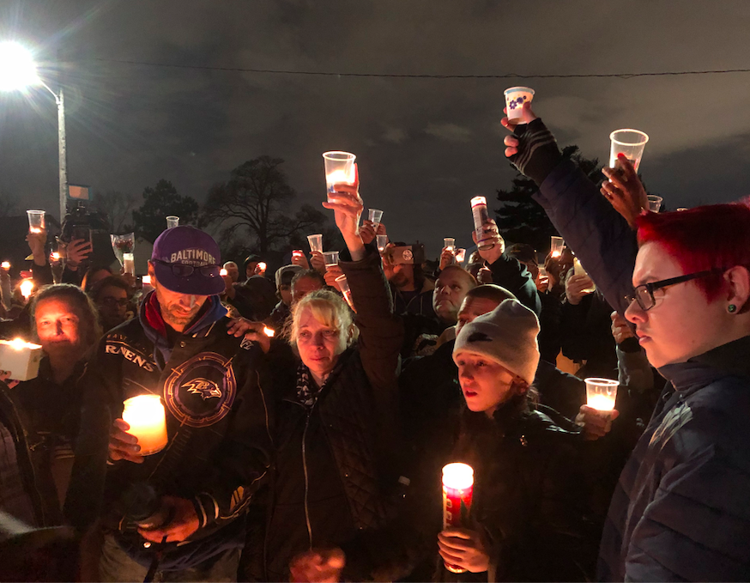 Dozens of people, some neighbors, some from surrounding neighborhoods, and others from various places around Dundalk, showed up to show support for Trinity's family. One person played a song he recorded in Trinity's memory. Family members and friends recounted memories and expressed their sorrow after her loss.
"It's amazing. It shows everyone how much my granddaughter showed love," Scarff told local media. "All these people came here for her. They're all supporting the family, and they all tell us she didn't deserve this."
Driving under the influence
Charging documents show that just before 5:30 p.m., Jones was driving south on Delvale Avenue at a high rate of speed, according to an eyewitness. Jones swerved and jumped the sidewalk, fatally striking Brooks, before driving through a fence and into a backyard at 1814 Marshall Rd. Her 2006 Nissan Altima continued through more backyards before finally settling at 1814 Marshall Rd.
Brooks was pronounced dead at the scene. Jones, on the other hand, was found unconscious inside her vehicle. First responders noted that she smelled an odor of alcohol, according to charging documents. Charging documents also said that a firefighter believed Jones was under the influence of an opioid and administered Narcan.
Charging documents show that authorities recovered two empty 200-mL bottles of Fireball 66 proof whiskey, and found 92 200-ml bottles of "99 brand" liquor in the floorboard of the vehicle. A glass pipe with marijuana and a substance believed to be heroin was found in her pocket. Several pill bottles labeled Bupropion and Hydrochloride were also found.
According to charging documents, Jones told police she began drinking at 10 a.m. that morning and did not stop drinking until five minutes before the crash. She was told by a medic that she hit a pedestrian. Jones is from Millersville, according to charging documents. She told authorities she was on her way to Sparrows Point to pick up her boyfriend, but did not know why she was going in the opposite direction of Sparrows Point, according to charging documents.
A trip to the grocery store
Trinity's mother, Tara Ann Reinhardt, told The Dundalk Eagle that she had sent Trinity to the grocery store that evening to buy cat food and ice cream. Her last words to her family: "Bye. I love you."
She walked to Weis Market, located at 7200 Holabird Ave. She was fatally struck while returning to her home. Reinhardt said she was returning home on foot from a separate shopping trip, and that's when she saw first responder vehicles on Delvale Avenue.
"I could tell by the way traffic was turning up the road that they had the road (Delvale Avenue" closed off," Reinhardt said.
Reinhardt said Trinity's father had mentioned that he had hoped no one was injured. She said she thought of Trinity because she was walking down that same path.
"Then we're rushing down here to see if it was her," Reinhardt said. "The cops weren't really talking to us, so we couldn't find out."
Reinhardt said it was confirmed after 9 p.m. that Trinity was the victim at the scene. She and her husband originally went to Johns Hopkins Bayview Medical Center because they overheard someone mention the name of that hospital at the scene. Reinhardt said that when they arrived, they received the phone call that Trinity was deceased. Jones was transported to Johns Hopkins Bayview Medical Center.
"We knew it was her because we saw the stuff that she bought laying on the ground," Reinhardt said. "They wouldn't let us nowhere near. They wouldn't talk to us, and said they weren't ready to talk yet. 'We can reassure you that it wasn't your daughter' is what one officer kept telling us."
Reinhardt said that she initially sensed something was wrong because she tried calling Trinity on her cell phone, but it went straight to voicemail, something out of the ordinary. There were times when she would call and Trinity didn't answer, but the call never went straight to voicemail, she said.
Remembering Trinity
It was easy to see the impact that us as older brothers had," Xavior Reinhardt, Trinity's older brother, said.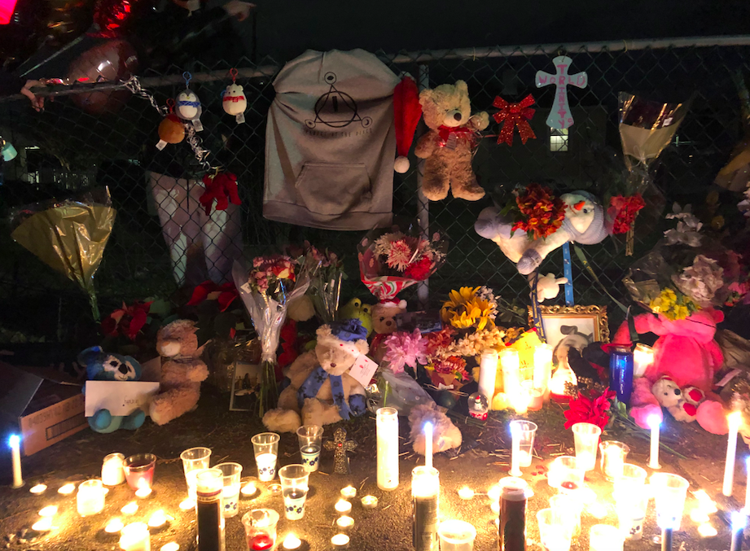 The second-oldest in a family of five siblings, Xavior Reinhardt told this newspaper about the impact he had on his "baby sister." He listens to punk rock, and he said she went through a similar phase at one point.
"She started listening to my music," Xavior said. "She started dying her hair black. She was going through the punk rock phase and that's how I live my life. I loved coming to visit her, and she would ask me, 'What are you listening to now? What are you wearing now? I like your hat. Can I have that hat?'"
The hat Xavior talked about bears the name Avenged Sevenfold. He said that he wore it when he went to visit his family in Dundalk two months ago. She told them that she liked the hat. Xavior said that Trinity wore the hat when she was buried on Dec. 10.
The middle child in a family of five siblings, and the only girl among the five, Xavior said Trinity was a "spice of feminism in a brutal brotherhood." Her death was especially hard for a father who lost his baby girl, Xavior said.
"She was like a second mother to all of us," Xavior said. "She always had some kind words to say, and something smart to say, something I never would have thought of. She gave advice that she was way too young to give. I'll miss that about her. She was smart beyond her years.
Austin Brooks, Trinity's oldest brother, said Trinity was kind-hearted and always put others before herself. She always tried to help everyone, even if it hurt her in the end.
"No matter what it was or what it was about, she always tried to do the right thing," Austin said. "She'd give her last, even give the shirt off her back if she had to."
Xavior agreed about Trinity's kind-hearted and thoughtful nature.
"That little girl would have found every reason in the world to forgive this woman," Xavior said. (Trinity) would try to find reason with her, to try to find out what she was going through. Why she was in such a hurry. Why she was drinking so much, and why she had a problem. She would forgive this woman, and she would defend her without a second thought."
Ryan Davis, one of Trinity's friends, is a senior at Dundalk High School. He has been friends with her for a year-and-a-half.
"She was more than just a friend," Davis said. "She was loyal. She was passionate. Even on her worst days, she would come in and be like 'today is not my day,' but when someone else was upset she would talk to them. She would make their day even though she was going through the worst. She always was outgoing and helped everybody out."
Trinity was a freshman at Dundalk High School. She was an athlete on the girls track and field team. She practiced baton handoffs, a part of relay races, before leaving school that day. It would be the last thing she would do at Dundalk High.
Trying to move forward
The support for Trinity's family is way beyond those who showed up at the vigil. Reinhardt said the family home has had several visitors since Trinity passed. People stop by to deliver food and to offer their condolences, she said.
Multiple gofundme's were started to cover funeral expenses. Reinhardt said that adding to visitors at the family home, she has received messages showing support on social media, and has received several friend requests on Facebook.
"I feel overwhelmed. A good feeling overwhelmed, with all of the support from the Dundalk community," Reinhardt said. "I've only lived in Dundalk since 2015. I haven't had a tragic situation show me, as much as this, how the community really comes together."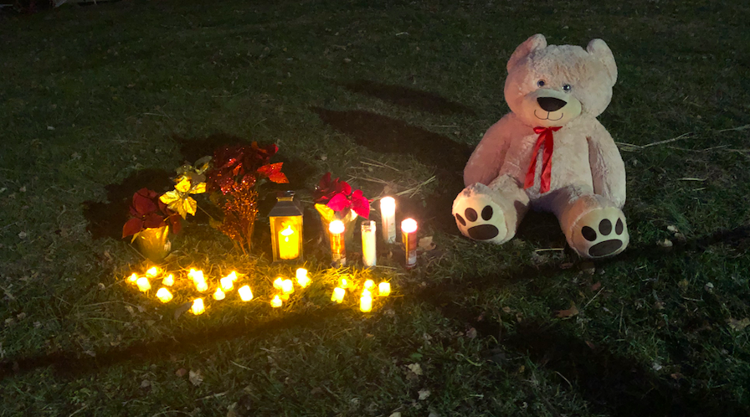 Austin said the family sits and jokes the way Trinity would joke with them, and they all try to smile like Trinity would smile. They continue to care for her pet turtle. They are trying to enjoy life the way she would enjoy life, he said.
"(The support) is heartwarming," Austin said. "It shows how much love she gave out and how much is being sent back her way."
The vigil was held at the exact spot on Delvale Avenue where Trinity was struck. The family placed pictures of her along the fence. Some who attended brought flowers. Tea candles were placed on the ground in front of the fence, spelling "TRINITY."
Beyond the fence is a second memorial. More candles and flowers are placed on the ground. Next to them is a big plush teddy bear with a red ribbon around its neck, tied into a bow. It's the spot where Trinity landed after being fatally struck.
As for Jones, she was charged by Baltimore County Police with vehicular manslaughter, a felony. She is being held without bond at the Baltimore County Department of Corrections. Her trial is scheduled for Feb. 3, 2020.
"She made the immoral choice to get behind the wheel of her car after a day of drinking," Xavior said. "Wrong time. Wrong place and it cost me my baby sister. I can't hate her because it's not in my heart. It's not in my family's heart and it's not in my sister's heart to hate somebody. She needs help. She needs to sober up, and she needs to feel the guilt and the consequences of her actions. There's no justice in the world that will bring her back to me. There is no amount of tears that will bring her back to me. This woman needs to feel the regret of waking up every day and realizing that she took this young girl's life."