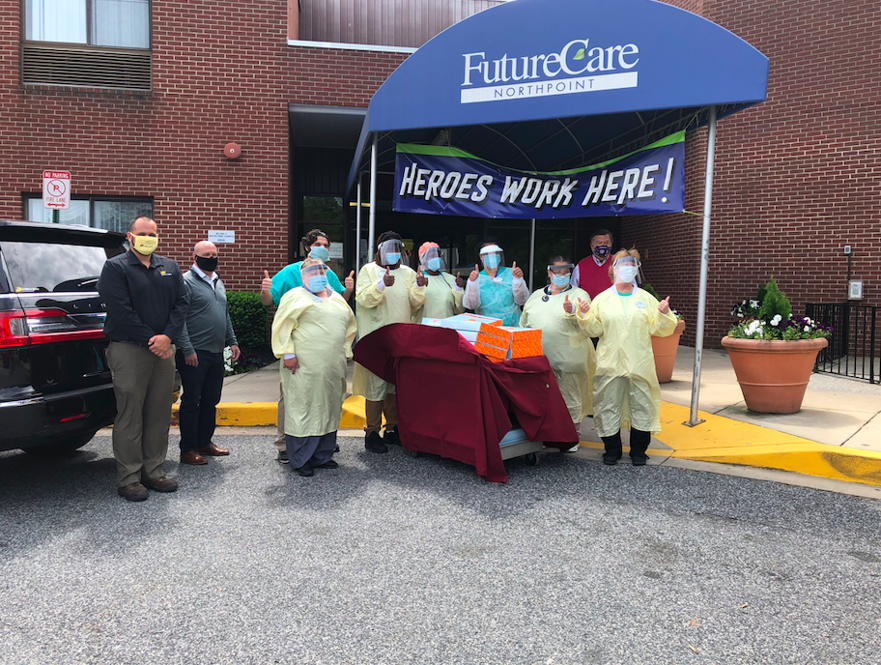 Rep. Dutch Ruppersberger stood in front of FutureCare on North Point Road with healthcare workers, members of Capital Funding Group and several boxes of food.
Capital Funding Group, a provider of financing solutions for multifamily properties and healthcare facilities nationwide, is reinvesting the money it has earned through Payment Protection Program (PPP) loans to provide free meals to healthcare workers at 53 assisted living facilities. FutureCare was one of 53 such facilities.
Chris Chick, executive vice president and chief lending officer at Capital Funding Group, said that many times the people who work at these facilities are overlooked.
"We just wanted to show our appreciation for what they do," Chick said.
A press release that was published before May 20 said that by CFG giving back to these healthcare workers, three Maryland restaurants will be able to hire back employees who were furloughed due to the economic effects created by the COVID-19 pandemic. CFG has delivered 2,126 meals thus far, according to the release.
"Working in this coronavirus situation is very difficult, because people aren't sure where we are or what we're doing," Ruppersberger said. "The people who work here are just like the people who work in hospitals. It's a little more difficult, because hospitals have the resources to help people who are sick. A lot of these (senior citizens) are in their own bed, in their own room. A lot of them wouldn't make it if these people didn't come into work every day."
The New York Times reported earlier this month that residents and workers at long-term care facilities account for nearly one-third of the total number of deaths from the coronavirus. The Centers for Disease Control (CDC) said that COVID-19 is lethal to older adults, and can spread more easily in confined environments and places where people move from room to room.
"The fact that a business community in our area would bring them lunches and acknowledge them, that's real important to them," Ruppersberger said. "Just think about how their families must worry every day. They go into a situation where we have the most amount of cases, at our senior living facilities."
Ruppersberger said that all parties involved in the fight against the pandemic are doing everything they can, adding that the best scientists in the world are working on vaccines. The effort to end the coronavirus pandemic must be done globally, he said.
"They (other countries) are calling out for our help," Ruppersberger said. "They know that we are a leader and we have the resources. We just have to make sure we do it the right way."
Ruppersberger said people can do their part by following CDC guidelines, such as being mindful of social distancing and wearing a mask when in public. Masks are extremely important at this point, he said, because it protects others from the virus.
Ruppersberger said he has represented the Dundalk community for almost 28 years, and it is one of the most patriotic communities in the country. They care about the country and the military, and are hard-working people that make a difference in their community and in life.
"Dundalk, you have a great community," Ruppersberger said. "Look after others. I tell people to try to follow the golden rule – do unto others and you would have them do unto you. That's all you have to remember."