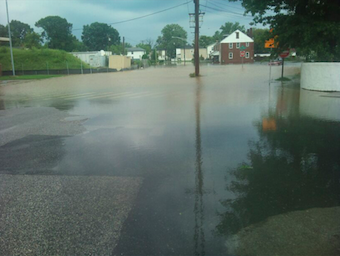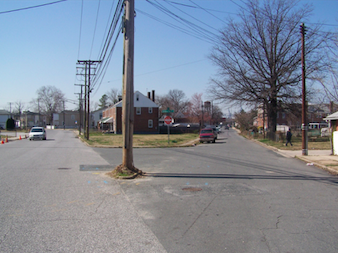 Ash Avenue in Turner Station poses a double hazard for the residents who live there – it has no sidewalks, and the road poses a flood risk.
This is just one situation in Turner Station that is in desperate need of attention. Other roads, such as Sollers Point Road, Oak Avenue and Chestnut Avenue. In addition, businesses that left the community long ago have not returned. Homes, some as old as the community itself, are in need of repairs.
Some of these things are happening. Larry Bannerman, a member of the Turner Station Conservation Teams (TSCT), told the Eagle that the drains on these roads are undersized, and there is a 700-foot run that drains out into Bear Creek. The discharge pipe is often underwater, preventing rainwater from flowing out into the creek.
"We grew up around there, and we cross country at Sollers Point [High School], and there always was a big hump on a backside," Bannerman said. "The coach would make us run over it instead of around, and that hump was … I guess they put that pile of dirt there to hold that pipe down. But we could always see the pipe."
"Right now, you can't see that pipe. If it's a really, really low tide, you can see it. But the pipe is supposed to be out of water."
A drainage pipe that remains immersed in water
Bannerman said the Army Corps of Engineers is currently conducting a survey of the area. TSCT is also working with, according to Bannerman, a coalition consisting of the Maryland Department of the Environment (MDE), Baltimore County, the Maryland Emergency Management Agency (MEMA), Maryland Insurance and The Nature Conservancy (TNC), a nonprofit committed to creating a world where humans and nature can coexist.
Some Turner Station residents have also reached out to the county about some of the hazards in the community, Bannerman said. One resident, Linwood Jackson, recently convinced the county to install "Beware of Pedestrian" signs on Ash Avenue. The Baltimore County Government did not respond to request for comment.
"I do want to emphasize that we are seeing action on the flooding issue from the current administration," Bannerman said. "The Army Corps of Engineers just reported their findings and, not surprising, they are the exact same things I've been saying for years."
"Our stormwater outfalls are under water at high tide. Even without the high tide, the 700-foot pipe is full of water."
A robust community plan must come first
Crystal Francis is also a product of Turner Station. She graduated from Sollers Point High School in 2003, she said, and currently holds a position as Chair of the Baltimore County Democratic Party. She agreed with others who have spoken about the current state Turner Station, saying that many people have since moved out of the community after finding success.
"I think it's because there is a lot that needs to be done," Francis said. "There's not a big job market. I remember back in the day, when Bethlehem Steel was the driving force. That attracted people to move [to Turner Station] and live there."
"I remember going to college, and when I came back to the area, a lot of the stores that used to be there were no longer there. I think there needs to be a really robust community development plan put forward."
Francis said putting such a plan in action could also pose a challenge. Developers can evaluate a potential area to build by seeing how many retail and other commercial businesses are already in the area. Turner Station has a Dollar Tree, which sits where Dundalk Avenue meets Henrietta Lacks Place. A Dollar General is close by, in the Logan Village Shopping Center. A Gersbeck's used to sit in that same shopping center. It moved out years ago.
Turner Station also had its own schools, before they also moved out. Francis said Sollers Point High School had left when she graduated from Walden University in 2007, Sollers Point High School gone. Sollers Point Technical High School currently sits next to Dundalk High School, on Delvale Avenue. The Sollers Point Multipurpose Center now sits where Sollers Point High School once stood.
Francis said the community was upset when the high school moved. The root of that frustration, she said, was that the solution to expanding the high school was moving to a different location.
"Bringing a grocery store there is probably the one thing that is on the mind of Turner Station residents," Francis said. "That's a basic thing. If you look at developments going on in Towson and Owings Mills, and Randallstown is going through the process now to redevelop that area. They were starting to see the same thing, happening slowly, and the community got on it."
"I think there has to be a robust community plan put together, and ask community members how they envision Turner Station to look 5-10 years, and then go from there. The County could make Turner Station a priority."
Francis said she opts to step in and assist when she sees a problem. She has reached out to the Baltimore County Department of Planning, she said, and is currently working on scheduling a community walk when the weather turns warmer. Her intent for the walk is so that the County can see how Turner Station looks now, and also so community leaders can ask residents what they want to see.
"At the end of the day a developer can come in, and if you give them the power to determine how they can develop, you're going to hear arguments for gentrification."
Francis said another problem that could be encountered with redevelopment is increases in rent. People who currently live there may not be able to afford it, if that were to happen, she said. Pockets of improvement are happening, but change also takes time, she added. But any change is contingent on a partnership between residents and the county, as residents will want to be in the driver's seat, she said.
Francis said one reason for businesses moving out was the development of Day Village. A row of businesses in the area, she said, saw their leases terminated. They were told that the area was being renovated, and they had to move out, she said.
"Once the development is finalized, they may have an opportunity to come back here," Francis said.
Other issues that need to be addressed
Homes are in need of a repair, another thing that is currently underway. One of those homes being repaired, a famous one, belonged to Henrietta Lacks, a Turner Station resident who is famous for having cells that led to the discovery of the HeLa cell line.
According to local media reports, her home, built in 1942, will be renovated in just a few months. The renovation effort is for the community, and began three years ago. Its total cost is estimated to be $35 million and involves CT Group, which developed Lyon Homes in Turner Station. Lyon Homes, built in 1942, was a federal housing project built primarily for African-Americans during World War II.
An additional two new houses were built last year, Bannerman said. Local organizations assisted, including Dundalk Renaissance Corporation, he said. As soon as the announcement of the build happened, those houses were sold, he said.
"We're trying to get some more of that," Bannerman said. "We're trying to get these old houses remodeled, or revamped, or whatever they do with them to bring up to standard where they can be sold. There are quite a few vacant homes down here."
Saving the Nation of Turner Station
Drive past Speed's Salon and Barber on Avon Beach Road, and you will see a banner hanging from the building that says "Save the Nation of Turner Station." That business is owned by Courtney Speed, who is also a proactive resident in Turner Station.
Bannerman said that is an all-encompassing phrase. Previous residents told stories of living in their community. Current residents are working to restore Turner Station to how it looked back then, he added.
"We're trying to get back to community unity," Bannerman said. "We haven't virtually. The Turner Station, Maryland Facebook™ group has well over 1,000 members and is managed by a lady who lives in Day Village. All of those people don't live in Turner Station. Most of them live in surrounding counties, and some of them in other states, as far as California."
"They all grew up in Turner Station. It was like a little nation. I think that's where Ms Speed gets that from. Everything was here that everyone needed. There was any kind of store you needed, and any kind of shopping you wanted to do. It was all right here."
In addition to grocery and retail stores, Turner Station also once had a doctor's office, a dentist's office, a dry cleaning business, two drug stores and a famous Negro Leagues baseball player – Osceola Smith. "Mr. Smitty," as he was known, coached baseball in Turner Station for more than four decades. Smith's career statistics could not be found before press time.
"He was coaching, easily, 15 teams, from tee ball to 15 years old." Bannerman said.
Children, as young as seven years old, would go out and explore in the woods, Bannerman said. They built clubhouses. They went fishing and crabbing. They became teenagers, and with that, they became lifeguards at the beach.
With the work of Ms. Speed, the Turner Station Conservation Teams and the coalition that has partnered with them, residents in Turner Station are determined to restore the area back to what it once was – a thriving community.