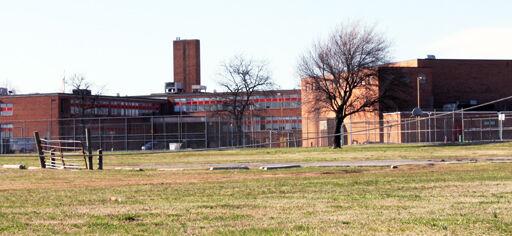 The three Dundalk-area high schools all face over-crowding issues over the next seven years – even that building on Delvale Avenue that still retains a touch of that "new building" smell.
During a presentation last week to the Baltimore County Board of Education by contractor Cannon Design, plans to alleviate overcrowding at the three high schools were discussed.
And one question was raised, by Board member Rod McMillion: how about building a new high school? On a plot of ground currently not being used for much and upon which once stood a junior high school?
"We have in the southeast area three of the top five [schools] with the most need," McMillion said to Cannon Design project manager Paul Mills. "Are you aware there is a 28-acre site, a former junior high school site, at the corner of Wise Avenue and Merritt Boulevard?
"How can you and I initiate a feasibility study to determine the impact a new high school on this site would have on the overcrowding at Dundalk, Patapsco and Sparrows Point? Is this something Cannon can analyze?"
Mills responded that Cannon Design could run such an analysis.
"We'd be happy to learn more about this specific site and the circumstances behind it," Mills said to McMillion. "And any sort of information out there that you or other stakeholders are aware of that can potentially help the cause for this planning, we welcome with open arms.
The site, of course, is occupied by the former North Point Junior High and the current remains of the North Point Government Center. For several years now, the future use of the land has been ... discussed.
"It's just an idea," McMillion said the day after the school board meeting. "It was Baltimore County Public Schools property at one time, then turned over to the county government. Now it is hung up with state bureaucrats.
"It's an idea to kick around and I'm open-minded and will listen to anything. A new school would benefit the entire peninsula."
In seven years, McMillion pointed out, Dundalk High is projected to be at 146 percent of capacity.
"Build a new school, and lower the [population] in all three existing schools," McMillion said. "Bang for your buck. What benefits the most people?'
Currently, the plan involves expanding capacity at Dundalk and Patapsco, and a major renovation at Sparrows Point Middle and High schools.
Mills described it as a "unique situation," with one campus housing both the middle and high schools.
"This presents, in addition to some educational opportunities in terms of vertical alignment of curriculum, operational challenges," Mill said. "In terms of social-emotional issues and behavior issues, etc, on a crowded site where you have 12-year-olds and 18-year-olds on the same campus."
Sparrows Point Middle/High is projected to be at 130 percent of capacity over the next seven years.
The plan that has been being pushed is to move the Middle School to a new site and give the high school the entire current building.
"Find a new home for the middle school, and allow the high school to commandeer the middle school spaces with a major renovation to make those spaces suitable for a very exciting new high school program there," Mills said.
That is projected to cost $150 million. Or, for $50 million, the county could opt to just renovate the current Sparrows Point Middle/High School to add 325 "seats" to its capacity.
Addressing the overcrowding problem at Dundalk and Patapsco will come first, however.
Referring to, among other details, the COVID-19 pandemic, Mills said there was no need to make a rush decision on what to do with Sparrows Point: "We have some lag time."
When Educational Adequacy and Equity, and condition of school facilities, is factored in with overcapacity, Sparrows Point is anked first in the county in needing problems addressed.
Dundalk/Sollers Point is ranked fourth, Patapsco is 18th.
Overcrowding is "very acute, particularly in the southeast area," Mills said. "It's something that must be dealt with in a very short order."
In addition to Dundalk projected to be at 145 percent of capacity and Sparrows Point at 136 percent, Patapsco is projected to be at 117 percent of capacity by 2026.
Dundalk is ranked first in the county in overcapacity concerns; Sparrows Point is ranked third and Patapsco, fifth.
"That is a call to action," Mills said.
The current plan is to build "critical additions" adding seats for 650 students at Dundalk and 250 at Patapsco.
With additions being built also at Towson and Loch Raven, that is projected to cost $100 million.
After that, the overcapacity problem at Sparrows Point would be addressed.
Or, possibly, all three problems can be addressed at the same time by building a new school.