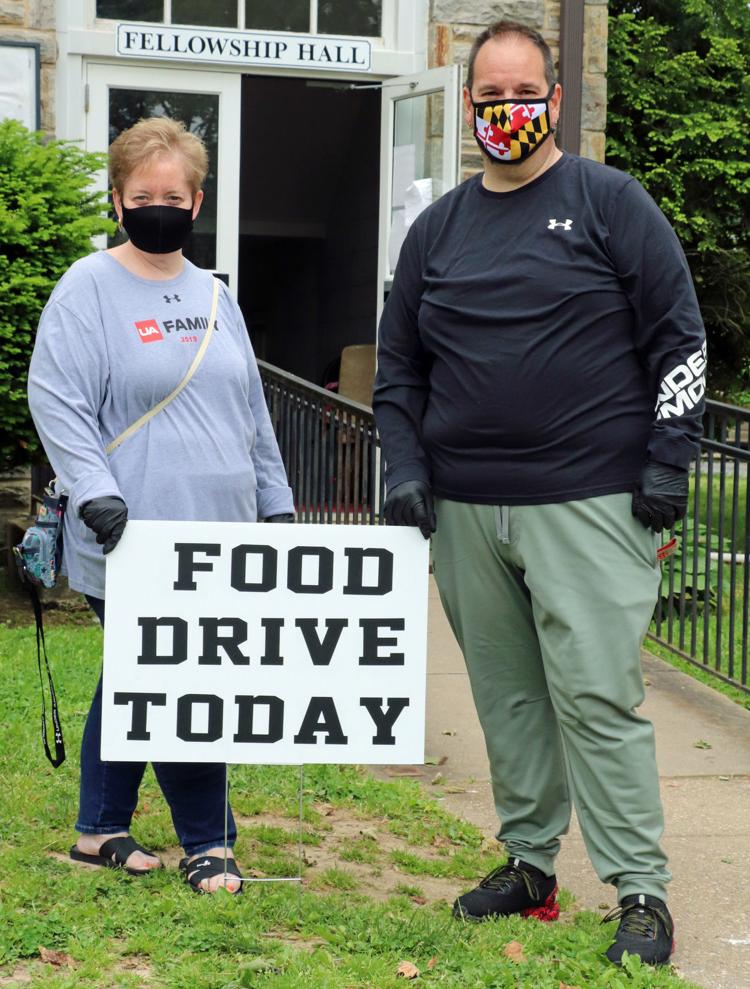 They're an organization committed to feeding people during a time when increasing numbers of people needed to be fed; but the circumstances driving people's need also prevented them from providing food.
So, "Soup for the Soul" adapted.
The organization, which once prepared meals for people as the "Supper Table" before moving to the old Dundalk United Methodist Church location in the 6900 block of Mornington Road in 2018, prepares meals for people who line up to receive them every Monday - that is, until the shutdowns related to the COVID-19 pandemic prohibited large gatherings.
Meanwhile, more and more people out of work due to business shutdowns still needed help with food.
"We decided, as an organization, we weren't going to cook anymore," said Stacy Nagel, who helps oversee Soup for the Soul. "Now, we just hand the food out the door."
Two Wednesdays a month, "Soup for the Soul" and it's many volunteer helpers distribute boxes of food delivered to them by the Maryland Food Bank.
"We're becoming more of a necessity than a service," Nagel said. "The demand for food is just tremendous. We used to have about 135 families come to us; we served about 400 families last week."
The boxes delivered from the Maryland Food Bank usually contain bags of vegetables, a gallon of milk, canned goods, bags of potatoes, packaged meats, toilet paper and other basics.
The next food truck should be arriving on June 10.
Under Soup for the Soul's old routine - which they intend to resume once restrictions against gatherings are relaxed (but still comply with social distancing rules - they depending mainly on food donated by people in the community and businesses.
"We were able to provide for everyone who showed up," Nagel said. "What little food was left over would go into our pantry.
"We have pretty generous contributers, people who make sure we have enough food throughout the year. Individuals help, companies help, the community supports us."
Soup for the Soul isn't federally funded, but has applied for it.
The organization is fortunate in being able to consistently meet the need for food. According to reports, food banks across the country are being overwhelmed by demand.
News reports show people lined up for hours to get food, and some food banks are forced to turn people away as supplies run out.
Dundalk has eight locations where people can receive "grab-and-go" meals from Baltimore County Public Schools, in addition to food for senior citizens at the Ateaze Sr. Center.
When it hands out boxes of food now, Soup for the Soul has signs reminding people to maintain social distancing. It also hands out masks and face shields to people who need them, and spray-paints six-foot boxes around the church to show people how much distance to keep from the people in front and behind them in line.
A nurse is also on hand, and a representative from the police department is on hand to ask people if they need help in other ways, such as suffering from domestic violence.
Nagel understands the importance of the safety restrictions. She, her husband David and daughter all tested positive for coronavirus last month.
"This is our first week out of isolation," she said.
Soup for the Soul is not the only location operating a food pantry.
St. Ritas Church on Dunleer Road operates a food pantry every Monday from 4:30-6 p.m. and the second and fourth Tuesdays of the month from 10 a.m. to noon, according to the county website for food pickup locations.
The Patapsco-Lodge Forest Cooperative Parish United Methodist Church on Wise Avenue distributes food on Fridays from 4 to 5:30 p.m.; the web site recommends calling ahead (410-288-5488) to check availability.